The Key West Express is a great experience for tourists and locals alike. It's an excellent way to get to Key West without driving. When we took the trip, it took 3.5 hours from Fort Meyers to arrive in Key West. Here's what we learned about bringing food and drinks on board.
You can bring a water bottle or snacks onboard, but you won't be allowed to board with a small cooler. However, food and drinks are available for you to purchase should you get hungry or thirsty. Alcoholic drinks are only offered on the trip back from Key West. 
Riding on the Key West Express was a fantastic experience, and here's what we learned on our trip.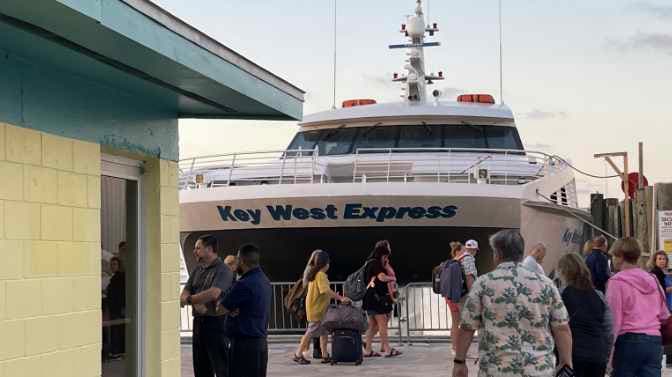 Can You Bring Food And Beverages On The Key West Express? 
When we boarded the ferry, our group had a water bottle and a few snacks while checking our IDs and tickets in our hands. They never said anything about us carrying our own drinks and a few snacks. We saw several people boarding with water bottles. 
During the ride, I saw people pulling out chips, crackers, pretzels, and other snacks from their bags. They didn't check our bags when we boarded the ferry, so you can hide a few snacks inside if you don't want to pay the high prices of the food and drinks onboard. 
Although, the prices are not ridiculously high. I bought three bottles of Aquafina water and paid $2.00 per bottle. Depending on when you're reading this, the prices may have increased due to inflation. 
The official Key West website states you cannot bring coolers, illicit drugs, weapons, alcohol, or anything flammable onboard. 
Is There A Bar On The Key West Express? 
The Key West Express offers a full-service bar that offers alcoholic and non-alcoholic drinks. Even though it is legal to buy alcohol from 7 a.m. to 3 a.m. in Florida, don't expect to order a Bloody Mary on the trip to Key West.
They didn't offer us any until the trip back to Florida.  
This is because we left Fort Meyers at 7:30 a.m. and arrived in Key West around 10:30 or 11:00 a.m. Unfortunately, I can't remember when we arrived in Key West.   
All I remember is the captain saying it was a beautiful day and we would have a smooth ride. At one point, I asked him how fast we were going, and he said we were traveling at 40 mph. So if you go to the top, hold onto your hats and glasses. 
A friend in our group lost her hat. 
The boat ride doesn't take long; once you arrive, you can buy an alcoholic drink anywhere in Key West. 
So enjoy the trip on the ferry and forget the alcohol till the trip back. 
How Much Do Alcohol Drinks Cost On The Key West Express?
The prices are not ridiculous; expect to pay as much as you would when ordering at a restaurant on the mainland. We didn't order any because we drank a lot while in Key West, but here's a picture of the drink menus. 
If you want to order a drink, you'll need to walk to the full-service bar on the ferry's first floor.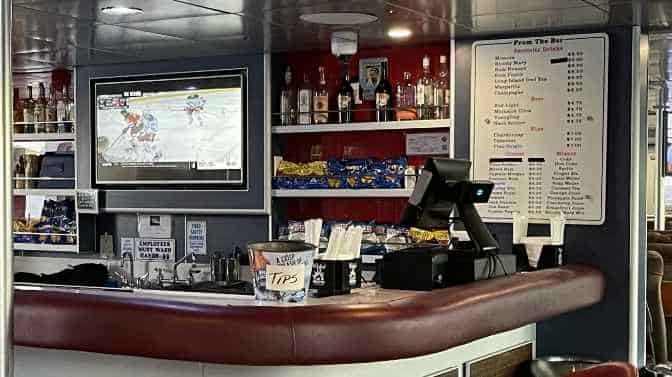 Here's a table with the drinks and prices, in case you can't see them on the image very well.
| | |
| --- | --- |
| From The Bar | Price |
| Bloddy Mary | $9.00 |
| Mimosa | $8.50 |
| Rum Punch | $8.50 |
| Long Island Iced Tea | $9.25 |
| Champagne | $8.50 |
| Bud Light | $4.75 |
| Michelob Ultra | $4.75 |
| Hard Seltzer | $4.75 |
| Coconut Rum | $8.25 |
| Captain Morgan | $8.25 |
You can see that a Bloody Mary costs about $9.00 plus tax, which is about the same as when you order one at a restaurant. They have a huge selection of beer, champagne, and mixed drinks, you won't have a problem finding something.
Can You Buy Food On The Key West Express? 
When the ferry departs from the dock in the morning, passengers can purchase food, water, and non-alcoholic beverages. In the early morning, they offer bagels, cream cheese, breakfast sandwiches and other breakfast items. 
We didn't want to spend money on food, and we packed peanut butter and jelly sandwiches for the Key West trip. 
If you're a breakfast eater, there's no reason to wait till you get to Key West. You can visit the gally onboard to purchase some food. 
On the trip back, you can buy hotdogs, burgers, chicken fingers, pretzels, and snacks aboard the ferry. 
Expect to pay more than food on the mainland, but keep in mind everything in Key West is more expensive. 
Can You Bring Coolers On The Key West Express?
No, coolers are prohibited, and you won't be able to board the ferry. If you are on a strict diet or have allergies to specific foods, eating a meal before boarding the ferry is best. 
As mentioned, you can bring snacks onboard, don't expect to pack a cooler. 
Can You Buy Food And Drinks With Cards On The Key West Express?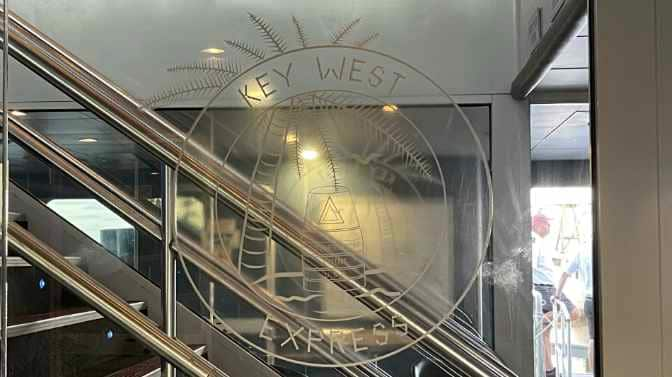 You can purchase food, drinks, and souvenirs with cash or credit cards. That said, once we couldn't see land anymore and were out in the middle of the Gulf, we were in a dead zone.  
This means we didn't have any Internet service. During this time, you may need to use cash to make a purchase onboard. It wouldn't hurt to have some cash with you in case the credit card machines are not working correctly. 
Considerations When Bringing Food And Drinks On The Key West Express
Consider the following factors if you have specific dietary requirements or allergies and need to bring your own food. 
These are the following considerations you need to take to help you prepare for your trip. 
Speak To The Staff
You need to speak to the staff of the Key West Express vessel you will be on before you try to bring any food or drinks onboard. 
The staff needs to know your dietary requirements to ensure they make a notable exception for you when you board the ferry. 
If you don't speak to the ferry staff before you try to board it, they may not allow your food and drinks on the ferry, and you will need to throw them away before boarding. 
Pack Your Food Correctly
When taking food and drinks onboard the Key West Express, you must pack everything correctly, or the staff may not allow your food and drinks aboard the ferry. The food needs to be in a soft-sided personal container, which can hold a small plastic lunch box. 
You can place a small ice brick in the soft-sided container to help keep your food cool while on the ferry. Drinks can be in any type of water bottle. 
I carried a Thermos water bottle with me on the trip, and they never said anything about it.  
Do Not Bring Glass 
Do not pack anything in glass bottles or containers when bringing food and drinks on the Key West Express, as the staff will not allow these onboard the ferry. 
The board ride gets bumpy, and carrying glass bottles can harm other passengers, the Gulf, and marine life. 
Final Word
It's OK to bring a water bottle, snacks, candy, or gum onboard. As I mentioned, we packed peanut butter sandwiches and put them in plastic Tupperware, and no one said anything. 
You'll be fine if you don't try to carry a cooler packed with food and drinks. 
As long as you eat a little something, you'll be fine. You'll likely spend most time walking around the ferry to see if you see a dolphin or other marine life. We saw several flying fish on our way down. 
Instead of thinking about food and drinks, enjoy your trip on Key West Express; I'm sure you'll love it. We did!
Related Articles