If you're like most people, you probably use your Honda CRV for a variety of different things. It's the perfect car for running errands, taking road trips, and more. But can you fit a kayak inside a Honda CRV? Let's take a look at everything you need to know about transporting a kayak with a CRV.
Will A Kayak Fit Inside A Honda CR-V?
The short answer is no. A Honda CR-V is a compact sized SUV that is roomy enough for up to 5 passengers, but there isn't enough cargo space to fit a kayak inside. That said, some people have been able to fit a smaller 6 or 8 foot kayak inside with all the seats folded down.
Trying to fit a kayak inside a compact SUV can be challenging, you also risk damaging both the kayak or the interior of the vehicle. If you own a Honda CR-V or in the market for one, then you know it's a great vehicle for any outdoor enthusiast. We'll take a look at the different models, cargo space, and your options for transporting kayaks, canoes, standup boards, etc.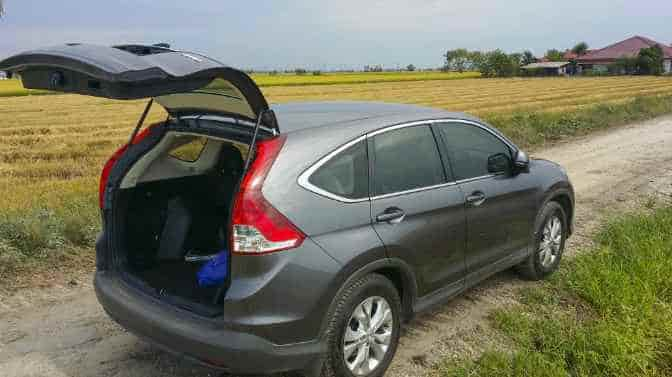 *This page contains affiliate links to products I recommend. If you purchase something from this page, I may receive a small percentage of the sale at no extra cost to you.
Is The Honda CR-V A Small or Large SUV?
The Honda CR-V is a small compact SUV, and earned the Automotive Science Group's (ASG) top award in class, making it is the best all-around mid-size SUV class. It is a roomy SUV with a wheelbase of 105.8 inches and a length of 182.1 inches, which is about 15 feet long.
The CR-V comes in five different model types: LX, Special Edition, EX, EX-L, and Touring. All models have the same body size but differ with additional features like power moonroofs or heated front seats.
Other Honda SUV's to Consider
The Honda SUV lineup also includes the HR-V, which is a smaller subcompact SUV, and the Pilot, which is a larger three-row SUV. If you need more cargo space for kayaks or other gear, then one of these two models might be a better fit.
Below is a list of the different Honda Crossover's and SUV's:
Honda HR-V
Honda CR-V
Honda Passport
The models differ in cargo and passenger space. The HR-V can seat up to five people but has less cargo room then the CR-V.
The Pilot can seat up to five people comfortably and has a lot more cargo room than the CR-V, making it a better option for larger families or those who need more space for gear. If you're an outdoor enthusiast and are looking at the CR-V model, you'll want to know your options for transporting a kayak.
How Much Cargo Space Does A Honda CR-V Have?
The Honda CR-V consists of 39.2 cubic feet of cargo space behind the rear seats and 75.8 cubic feet with the rear seats folded down. A 10-ft kayak measures an average of about 373.3333 cubic feet, meaning it's too long to fit inside.
However, this doesn't mean that you can't transport a 10 or 12 foot kayak using a Honda CRV. It just means you need to consider some other options for transportation, which we'll discuss below.
Options for Transporting A Kayak?
Roof Rack
One of the best options for transporting a kayak for SUV owners is to invest in a roof rack. There are a variety of different roof racks on the market, that make it easy to transport any of your outdoor equipment.
You'll want to find one that is designed specifically for your vehicle make and model for the best fit. Most roof racks come with all the necessary straps, hardware, and instructions for installation.
Roof racks come in several different styles cargo baskets, cargo boxes, ski racks, canoe & kayak carriers, luggage carriers, snowboard, and etc.
Some of the most popular manufacturers are Thule, Yakima, and Malone. If you own a 2007-2011 model, the MostPlus Roof Rack are compatible with most luggage and kayak and canoe carriers. The Ants Part CRV Roof Rack is perfect for 2017 – 2022 models.
Towing A Kayak
Another option is to consider purchasing a small utility or kayak towable trailer. This is a great option if you don't want to invest in a roof rack or you plan on transporting other gear as well.
You can find kayak trailers that hold one or two kayaks, and some even have additional space for storage. Most models come with all the necessary hitches, straps, and lights needed for towing.
That said, all CR-V models have a maximum towing capacity of 1,500 pounds, when equipped with a towing package. This type of towing capacity allows you to tow any of the following:
ATV
Single-Axle Trailer
Jet Ski
Teardrop Camper
Snowmobile
Small Rowboat
A Small Aluminum Boat
Popup Campers
A kayak trailer can weigh as much as 800 pounds when empty, so you'll need to take this into account when considering what else you might want to tow behind your vehicle.
If you're unsure whether your vehicle has a towing capacity, you can check your owner's manual or contact your local Honda dealership. Ensure you have the vehicle's VIN number, as that will be used to look up the towing capacity and other specs.
Can I Put A Roof Rack On A Honda CRV?
Yes, it is possible to put a roof rack on all models. The newer models come with factory pre-installed roof rack crossbars that make it easy to add a roof rack.
If your model didn't come with these pre-installed, you'll need to purchase the crossbars and have them installed. This video will walk you through the process of how to install crossbars on an older model CRV.
How to Install A Roof Rack on a Honda CRV?
Installing the roof rack on an SUV is not complicated. Most manufacturers will provide you with the necessary hardware, instructions, and video tutorials. You can always search YouTube as there is likely a video walking you through the process for your specific model.
How to Load A Kayak on a Honda CRV?
Loading a kayak onto a CRV can be a little challenging, especially if you're loading it alone. The easiest method is to load it from the back. You'll want to stand the kayak on the vehicle, until is perpendicular, then push it on top of the vehicle until it sits on the rack.
Most people (myself included) prefer using J-Rack carriers as it allows the kayak to sit securely inside the racks, while distributing the weight evenly. Once the kayak is positioned evenly, use tie-down straps, rope, or bungie cords to secure it to the vehicle.
You'll want to secure it to the rear and front bumper to avoid damaging the SUV. Once secured, tug on the straps, if the kayak moves, tighten the straps until it's snug.
Can You Carry A Kayak on a Honda CRV Without A Roof Rack?
Many people have figured out how to transport a kayak on a vehicle without a roof rack, it's not recommended. Negligence while transporting a kayak could result in costly repairs, road hazards, damages, and even fatalities.
It's your responsibility to ensure whatever you 're transporting is securely fastened to your vehicle. In some states, you can be held for damages and/or fined if your load falls off your vehicle and causes damage to other property, or injures another person.
The best way to ensure you're transporting your kayak (or anything else) safely is to invest in the proper equipment needed for the job. This might include a roof rack, crossbars, tie-down straps, and/or a trailer.
Types of Kayaking Equipment That Will Fit In A CRV?
The Honda CR-V is a roomy SUV that can easily transport small outdoor equipment such as coolers, life jackets, oars, inflatable and foldable kayaks. Whitewater, Recreational, Sea, and Fishing kayaks are too large to fit in the CR-V.
Other Options for Kayaking Without Transporting A Kayak?
If you love spending time on the water, but don't want to invest in a roof rack or risk towing a trailer because of the damage it might do to your vehicle, there are still other options for you.
Renting A Kayak
One of the best options is renting a kayak when you get to your destination. Many companies will rent you a kayak for the day, and some even offer weekly rentals. They provide the kayak, oars, and life jacket, all you have to do is show up.
This is a great option if you're traveling to a new location and not sure whether you can bring your own kayak. It's also a great way to test out different kayaks, before making a huge purchase.
Kayak Club
Kayak clubs have been around for several years, but not many people know about them. They allow members to use a variety of different kayaks, without having to own one.
This is a great option if you want to go kayaking on a regular basis, but don't have the storage space or money to invest in your own kayak.
What's even better is that most clubs plan the kayak trips for you and all you have to do is pay a small yearly membership fee. Not to mention, you get the opportunity to meet other passionate kayakers.
Final Word
Some people may be able to fit a smaller sized SUV inside a Honda CRV. A full size 10 or 12 foot kayak won't fit inside. You best options for transporting a kayak with a CRV is to use a roof rack or tow a small trailer if your SUV has a towing package.
Related Articles
Sources
https://www.verneidehondasiouxcity.com/what-are-the-different-honda-suv-models/