If you've never been around manatees or seen one before, you're missing out. Typically, it happens when you're swimming or floating in the water, possibly close to a pier or on a lazy-moving river. But, there comes a point where you realize you're not alone. 
Your space has been psychology infiltrated a few seconds before you become physically aware that something massive is next to you. Of course, it'll frighten you at first. But, there's nothing quite like that instant and fundamental understanding that you are helpless in the water.
You're at the mercy of anything large enough to fool with you. Then you realize it's a manatee, and that's where the cuteness and fun begin because they are genuinely good-natured animals.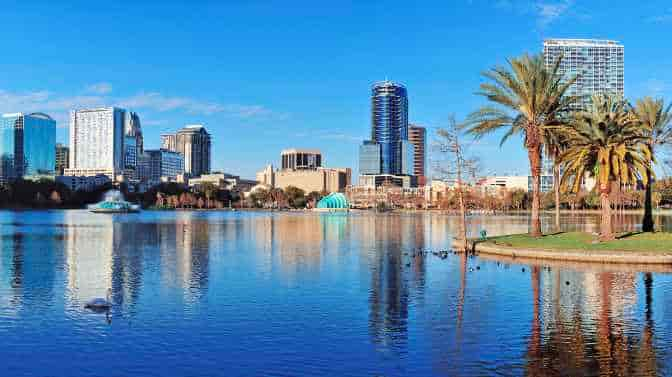 But where can you go to see and swim next to these gentle giants in and around Orlando? Fortunately, quite a few places. 
#1 Homosassa Springs Wildlife State Park
Homosassa is a little town not far from Vero Beach and Umatilla, Florida. Once, in the early 1900s, Homosassa Springs was nothing more than an exciting train stop for passengers and workers to jump in to cool off or picnic on the edge of the water. 
While it's known for the manatees that frequent it, Homosassa Springs Wildlife State Park is also home to many animals, including alligators, whooping cranes, the Florida panther, bobcats, flamingos, and what Homosassa claims is the oldest Hippopotamus in captivity. 
The entry fees are standard for a mid-level tourist destination in middle Florida. Adults and children 13+ cost $13. Children from 6 to 12 are $5 apiece, and any child under five gets in free. 
#2 Blue Spring State Park
Another "springs" park, Blue Spring State Park, is a beautiful stretch of crystal clear springs where manatees flock from November to March. The waters in Blue Spring remain a solid 72°F all year round, and manatees need that water because they don't do so well with colder water. 
While you can't swim with, touch, or feed the manatees in Blue Spring, you can swim and tube there when the manatees are not in town. The park is open to visitors all year long, whether the manatees are there or not, but if you want to see them, it's best to go in the heart of winter. 
The entrance fee is free for everyone. However, you will have to pay a $6 parking fee when you show up.
#3 Three Sisters Springs
All of the manatee sighting areas in and around Orlando seem to be springs. Three Sisters Springs is a part of the Crystal River National Wildlife Refuge, and manatees love to spend time there during the winter. 
The spring is only an acre in size, but an extensive boardwalk encircles the entire thing. Visitors can hang out on the boardwalk and watch the manatees all day if they want to. Three Sisters Springs doesn't post any visitor fees information, but they offer shuttle services.
You can also access the park by bike, and if you own and want to bring a kayak, you can do that as well, so long as you're not coming into contact with the manatees, as there is no petting or feeding allowed. 
#4 Merritt Island National Wildlife Refuge
Another observation deck wildlife refuge, Merritt Island National Wildlife Refuge, is located about an hour east of Orlando. It is also considered one of the state's most productive estuaries. 
This is the kind of park you can spend the day in because it's packed with scenery, wildlife, dunes, and migratory birds. Manatees frequent the area as well. 
According to their site, Merritt Island is home to about 1,500 species of wildlife. In addition, they offer a ton of activities.
Hunting
Birding
Non-motorized boating
Photography
Hiking
Wildlife watching
Painting and drawing
Fishing
#5 TECO Manatee Viewing Center
This is one of the more interesting manatee viewing areas in Florida. TECO stands for the Tampa Electric Company. At some point in the company's history, they noticed that manatees were gathering in their discharge canal, which is an area that happens to be pretty warm due to the non-toxic discharge. 
So TECO decided that they would turn this area into a manatee viewing area. Their idea included an educational center, a hurricane simulator, a habitat loop trail, and an observation tower. 
The discharge canal is nothing more than water from Tampa Bay, circulated for cooling purposes and discharged after being warmed throughout the cooling process. Like some of the springs mentioned above, the best time to visit TECO Manatee Viewing Center is in the winter. 
#6 Mary McLeod Bethune Beach Park
Located in Volusia County, Florida, Mary McLeod Bethune Beach Park is sandwiched between Apollo Beach and New Smyrna Beach. It's a fantastic park with plenty of beach fishing opportunities and real estate to explore.
You can start from JB's Fish Camp and kayak to Mary McLeod if you're interested in watching for manatees. But, no matter where you go, a good kayak will get you next to manatees more than anything else. 
You can also watch manatees from the boardwalk but the best time to go is in the springtime before it gets too late in May. That's breeding season for manatees, and you will often see them running between JP's and Mary McLeod. 
#7 Hunter Springs Park
Another park in Crystal River, Hunter Springs Park, is located near Three Sisters Springs. But, of course, there are springs everywhere in Florida. Like many of the above places, Manatees like to go to Hunter Springs for the warm waters during the winter. 
Hunter Springs Park is an excellent place to go between November and March if you want to see them. Hunter Springs also maintains a boardwalk for viewing purposes. The place is pretty extensive too. Large enough to have a small beach area set aside for visitors. 
The park is open from 8 to 8 between April 1st and August 31st and from 8 to 5:30 between September 1st and March 31st. You can picnic, swim, birdwatch, let the kids hit up the playground, or just lay out in the sun. 
However, there are many rules and regulations to follow, and one of them is leaving the manatees alone. You're not allowed to go down, pet, swim, or feed them. However, they do offer plenty of amenities.
Freshwater swimming
Picnic areas w/grills
Playgrounds
Kayak areas to launch from
Restrooms
Pavilions
"Living Shoreline
According to the website linked above, Hunter Springs doesn't offer any information on fees for entry or parking fees. If you want more information about visiting and when the best time to see the manatees are, you can contact the park ranger at (352) 697-0933. 
Final Word
There you have it, seven excellent parks close to Orlando that host manatees at various times of the year. Mostly, it's seasonal, as manatees like to come in during the periodic cold snaps in Florida.  But you can see them at any time if you're in the right place.
If you want to see manatees up close and personal, your best bet is to go on a kayak or canoe trip. You can get right next to them, and they don't seem to mind too much. Just remember not to touch or harass them as they are an threatened species.
When planning your trip, always check the local regulations as they can change at any time. You don't want to get fined or put in jail for doing something that was previously allowed. Manatees are amazing creatures, and it's well worth your time to go see them!
Related Articles
Sources
https://www.fws.gov/refuge/merritt-island/visit-us/activities