The Sunshine State offers some amazing kayaking adventures. From clear streams to tannic waters, nighttime natural underwater light shows to coastal waters. There is something for everyone. Although Florida has a large alligator population. There are certain places that you can visit that are alligator-free. Which will make your kayaking experience that much safer and worry-free.
There are several places in Florida that you can safely kayak in that do not have any alligators. These include:
Ichetucknee Springs
John Pennekamp Coral Reef State Park
Weeki Wachee Springs
Blackwater River
The Great Calusa Blueway
Big Bend Saltwater Paddling Trail
Rainbow Springs State Park
Looking for places to kayak in Florida that don't have alligators in the vicinity is tricky as Florida is almost famous for its alligators.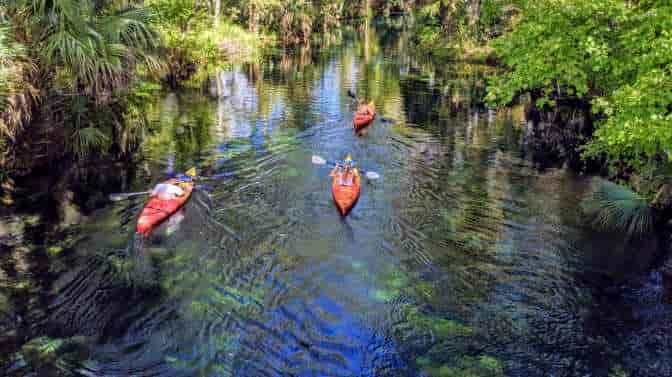 Most of Florida's freshwater rivers and water systems have an alligator population living in them. The kayaking destinations mentioned above are unique in their none alligator residents, although some do have alligators residing close by. 
Where Can You Safely Kayak In Florida Without Alligators?
There are seven places in Florida where you can Kayak without having to worry too much about floating past an unhappy alligator. 
Some of these places have alligator populations living close by, and others are entirely alligator-free. Let's look at the seven alligator-free places where you can kayak.
Ichetucknee Springs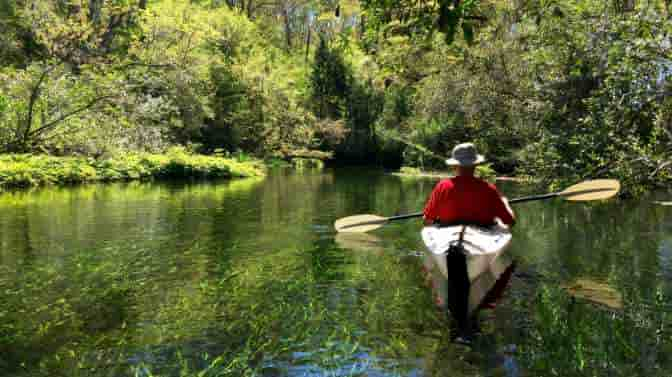 Ichetucknee Springs, located in the Ichetuknee Spring National Park, is a popular destination in the summer for its water tubing. If you plan on kayaking, the best time to visit Ichetuknee Spring is during winter, as the waters are quieter without all of the tubers. 
With stunning scenery, clear water, wondrous rock formations, and banks lined with majestic cypress trees, the 6 – mile long Ichetuknee River is a wonder to kayak.
Eight major crystal-clear springs join the Ichetucknee River. If you decide to visit in the winter, you will see some of the many bird species that populate this area. 
This river is also a wildlife haven with many animals making this their home, especially turtle populations. This river is easily navigable on your own, but you will have a more informative trip if you decide to take one of the guided tours. 
John Pennekamp Coral Reef State Park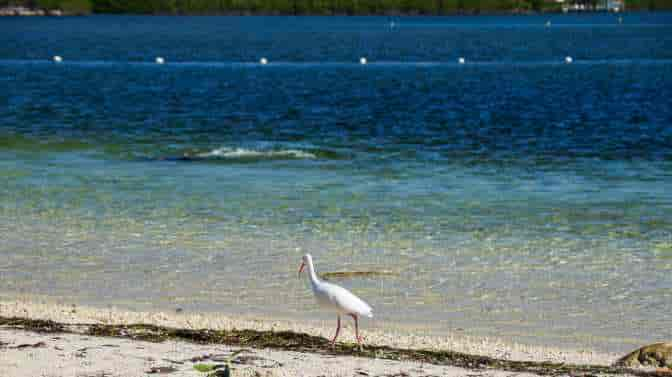 The John Pennekamp Coral Reef is a popular destination for kayakers. Being one of the United States' first undersea parks, it impressively encompasses 70 nautical square miles. You can view the park's colorful coral reefs teeming with marine life while you float down the river on your kayak.
There are 2.5 miles of marked trail in the mangrove wilderness that are a kayakers paradise. Bear in mind that the John Pennekamp Coral Reef is very popular over the weekends, especially if it is good weather, attracting crowds of kayakers and people on jet skis and motorboats.
For the average kayaker, open-water paddling in the protection of the mangrove wilderness is a calming experience. However, the experienced kayaker can venture beyond the mangroves and onto the reef for a more thrilling experience on lovely days with calm seas.
Weeki Wachee Springs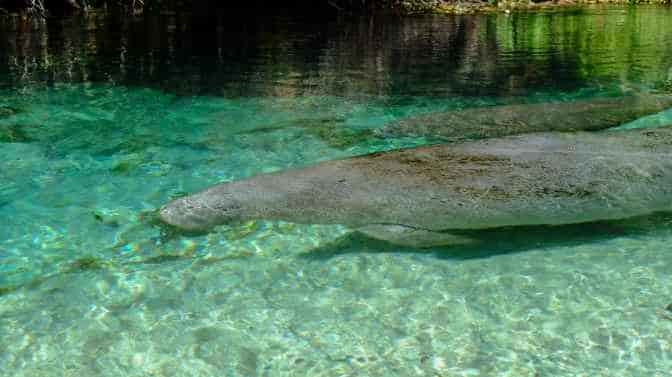 Weeki Wachee Springs, situated in West Central Florida, sports clear waters perfect for the novice and experienced kayaker. It is also a family-friendly river perfect for scenic and wildlife viewing. The turquoise spring flows for miles under bay and cypress trees. 
It is approximately a 6-mile long trail with a relatively swift current perfect for inexperienced kayakers or those who wish to have a lazy float down the river. As you move along the path, it will alternate between full shade and full sun. 
There are numerous places along the way that a kayaker could pull over for a quick swim in the various swimming holes and spring vents of varying depths. Alligators can be found in the area but prefer to keep to the marsh areas where kayakers and others do not paddle.
Blackwater River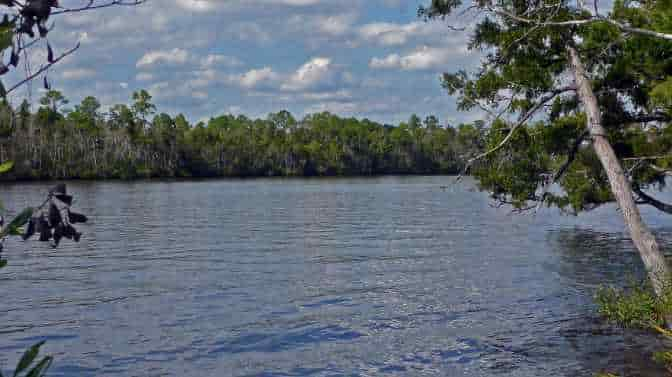 The Blackwater River Trail, situated near Milton in Northwest Florida, offers fantastic kayaking opportunities. The 31-mile trail winds through the Blackwater River State Forest and offers viewings of one of the most pristine sand-bottomed rivers on the planet, which varies in color from a rich coffee brown to light yellow, depending on the depth. 
The temperatures of the waters here remain slightly chilly. These conditions, accompanied by the sandy river floors. Dissuade alligators from residing here and create a fun-filled stress-free environment for the average kayaker to enjoy their outdoor adventure.
The Great Calusa Blueway
The Great Calusa Blueway is a 190 – mile long network of paddling routes situated along the Gulf of Mexico's coastline. This kayaking paradise is not a linear water trail. 
Instead, it is three interconnected areas, each with its unique attributes. It contains miles of sand beaches and island-pocked labyrinths of mangroves that call for paddlers and provide habitats for various wildlife.
A large part of the Calusa Blueway is the Caloosahatchee River. This river is quite polluted, and visitors are asked not to swim here. There have also been a few alligators spotted along this river. 
If you remain close to the saltwater near the coastline. You will have a better chance of not seeing any alligators as they prefer to stay away from salt water.
Big Bend Saltwater Paddling Trail
Big Bend Saltwater Paddling Trail is a sea kayakers dream. It has 105 – mile-long segments that run from the Aucilla River to Yankeetown and offer a bountiful array of marine and birdlife. From bald eagles and ospreys to sea turtles, fish, and tiny rays swimming in seagrass meadows. 
It is one of the United States' wildest and longest publically owned coastal wetlands. Big Bend Saltwater Paddling Trail is a saltwater trail. Making it much safer for kayakers to visit as no alligators reside here, and if they do, it is only on rare occasions.
Rainbow Springs State Park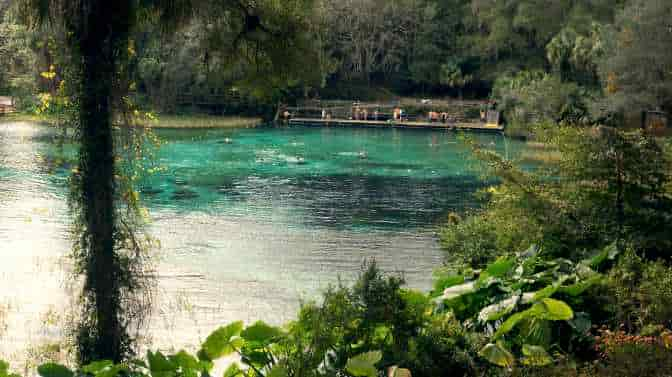 Rainbow Springs State Park in Dunnellon is one of the most beautiful places you will ever visit. The waters of the swimming area are crystal blue, and there are a variety of shallow shores and mellow oxbow lakes that you can explore near 
Rainbow Springs. You can float through cypress trees draped in moss while you soak in the views of the limestone formations and aquatic vegetation. 
There is also an underwater canyon that you can explore. There are no alligators in the swimming area, but if you had to kayak further down the river, you would probably come across a couple.
Final Word
There are not many places in Florida where you can be assured they are alligator-free. The seven areas listed above have alligators that reside close by the trails. But they prefer not to frequent the water for various reasons. 
When looking for an area that might have reduced or non-existent numbers of alligators. You should look out for saltwater rivers or those with freshwater mixing with salt water and rivers with low temperatures and sandy floors.
Related Articles
Sources
https://www.visitflorida.com/travel-ideas/articles/outdoors-nature-blackwater-river-state-forest/
https://myfwc.com/recreation/lead/big-bend/paddling-trail/
https://www.visitflorida.com/travel-ideas/articles/outdoors-nature-great-kayaking-in-florida/