Many people dream of going to Disney World, but with over 58 million yearly visitors, planning a trip can be a bit overwhelming. If you're planning a Disney World vacation, you're likely wondering when to visit to avoid the huge crowds.  
The best time to plan your Disney World trip without massive crowds is
during the weekday after a public holiday or school break. During these times, everyone will be trying to get back to their lives, and the park should be pretty empty. You can also go in winter or fall, as these are less popular seasons for the park.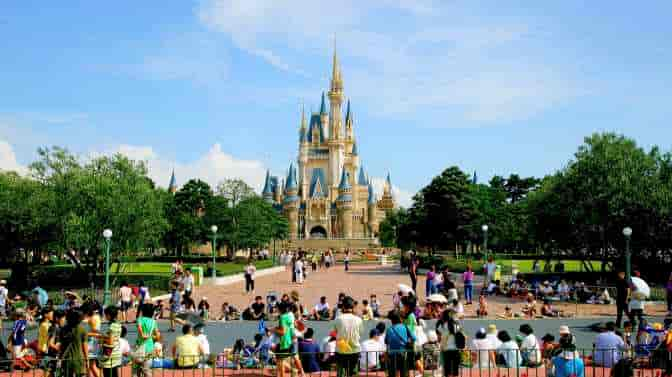 A Disney World vacation should be a fun and magical experience for adults and children. However, the park's growth has led to fighting crowds, overcrowded buses, etc., and can quickly make the experience unpleasant. 
This article will discuss everything you should know to avoid crowds at Disney World. 
When Is Disney World Less Crowded? 
Going to Disney World is a magical dream come true for many people. It is an exciting and magical place for adults and children who love animated movies and their characters. 
This theme park is one of the largest in the world and is filled with fun rides, delicious food, and meet-and-greets with characters. 
It is a top-rated theme park that attracts millions of people from all around the world. However, this does mean that Disney World can become extremely crowded, making lines for everything in the park long.
The crowds at Disney World generally follow the holidays and school breaks. However, if you plan your Disney World vacation around those, then it's highly likely there will be fewer crowds.  
Consider going in winter or fall, as these are not peak times for the park, and there will be fewer people. Avoid going in the summer, as this is the peak season for the park.
Kids are on summer vacation, so parents and families flock to Disney World. Also, avoid peak holidays such as Easter, Independence Day, Christmas, and Thanksgiving. 
What Is The Optimal Time Of Year To Visit Disney World? 
Many people will go to Disney world in the summer or on a public holiday to ensure they get the best weather and as much time as possible at the theme park. 
There is nothing wrong with this, but many people have the same idea, meaning the park will be crowded during these times. 
If you wish to avoid crowds and long lines at Disney World, you should try and plan your trip during winter or fall. 
These are the seasons that most people don't think about visiting Disney World in, as they believe the weather will be too cold. 
However, these seasons can be a great time to visit the park, and even though you might need a jacket, you can still have fun. 
Going to Disney World in the fall can increase the magical feeling, as all the fall colors make the park a sight to behold. 
What Day Of The Week Is Disney World Less Crowded? 
Now you know when the best times to go to Disney World are to help avoid crowds. You can use this to your benefit, but what happens if you cannot do this? 
Maybe you couldn't get time off from work after the holiday, or whatever reason comes around, but you still want to go to the park when the crowds are minimal, if possible. 
This is when you can start looking at what days of the week are the busiest for Disney World and what days are relatively quiet. 
The quietest days for Disney World are in the middle of the week. So to avoid crowds, visit the park on Tuesday, Wednesday, or Thursday. 
Avoid going on the weekends, as those are the busiest times. 
Tips To Help You Pick The Slowest Times At Disney World
Most visitors want to visit the theme park on slow days because it means shorter lines, fewer crowds, and more time to enjoy the attractions.
Here are some tips to help you pick the slowest times to visit Disney World:
Check Festival Dates
When planning your vacation to Disney World and trying to avoid crowds as much as possible, you need to check the event calendar for the theme park before booking your tickets. 
Disney World hosts many events throughout the year, which draw huge crowds to the park. 
You will need to check the events calendar on the Disney World website to ensure your trip doesn't coincide with one of these events. 
Check Ticket Pricing
The other thing you can do to help you avoid crowds at Disney World is to look at the ticket prices to the theme park and plan your trip from there. You can also check the price per ticket on the Disney World website. 
Ticket prices will adjust in small amounts, but unfortunately, the prices continue to rise year after year. So, ticket prices are not always a good way to tell if the park will be crowded. 
However, if you're working with a travel agent to book your trip, they may be able to tell you the best time to visit. 
Get Up Early
Instead of sleeping in, make it a point to get up early. We've all heard the saying, "The Early Bird Gets The Worm." This is very true for Disney World. You'll be able to get a head start and beat the crowd before it starts pouring in. 
Getting to the park earlier than the rest of the crowds will allow you to get more done in the first 2-3 hours than the other visitors.
Plan Your Days
At the end of each day, sit down and plan your days. You'll want to be strategic when planning your days and deciding which ride, attraction, or thing you want to do first. 
Visit the most popular rides first. By doing this, you will save time by avoiding long lines.
This will allow you to get more done early in the day while also avoiding wait times. 
According to Finance Buzz, the most popular attraction (at the time of this writing), Star Wars: Rise of the Resistance has a wait time of 127 minutes or 2.11 hours.
Use A Travel Agent
If this is your first time visiting Disney World, consider using a travel agent, as they can help you pick the best dates for your trip. 
They also know all the inside information about discounts and specials available on tickets, hotels, restaurants, and more. 
A travel agent will save you time and money in the long run, as they will have access to exclusive deals that may not be available to the public. 
A travel agent will also be able to help you plan your days so you get the most out of your time at Disney World. They know the best times and dates to visit the park.
Invest In The Disney Genie+ Pass
The Disney Genie+ Pass is an exclusive pass that allows visitors to skip the standby line and use the lightning entrance line. In addition, guests with the Genie+ Pass can book their rides as early as 7 AM on the day of their visit.
This pass is available to guests who stay on or off the resort. The pass price depends on the number of days and attractions you wish to include. 
The Genie+ Pass also includes a virtual queue on certain rides such as; Remy's, Rise of the Resistance, Haunted Mansion, etc.
Final Word
Going to Disney World is a fun and exciting adventure, but the experience can be dampened by large crowds, making it nearly impossible to go on your favorite rides and buy your favorite foods. 
Thankfully, Disney World is not always that busy, and there are times when the park is pretty empty, and the line is short. 
If you plan and choose smartly, enjoying a peaceful experience amidst the Disney World magic is possible! Avoid purchasing tickets during public holidays or school vacations; check out their events calendar beforehand, and you'll be able to enjoy fewer crowds during your visit. 
Have fun on your next Disney World adventure!
Related Articles
Sources
https://financebuzz.com/disney-wait-times-study
https://theparkprodigy.com/slowest-time-to-visit-disney-world/