Florida embraces 300 days of pure sunshine every year. America's highest exporter of oranges, the sunshine state is one of the most frequented getaway sites. The immense appeal of Florida's surf includes kayaking among mangroves, marine life, and radiant, crystalline shore.  
The winter months can be severe and relentless, escape to Florida. Its beaches offer warm, clear tides, and the pure Floridian sunshine cultivates energy and friendliness. The marine wildlife of Florida is equally engaging. The variegated blue-green shades of the ocean extend to an endless horizon. 
The following beaches are a few Floridian gems. They promote a chance at sun-soaked adventure or recovery in a gorgeous tropical scene. However, be mindful of harsh U.V. rays, sunstroke, and dehydration.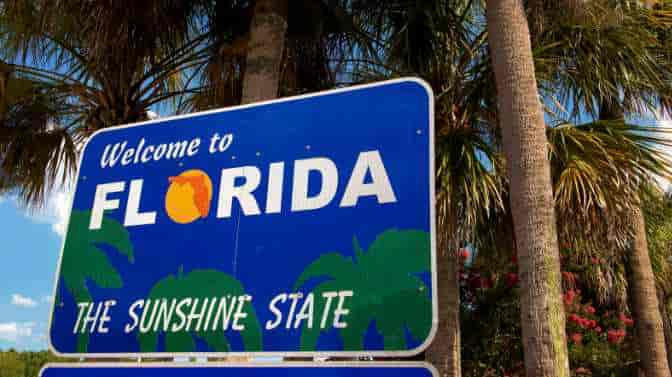 Florida yields unforgettable moments, so bring a camera.
The Warmest Florida Beaches To Visit During Winter
Florida is renowned for its immaculate beaches, vast sandy stretches of exploration, relaxation, and relentless shore. 
The pristine paradise of warm Florian beaches calls to winter-ladened city dwellers. Iconic palm trees frame dramatic sunsets and invite close ties with loved ones against the soft roar of the tide.
#1 Florida, Bowman's Beach, Sanibel Island
Bowman's beach is a remote destination surrounded by idyllic scenes and a several-mile shell-scattered shore. Fortunately, Bowman's beach hasn't undergone the development projects prolific on its neighboring islands. 
Therefore, it offers an unobstructed view. 
It's a ten-minute hike to access this secluded shore. Go along a demarcated trail through a wooded area, over the walkway surrounded by dunes. 
Although there are amenities like a public shower and portable toilet, there is only a vending machine. Therefore, prepare a picnic.
#2 Florida, Caladesi Island State Park
Situated off Florida's Gulf Coast, Caladesi Island is a genuine treat. Accessible only by boat (rented kayak or ferry), this barrier island offers many memorable opportunities. 
Renowned for its preserved, ideal space, an expanse of palm trees canopy Caladesi beach.
In addition, Caladesi beach is historically relevant as it maintains an old pioneer homestead. The coast once belonged to Hog Island- named after a hog-farming family. In 1921 a hurricane split Hog Island apart. 
This territory was divided into Honeymoon Island, Caladesi Island, and Hurricane Pass. However, the homestead remains and is preserved on Caladesi Island- reached via a hiking trail.
The ferry ride between the islands sometimes offers dolphin and osprey sightings. Both islands are characterized by rampant wildlife and tropical beauty. 
In addition, there are kayaking mangrove trails available for rent for those thirsting for a different, intriguing adventure. 
#3 Florida, Deerfield Beach, Broward
Deerfield's Blue Wave beach is an award-winning designation situated in Broward County and named for the deer that once populated the area, Deerfield practices thorough conservation policies. 
Of all the noteworthy features promoted by Deerfield Beach, its sound beach environment, safety facilities, public amenities, and water quality is outstanding. 
Touring Deerfield Beach, there are many chances for fine dining and shopping. 
Engaging and sophisticated, spend an evening dining against the backdrop of an uninterrupted expanse of ocean view as day transforms into night.
Deerfield Beach offers Quiet Waters Park, a camping and fishing sanctuary with a skate park. A refreshing spot to recollect and renew. 
A fun feature of Quiet Waters Park is its cable ski- the longest in the U.S. and a definite bucket list attraction. 
Other activities include skiing, surfing, and wakeboarding. 
This vibrant coastal town holds annual events for global water sporting enthusiasts. In addition, there is an International Fishing Pier- the heart of Deerfield Beach. 
The pier extends 1000 feet into the tide, and there are prized fish, including snapper, mackerel, and bluefish.
Mangrove forests kayaking excursions, hammock-littered hiking trails, a sleek-satin beach, and the occasional alligator sighting guarantee an unforgettable, worthwhile experience. 
Fort Lauderdale is a 20-minute drive from Deerfield beach, and Miami is 45 minutes north of this hidden jewel.
#4 Florida, Fort De Soto Park
Fort De Soto Park encloses five islands that reach across 1,136 acres. Situated within Tampa Bay and the broader Gulf of Mexico, Fort De Soto Park is a historical, sun-soaked engagement of Spanish-American monuments and electric blue surf.
The white stretch of sandy dune-littered shore creates a captivating, lasting outer-world experience. 
From bike riding to kayaking, scene after scene invites an intrigue of wildlife, color, new friends, and enduring adventure. Snorkel in the warm turquoise tide among the depth of Fort Dade ruins. 
Additional activities include running, rollerblading, and simple strolling along the several-mile paved walkway. 
Hike on any of the nature-bound interconnecting courses. Alternatively, sign up for a guided eco-tour. 
For the spirited explorer, journey along the barrier-free 2,200-foot nature route- featuring six interpretative stations.
A significant advantage of vacationing in Fort De Soto is deciding where to fish- Gulf-side or Bay-side. Both offer a unique fishing experience, and each has accompanying piers. 
The Gulf fishing pier reaches 1000 feet into the surf. 
#5 Florida, Grayton Beach State Park
Grayton Beach State Park is extraordinary. It features dune lakes; the snow-white sand of Grayton Beach is scattered with dune mounds. 
This enchanting Grayton Beach feature is due to its coastal lakes. 
Coastal dune lakes are a natural occurrence located in only two states within the U.S. (Oregon and Florida) and four countries across the globe.
The three Grayton Beach coastal dune lakes include Little Redfish Lake, Alligator Lake, and Western Lake. South Walton County has 15 coastal dune lakes, adding an incredible dynamic to any Floridian adventure. 
These dark royal blue stretches of fresh water are approximately 10 000 years old and average five feet deep. 
Consistently voted as Florida's best beach, this alluring holiday destination accommodates all types of vacationing sun-seekers. 
In addition, facilities for bikers, boaters, R.V. enthusiasts, fishers, and campers, are available on Grayton Beach. 
Additionally, there are cabins for rent, which accommodate six guests.
#6 Florida, Juno Beach Park, Juno Beach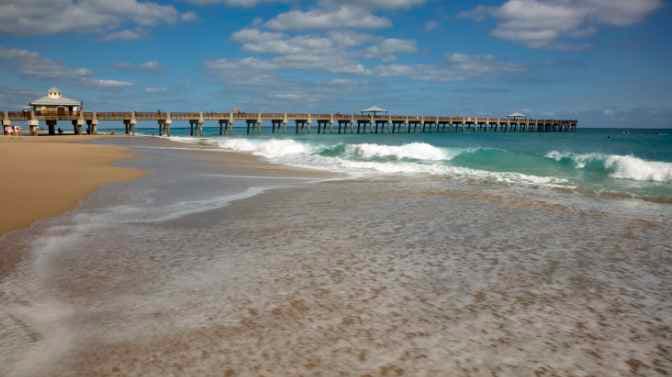 Juno Beach extends for 5.24 acres and has a selection of coffee shops, restaurants, parks, and walkways. Additionally, there are picnic shelters, designated playgrounds, and vigilant lifeguards. 
The Palm Beach County pedestrian pier is excellent for capturing treasured memories, so bring a camera, a fishing rod, or your pet.
#7 Florida, Jupiter Beaches
Florida, Jupiter Town's Beach continues for 3.4 miles and is characterized by warm, exquisite azure blue surf. Engulfed in Floridian wildlife are wonders like mangroves, dunes, and sea grape trees. 
Beachfront tiki bars, palm-strewn sun-saturated beaches, and frequent marine-life sightings provide excursionists with unique, long-remembered adventures. 
The attraction of Jupiter's beach extends past simple touristic pleasure and provides insight into Florida's natural wonder. 
The surf's break at Blowing Rocks Preserve launches 50 feet into the air during tumultuous high tide. 
Blowing Rocks Preserve, an important landmark, boasts the largest source of Anastasia limestone on the Atlantic coast. 
Here, you'll be delighted to discover an assortment of shells, coral fragments, and fossils. 
#8 Florida, Lovers Key State Park
Lovers Key State is a withdrawn set of islands that can only be reached by boat. An untouched sanctuary, this space is consistently the destination for romantic settings and celebrations. 
Lovers Key State is an idyllic and untouched set of islands that can only be reached by boat. People visit this place for its romantic setting and beautiful natural scenery. 
Lovers Key State is truly a nature lover's paradise with 712 acres of pristine beaches, tidal lagoons, canals, and four barrier islands.
Lovers Key is the main island of the four barrier islands, and the surrounding three include Inner Key, Long Key, and Black Island. Lovers Key State was destined to become an affluent condominium site. 
However, it's remained a public conservation area and protects the island's wildlife. Fauna includes dolphins, manatees, osprey, and shore birds. In addition, there have been sightings of bald eagles.  
#9 Paradise Coast
Situated in Southwest Florida, the Gulf of Mexico, Paradise Coast continues its sweep of the iridescent shore for 30 miles. An extensive array of activities to immerse yourself in during a stay on Paradise Coast, including an evening catamaran cruise.
Paradise coat is well suited for its name. Striking shades of aquamarine, turquoise, and sapphire penetrate every corner of vacationers' stay. Sun worshipers flock to Paradise Coast and embrace the warm tide and lively atmosphere. 
Scintillating energy resounds within and around Paradise Coast well into the night. 
Together with Naples and Marco Island, a top-tier experience is provided by resorts, restaurants, and shopping. 
These interlace with natural excursions and wildlife acquaintance. Watch pelicans flock over the horizon or enjoy the company of dolphins.
#10 Florida, Treasured Coast
Sequestered among a trove of natural beauty, Treasured Coast is aptly named. An encounter with this beloved coast will transform your year. Enjoy the feeling of a private beach that persists for 60 miles. 
#11 Vilano Beach 
Vilano beach is characteristically quiet. The small-town beach has an inherent charm and a supportive community. Restaurants and coffee shops entwine with curio-shop and art galleries promoting a quaint otherworldly vibe unique to Vilano Beach. 
In addition, much work has gone into preserving the history of Main Street and conserving the marine environment. 
Final Word
Florida's sunny vacation spot along the coast presents a reprieve from the harsh, stricken winters of the end-of-year months. Each Floridian beach is unique and accommodates its wayfarers. Palm trees, soft sands, and warm water attract vacationers every year. 
A wide assortment of activities includes kayaking, hiking, fishing, and biking. 
In addition, Florida's wildlife offers unique encounters with dolphins and coastal birds and adds to the essence and vibe many returning vacationers enjoy. 
Related Articles
Sources
https://traveltips.usatoday.com/warmest-beaches-florida-february-63155.html