Going on vacation to Disney typically involves months of excitement and planning. However, these trips usually include selecting hotels, making dining reservations, and schedules that leave you exhausted. Further, a supposedly relaxing vacation can soon become a nightmare of stressing about what to pack for your Disney vacation.
When going on a Disney vacation, you should pack medical necessities, the correct clothing according to the weather, and your needed documents. In addition, it would help if you also packed essential toiletries, a portable charger, a universal adaptor, a first aid kit, sunscreen, and a water bottle.
Fortunately, you won't have to stress about forgetting anything important at home if you stick to our list of what to bring to Disney World. We covered all the essential items you will need, but every person's situation is unique, and you need to account for your specific needs.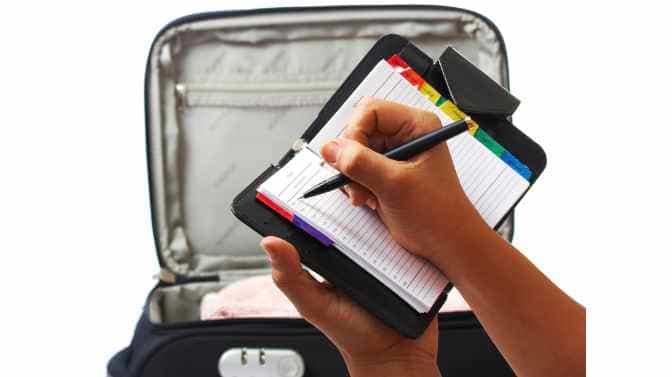 Additional Clothing And Toiletries To Pack
Having the right clothes on with you on your Disney vacation is essential to making the most of your trip. To begin, remember that the weather at Disney is unpredictable and might change at any time. 
Additionally, there are essential toiletries that you should pack to help on your Disney vacation that, include the following:
Comfortable water shoes – These shoes come in handy when going on rides that include getting wet. The breathable rubber shoes consist of open mesh on the side and upper surface and have rubber soles that provide exceptional traction in wet and slippery environments.
Sunhat – can be very handy, especially if you have fair skin on a warm sunny day. Ensure that you have a hat with a wide brim to cover the neck, face, and shoulders, especially on the little ones, so they don't overheat and burn from the sun
Ponchos – One thing you can count on in Disney Land is rain, so be sure to be prepared and bring a poncho. If you don't want to drag along extra clothing in your already full backpack, you can get a plastic disposable one folded up in a small package
Essential Toiletries – like toothbrushes, toothpaste, feminine hygiene products, and deodorant
Sunscreen – Although you can find all the essential items at your hotel gift shop, it's best to come prepared. However, ensure that your sunscreen is waterproof and sweat resistant.
Hand sanitizer – Although there are various sanitizing stations spread throughout the park, carrying hand sanitizer with you will help you out of those unforeseen situations
Waterproof makeup – To help prevent your makeup from smudging and breaking down due to exposure to water, humidity, and heat and therefore making your cosmetics last longer.
Things To Pack For Health Reasons
There are always unforeseen emergencies that occur during a vacation. However, you can pack several items for your Disney vacation that can help you prevent and deal with these problems. 
Additionally, there are multiple items that you should remember to pack for your Disney vacation to ensure you stay safe during your trip. These items include:
A Small First aid kit – is essential to take care of minor injuries that tend to occur. Ensure that your kit contains enough bandaids, alcohol-free cleansing wipes, and bandages
Emergency Medical Items – Make sure you have essential medical items within arm's reach to get to them in an emergency, including medical alert bracelets and Insulin.
Medication – Remember to pack all your prescriptions, such as chronic and motion sickness medication and eye drops
Blister Balm – Apply to your feet before walking to prevent the blisters and exposed flesh that usually come along with long periods of walking and standing.
Wet wipes or tissues – A travel-size packet for wiping down the sticky hands of kids or your own
Valuable Travel Financials And Documentation
While you travel, you must always keep your documentation close to you. 
However, it would help if you kept it safe to ensure it doesn't get lost or stolen. In addition, you can pack several items for your Disney vacation to make your trip more convenient. 
These items include:
Travel insurance – As much as everyone hopes everything goes according to plan, accidents, and cancelations unfortunately happen. Luckily, you can get travel insurance to protect you in the case of theft, damage, or loss of your belongings while on vacation, as well as any unrefunded payments due to cancellation.
Photo ID – When you are traveling, ensure that you always have your photo ID on your person
Crucial travel documents – always ensure that you have all your essential documentation on hand, including your passport, visa, international driving permits, and proof of insurance (for international visitors)
Wearable, waterproof wallet – will ensure all your essential items remain safe and close to you at all times, including your cellphone, photo ID, and cash you have with you.
Cash and card – While Disney has card facilities, it's best to bring some money in case you need it, as the fees at the ATMs in Disney will be more than at a regular bank.
Change – For the coin press machines inside the park, to make a unique souvenir.
Things For General Activities
A Disney vacation consists of splashing water, long queues, exhausting heat, and changing weather. Therefore, there are a few items you should pack for a Disney vacation to prepare yourself for these circumstances. These items include:
Waterproof backpack – to help protect your belongings from water that would typically cause devastating damage to them
A reusable water bottle – is a greener solution as you carry it with you and refill it.
Compact umbrella – Can shield you from rain, hail, and even sunlight. Further, it collapses into a convenient travel-size device you can carry.
Cheap waterproof camera – Allows you to capture the moments and memories created at Disney without fear of damage to the camera or getting it wet
Travel lock – Can be used to secure your backpack and other luggage when traveling to help ease your mind knowing your belongings is safe and get you in the vacation mood
Portable charger – Will help you keep your cellphone, camera, and other convenient devices charged while you are out and about
Universal adapter – allows you to connect your devices to various local adapters. Therefore, you can charge multiple devices with this universal adapter
Handheld Fan – This can make the extreme temperatures brought on by the interaction of reflecting surfaces that concentrate the sun's rays, hot pavement, and blacktop walkways more endurable and manageable
Before Packing For Your Disney Vacation
Before packing for your vacation, you should ensure all your documentation is in order and you have all your necessary items. 
Book your hotel stay and confirm how long your trip will be and how the weather will be so you can pack the proper clothing and other things. 
Ensure you pack snacks and water if you drive to Disney, especially with kids.
Final Word
Our packing lists include everything you need to pack to prepare for your Disney World trip. 
Therefore, reviewing the list will help ensure you're ready for your trip to the most magical place on Earth. 
Furthermore, our guide provides the necessary items to help you weather the storm of ever-changing temperatures at Disney and a few luxury items to make your trip more comfortable and memorable.
Related Articles
Sources
https://nationalpost.com/shopping-essentials/travel-guide/what-to-pack-for-disneyland-disney-world-disney-cruise-line
https://www.cntraveler.com/gallery/what-to-pack-for-disney-world