South Carolina has its own set of personal watercraft rules, enforced by the South Carolina Department of Natural Resources, Law Enforcement Division.
This article will cover the basics of what you must know to kayak safely and legally on any body of water while visiting beautiful South Carolina.
Kayaking Laws In South Carolina Summary
South Carolina has set forth several boating and kayaking rules to keep its residents and tourists safe while using a personal watercraft (PWC). The state considers kayaks and canoes to be the same as all other watercraft.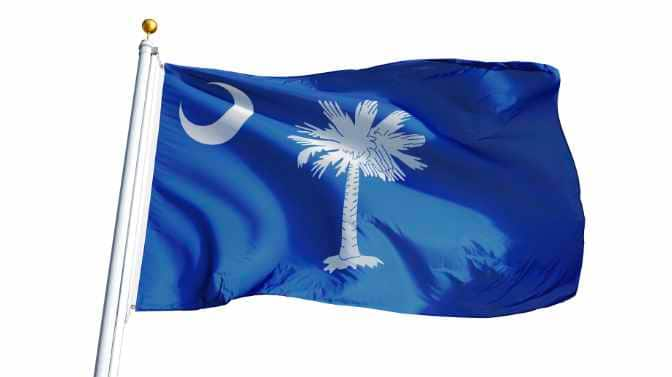 You are expected to know the rules and regulations set forth for anyone spending time on the water. The rules set forth by the state are as follows:
Fire Extinguisher Laws
Transporting a kayak laws (how long a kayak can hang out of the vehicle)
Operating, Restrictions and Licensing Laws
BUI (Boating Under the Influence) Laws
Littering and Polluting the Waters Laws
South Carolina Aquautic Nuisance Laws
Etc…
Over 14 major reservoirs, South Carolina offers some of the best rivers, lakes, and creeks that are open to the public for kayakers, to paddle and explore.
It's important for kayakers to understand and abide by the laws and regulations.
If you're looking for a way to get outdoors and spend a day on the water, South Carolina has what you're looking for to help beat the heat.
So let's get into the kayaking rules to keep you safe and legal!
Not a Lawyer Disclaimer: I am not an attorney, nor do I claim to be your lawyer. This article is for informational purposes only, and should not be taken as legal advice. If you have any questions or concerns regarding any laws in N.C. or any other state for that matter, consult a competent licensed attorney in your state!
South Carolina Kayaking Laws
Boating laws are enforced by the sheriff's Departments, but not limited to members of the state police, deputies, and enforcement officers. Anyone caught breaking the rules is subject to fines, legal fees, and in some cases imprisonment.
Here's what you'll need to know to ensure you're following the rules.
S.C. Age and Operator Restrictions & Permits
Non-Motorized
Do you have to have a license to kayak in South Carolina? No, anyone 16 years and older can operate a personal watercraft (PWC) without any restrictions. Those under 16 years of age are required to have a boating safety certificate from a qualified boating safety education course or be accompanied by someone over the age of 18.
Motorized
Do you need a license to operate a motorized kayak in South Carolina? Anyone under 16 years of age is required to take a boating safety education course to operate a PWC powered by 15hp or more. There are no restrictions to power a PWC with less than 15 hp.
South Carolina law enforcement officers patrol the waterways, so carry the Boater Education Board with you at all times.
Youth
There are no age limits, permits, or license requirements for human-powered kayaks in South Carolina. That said, young children under the age of 3 can ride in tandem kayaks as long as they are accompanied by an adult or legal guardians.
South Carolina BUI (Boating Under the Influence) Laws
Can you get a DUI while kayaking in South Carolina?
South Carolina differentiates DUI from vehicles and BUI to boating under the influence. This means, if caught drinking while operating a water vehicle of any kind, the charge will be a BUI.
South Carolina has a law forbidding Boating Under the Influence (BUI), which also applies to kayaks, canoes, jet skis, and other PWC's. It's against the law to operate any water vessel while under the influence of alcohol and or drugs.
If you are convicted of a BUI, you'll have a permanent criminal record. The penalties vary from:
First offense: 48 hours to 30 days imprisonment and a $200 fine
Second offense: 48 hours to 365 days imprisonment and or fines of $2,000 – $5,000
Third offense: 60 days to 3 years impronment and or fines of $5,000 to $6,000
According to South Carolina Statute Code 50-21-112, a person is considered to be impaired while operating a motorized water vessel when their cognitive abilities affect their abilities to operate the vehicle.
A blood alcohol content (BAC) of .08 or above, means you're under the influence of alcohol.
The state is vague about kayaking under the influence, but since the state considers kayaks and canoes the same as all other watercraft, it's likely the fees and fines will be imposed on kayakers who break the law.
South Carolina Littering and Polluting Laws
Federal laws prohibit tossing any garbage from a boat into lakes, rivers, sounds, bays, and offshore in the ocean less than three miles. The MARPOL (marine pollution guidelines) Annex V was put into effect in 1988 as a way to protect the environment from pollution.
Those caught violating the laws can be faced with fines and imprisonment.
Personal Watercraft (PWC) Life Jacket Law
All watercraft vessels must carry at least one Type I, II, III, or V Coast Guard-approved wearable device for each person.
Adults
Adults don't have to wear the life jackets while kayaking, but they must be readily accessible.
Children
Children under 12 years of age are required to wear a fastened U.S. Coast Guard-approved life jacket while on board water vessels less than 16 feet long.
S.C. Water Vessel Registration Laws
Non-Motorized
Do you have to register a kayak in South Carolina? No, manually propelled kayaks and canoes are exempt from registration and titling.
Motorized
Do you have to register a kayak with a trolling motor in South Carolina? Yes, watercraft vehicles with 5hp motors are required to be registered and titled in South Carolina.
Titling and registration fees will vary depending on the size of the vessel. – South Carolina Boating Registration.
South Carolina Kayaking Lights Law
Kayaks, canoes, rowboats, and sailboats under 23ft (7 meters) are required to display a white light such as a flashlight or lantern during periods of poor visibility, or the hours between sunset and sunrise, to prevent a collision.
South Carolina Kayaking Sounding Devices Law
Do I have to carry a whistle with me while kayaking in South Carolina? Yes, a mouth whistle is acceptable for human-powered vessels. Motorized PWC's over 39.4 feet are required to have both a whistle and a bell.
Visual Distress Signaling Laws (VDS)
Do I have to carry distress signals while kayaking in South Carolina? Vessels on federally controlled waters (coastal waterways) must carry Coast Guard Approved VDS's, regardless of length.
These can include non-combustible red flares, Pyrotechnic orange smoke, parachute flares, etc.
Night Signals
All PWC's regardless of size must carry a VDS while operating the vessel at night.
Daytime Signals
Vessels less than 16 feet in length don't have to carry VDS devices during daylight hours. This includes boats participating in regattas and organized events.
Fire Extinguisher Laws
Does South Carolina require kayaks to carry fire extinguishers? No, man-powered and trolling-powered kayaks are exempt from carrying a fire extinguisher.
Only water vessels less than 26 feet and carries passengers for hire, have a permanently installed gas tang, must carry a Coast Guard-approved hand-held fire extinguisher.
That said, we recommend any kayak with a motor carry a small class B-1 fire extinguisher to put out any fires that can occur.
Protected Species Interaction Laws
The Endangered Species Act was passed in 1973 and prohibits anyone from harassing, harming, pursuing, killing, trapping, etc a listed species from the wild. This includes endangered sea turtles, bald eagles, etc.
Penalties for violating this law can range from fines or jail time.
Uniform Waterway Markers Laws
South Carolinas waterway markers aids in the navigation, safety, and maneuverability around the waters safely. The Uniform Waterway Markers navigation Law went into effect in 1961.
Reckless Operation Laws In South Carolina
South Carolina prohibits the reckless or negligent operation of personal watercraft vehicles including water skis and surfboards. Reckless operation pertains to:
Weaving your PWC through congested traffic
Following too closely
Not following or abiding to the waterway markers
Failure to maintain lookout
Disturbing, chasing and harrasing wildlife
Swiming or kayaking too close to a public boat landing or ramp
Kayaking With a Dog In South Carolina
Can I kayak with a dog in South Carolina? There are no laws restricting kayaking with dogs, that I could find. Most state parks have their own pet rules visitors must follow, such as a leash, noise, weight, and etc.
Violation of the park's laws will result in fines or having to leave.
Transporting a Kayak In South Carolina Regulations
How far can a kayak hang out of a truck bed in South Carolina? According to the South Carolina Highways Oversize and Overweight (OSOW) Vehicles and Loads laws, the regular overhang is 6 feet to the rear and 3 feet to the front.
Anyone with a 6-foot rear overhang or more need to equip their vehicle with flags and a rotating amber beacon or strobe light on the rear of their vehicle.
Additional Resources
The Handbook of South Carolina Boating Laws and Responsibilities PDF
Apply for the South Carolina Boater Education Card by enrolling in an approved Boating Safety Education Online Course
Kayaking Fishing Laws in South Carolina
Anyone fishing from a kayak will have to adhere to the rules above. Plus, South Carolina has a set of laws geared towards anglers.
Related Articles