Every kayaker must abide by the kayaking rules set in place by the North Carolina Wildlife Resources Commission (NCWRC). Those that violate the rules are subject to fines, imprisonment, and other legal fees.
In this article, we'll cover the basics of what you must know to safely take your kayak on any body of water in the state of North Carolina.
Kayaking Laws in North Carolina Summary
North Carolina has a set of rules and regulations for anyone using personal watercraft (PWC).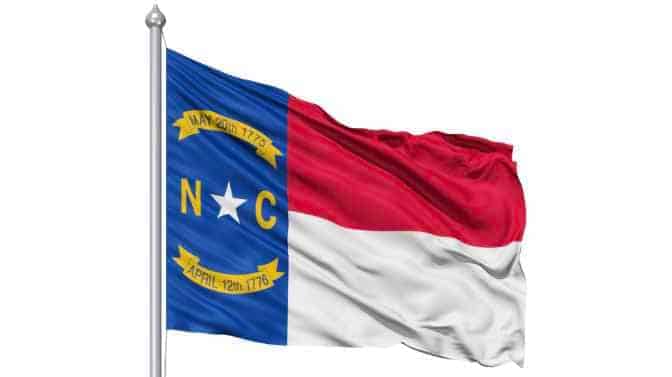 These laws vary from:
PDF (Personal flotation devices)
Day/Nighttime distress signals
Operating Restrictions and Permits
BUI (Boating Under the Influence) Laws
North Carolina Aquatic Nuisance Laws
Protected Species Interaction
Etc..
North Carolina offers some of the best lakes, rivers, and creeks that are open to the public for recreational kayakers to paddle and explore on. Every kayaker must know and abide by the laws and regulations.
Spending a day on the water with family and friends is a great way to beat the summer heat.
So let's get into the kayaking rules!
Not a Lawyer Disclaimer: I am not an attorney, nor do I claim to be your lawyer. This article is for informational purposes only, and should not be taken as legal advice. If you have any questions or concerns regarding any laws in N.C. or any other state for that matter, consult a competent licensed attorney in your state!
North Carolina Kayaking Laws
North Carolina Law enforcement officers patrol the waterways to ensure you're being safe and following the rules. Here's what you'll need to know to ensure you're following the rules and being a good citizen.
All vessels operating on any body of water in North Carolina, are subject to the jurisdiction of the United States and are subject to State and Federal Boating laws.
N.C. Age and Operator Restrictions & Permits
How old do you have to be to kayak in North Carolina?
Non-Motorized
Do you have to have a permit to operate a motorized kayak in North Carolina?
Anyone age 16 or above can operate a Personal Watercraft (PWC) such as kayaks or canoes legally in the state of North Carolina. Those under the age of 14 or 15 may operate a vessel when accompanied by someone who is at least 18 years of age or older.
Those born on or after January 1, 1988, will be required to complete a Boating Safety Education Course (NASBLA) before they can operate a vessel of 10 hp or more, and must carry the boater education card at all times.
Motorized
Do you need I need to carry my driver's license when operating a kayak in North Carolina?
Since there is no boating license issued in North Carolina, it's best to carry your driver's license in a wet bag or container in case you get pulled over. You'll need to be able to verify you're age if asked.
Youth
It is illegal for anyone under the age of 14 to operate by themselves in the state of North Carolina.
North Carolina BUI (Boating Under the Influence) Laws
Can you get a DUI while kayaking?
It is illegal in North Carolina to operate a vessel of any kind while under the influence of alcohol or drugs.
Under the NC General Statutes, Boating and Water Safety Act 75A-10, no person shall operate any vessel, motorboat, sufboard, water skiis, or any other type of water vessel on the waters in North Carolina in a reckless or dangerous manner so as to endanger the life, property or limb of any person.

NCleg.Gov Statutes
If you are caught violating the (b1) subsection provision of the Boating and Water Safety Act 75A-10, you'll be charged with a Class 2 misdemeanor, in addition, a penalty of not less than $250.00 will be imposed.
A Blood Alcohol Content (BAC) level of 0.08% is the equivalent of a DUI, a BUI (Boating Under the Influence) in the state of North Carolina.
Consumption or possession of alcoholic beverages is prohibited in North Carolina state parks, except in designated areas. Visitors cannot consume alcohol to the point of intoxication in any N.C. state park or recreation area.
North Carolina Polluting the Water Laws
Throwing or discarding paper, raw sewage, bottles, liquid, or any other litter that is detrimental to public health or welfare violates the States G.S. 130A-290 law. Anyone caught violating these laws will be found guilty of Class 1 misdemeanor.
Disposing of medical waste that creates a risk of bodily and physical injury to any other people can be found guilty of a Class F felony which may include a fine that may not exceed more than fifty thousand ($50,000) per day of the violation.
Who Has the Right of Way on the Waters of North Carolina?
Non-motorized vessels that are powered by paddles or oars such as kayaks, canoes, etc have the right-of-way over motorboats. Except in circumstances where the motorized boat is passing or speeding up to pass.
All small water vessels must yield to large commercial vessels in narrow channels.
Personal Watercraft (PWC) Life Jacket Law
Adults
Do you have to wear a life jacket while kayaking in North Carolina?
Anyone operating a vessel must have one suitable sized Type 1, II, III, or V PFD onboard for each person in the vessel. This includes kayaks, rowboats, canoes, and motorized boats.
Vessels 16 feet or longer must have a Type IV U.S. Coast Guard Approved FDF onboard.
Adults are not required to wear the PDF at all times, but must have one within reach.
Racking kayaks, sailboards, rowing skulls, racing shells and racing canoes are exempt from this law.
You must have a PFD on board for anyone being towed such as a skier.
Children
All persons under the age of 13 must wear a Coast Guard Approved flotation device while the vessel is underway, excluding the boat being tied to the dock or anchored.
They are exempt from wearing a life jacket when they are riding in an enclosed area such as the cabin or deck.
N.C. Water Vessel Registration Laws
Do you have to register a kayak in North Carolina?
Non-Motorized
Human-powered vessels such as; kayaks, rowboats, and canoes do not need to be registered in North Carolina. Those with a trolling or powered motor of any kind (gas or electric) need to be registered and titled. The only exception is if it's solely operated on a private pond.
Motorized
Motorized vessels 14-feet or longer including jet skis and sailboats must be registered. Registering and titling applications a boat can be done in person, through the mail, or online.
Vessels that are unused or parked on dry land do not need to be registered in the state of North Carolina. If you purchase a motorized vehicle in a different state, it must be transferred and registered to the state of N.C. after 90 consecutive days of owning it.
You must have a title, bill of sale, that has been signed and notarized by all owners listed on the registration before registering it in North Carolina. The costs of registering and titling a vessel vary depending on the size and service.
Refer to the VL-1 Form for a list of the various fees. To find an office near you, visit the Wildlife Service Agent Search page, or contact the agent support help desk at (800) 662-7350.
N.C. Lighting and Distress Laws
VDS – Visual Distress Signaling Devices
All vessels operating on federally controlled waters and on the high seas must carry a United States Coast Guard approved visual distress signals.
Day Signals
Recreational vehicles such as kayaks, canoes, inflatable rafts, etc are. not required to carry day signals, unless it has a motor. Boats operating in races, parades, and marine regattas are exempt.
Fire Extinguisher Laws
Is it illegal to not have a fire extinguisher in a motorized kayak in North Carolina? All Class A and 1 vessels (less than 26 feet) must carry one Coast Guard Approved "B1" serviceable fire extinguisher.
The only exceptions are outboard-powered motorboats that are less than 26 feet long that have been constructed that do not allow gas fumes to build up.
North Carolina Aquatic Nuisance Laws
With over 300 species of freshwater and marine plants, pathogens, and animals residing in N.C. The Wildlife Resources Commission as well as other state and federal agencies set forth laws that protect the state's unique biological attributes.
This law was put into place to prevent the spread of disease, and negative impacts on the environment. PWC users are asked to become familiar with so they can identify nuisance species to help prevent the spread.
Protected Species Interaction Laws
North Carolina is home to endangered species such as; sea turtles (loggerheads, Leatherbacks) and etc. There are over 36 species of marine mammals, it's likely you'll run into some while spending the day on the water.
As an owner of a PWC, it's important to understand what's expected of you. For example, you're not allowed to feed any marine life. You must stay within 500 feet of approaching dolphins, whales, porpoises, or seals.
Basically, it's against the law to trap a marine mammal of any kind between your watercraft or the watercraft and the shore. If you see a stranded marine mammal report it immediately by calling the Marine Fisheries at (252) 726-7021.
North Carolina PWC Hours of Operation Laws
Personal Watercraft are prohibited on any body of water between the hours of sunset and sunrise.
All recreational water vessels must have proper lighting in periods of reduced visibility such as fog, rain, or haze.
For your safety, you should always carry a sound generating device such as; bells, horns, or whistles at all times. There are no specific standards, only that it must be loud enough so other boaters can hear it.
All state parks have signs stating their hours to the public.
If you're unsure of the hours, call ahead or check the website of the place you'll be visiting. They will inform you when the times PWC's can and cannot be on the waterways.
N.C. Uniform Waterway Marker Laws
What are the Uniforms Waterway Marker Laws in North Carolina?
The Uniform Waterway Marking system pertains to the rules on water safety. These can pertain to speed zones, no PWC's allowed, fishermen and swimmers nearby, etc.
North Carolina adopted the system in 1961. It was approved by the Advisory of the State Officials to the Merchant Marine Council, United States Coast Guard.
It is a standardized system of signs and markers that regulate the safe flow of traffic, similar to the signs used for regulating the nation's highways. The markers are designed to help you maintain a safe speed, avoid collisions and designate someone to watch for dangers.
Reckless Operation Laws In North Carolina
Both non-motorized and motorized vehicles must operate in a reasonable and prudent manner. Avoid dangerous maneuvers that can endanger life, limb, or property such as:
Not abiding by the rules of the road or water in this case.
Jumping the wake of a vessel that is within 100 feet.
Weaving through congested vessel traffic.
Playing chicken with another vessel to see which one backs down first.
Following other vessels too closely.
Operating a vessel within 100 feet of a dock, swim float, or marked swimming area.
North Carolina Renting Personal Watercraft Laws
Anyone renting a personal watercraft (PWC) to the public must have a $300,000 liability insurance policy. Renters must abide by the rules set by the rental company.
Kayaking With A Dog In North Carolina
Can I kayak with a dog in North Carolina? There are no state rules pertaining to kayaking with a dog, that I could find. That said, for safety reasons, it's best to have a canine life vest in case your dog falls out of the kayak.
Many state parks have rules such as leash laws that must be followed while visiting with your canine friend. Failing to abide by the park's rules can result in fines, or being kicked out.
Transporting a Kayak Regulations
How far can a kayak hang out of a truck bed in North Carolina? According to the North Carolina Statute 20-117, motor vehicles are allowed an overhang front or rear tolerance of no more than five feet.
These rules do not pertain to tow trucks, trucks with trailers, or a tractor and trailers. If your kayak sticks out further than that, you may need to acquire a special permit, use an escort, or use a visual sign as a flag.
Between the hours of sunset to sunrise, a working amber-red light must be used to alert oncoming traffic.
Additional Resources
North Carolina Vessels Operator's Guide produced by the North Carolina Wildlife Resources Commision.
U.S. Aids to Navigation System, What You Need to Know About the Markers on the Water
North Carolina Environmental Quality – Guidelines for Protected Species Interactions
Boat Responsibility – A Boater's Guide to the Federal Requirements for Recreational Boats
Kayaking Fishing Laws
Those fishing from a kayak will have to adhere to the rules above. Plus, the separate set of laws geared towards anglers.
Related Articles