Although it only occupies 10 acres on the Banana River's bank in Cape Canaveral, Florida, Manatee Sanctuary Park is crucial to the lives of manatees throughout the state's coastal waters and freshwater rivers in Florida.
Manatee Sanctuary Park is completely free to visit. Their hours are generally from 7 a.m. to dark throughout the year unless something is going on, like park maintenance. While it is a safe haven for manatees, that's not the only function of the park. 
Manatee Sanctuary park is; also, you guessed it, a park. It's not a very large park, but there is a small slice of peace and relaxation. They have a riverside boardwalk, a covered pavilion, horseshoes, a half-mile trail, and manatees when they decide to show themselves.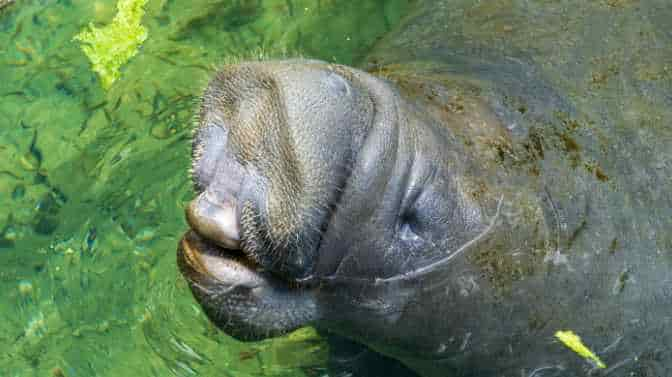 What is the Manatee Sanctuary Park?
First and foremost, it's a small section that runs alongside the Banana River. Manatees that enter this section of the river are safe from coming into contact with boats and other natural dangers that manatees often encounter, such as algae blooms and overrun habitats.
For those who enjoy aquatic nature, manatees are far from the only sea creatures passing through Manatee Sanctuary Park. If you're lucky, you'll get the chance to see dolphins. 
The park also hosts several waterfowl, ospreys (which are truly impressive up close), and a variety of fish if you walk down to the bank and observe. 
It's not a mammoth park and will certainly not challenge Sea World anytime soon. 
But it is a very peaceful place for an afternoon of recreation or family activities.
Four horseshoe pits to choose from
Riverside boardwalk
Picnic tables
Grills
A single, covered pavilion
An educational kiosk
Multiple exercise stations
A half-mile fitness trail (running, jogging, and walking)
It's not the stuff of legend, but for those who visit Manatee Sanctuary Park, it's a little slice of heaven set apart from the hustle and bustle of city life. 
Where is Manatee Sanctuary Park?
Manatee Sanctuary Park is located in Cape Canaveral, Florida, about 12 miles north of Cocoa Beach, Florida. Cocoa Beach is an area that is well-known for manatee sightings as well. 
It's also close to the Kennedy Space Center. Since Cocoa Beach is a top-rated tourist destination, Manatee Sanctuary Park is an excellent place for non-tourists to escape during the tourism season. 
That doesn't mean that the locals are unwelcome, far from it. 
It's just an excellent place to go when the tourism season gets to be a bit much, which is something that Floridians from the panhandle to the tip of the peninsula understand well. 
Will You See Any Manatees?
While Manatee Sanctuary Park may be pretty small, especially by the standards of most state parks in Florida, it is a part of a much larger habitat. 
The entire surrounding area, well outside Manatee Sanctuary Park's boundaries, is a protected manatee habitat. 
No one, including those who work at the Manatee Sanctuary Park, will guarantee anyone that they will see a manatee. No one controls them. 
Unlike Sea World, where the wildlife is captured and trained to perform, Manatee Sanctuary Park is just a place where manatees can pass through. 
They may be passing through when you show up, and they may not. 
There's a lot of luck when it comes to that. Manatees are prevalent in central to south Florida, and if you stay for a solid week or so, the odds are good, you will see one. 
Manatees aren't exactly shy. On the contrary, they are curious animals. 
However, they are very slow and methodical about their approach. They won't jump or pop out of the water like a dolphin. 
You may have a better chance of seeing a dolphin than a manatee, depending on where you are and when you go. 
When is the Best Time to Go?
Places like the Manatee Sanctuary Park are fine to visit in the summer, fall, and spring. So long as the water is warm. Manatees don't do well in cold water and will migrate to inland waterways, such as the Blue Spring State Park. 
If you want the best chance to see, some manatees travel to some of the inland waterways that flow down into the bays whenever the first cold snap of the year is coming around. 
You'll have a better chance of seeing them as they make their way to warmer waters. 
The Manatee Sanctuary Park is a part of a larger ecosystem for manatees in protected waters. Still, the manatees don't know it's a protected area, and they do exactly what comes naturally, which is to make their way to warmer temperatures when it gets a bit nippy outside. 
Are Manatees Scared of People?
Not really, unless one of them has had a nasty run-in with a person in the past. Manatees are highly curious, and if they're around when you are, there's a good chance they'll pop top and check on what you're up to. 
Generally, a manatee will be more than happy to let you pat its head or rub its back as it swims lazily by you. The only thing you need to be concerned with is where you are. For example, the rules inside a state park may prohibit touching manatees. 
It's not because you are dangerous, but there are always a handful of people that ruin things for everyone else. Either they take it too far or try to feed the manatees, which is a no-no. 
Feeding wild animals interrupts their little circle. It makes them expect to find food at the sanctuary rather than following their normal, instinctive predilections. But the fact is, manatees aren't scared of you unless they have reason to be. 
But if you want to pet them or swim with them, you will need to go somewhere other than a protected sanctuary or a state park. You'd be surprised at how often you will run into manatees and dolphins when you spend a lot of time in the water. 
How to Find Manatees?
There are a lot of places to go in Florida where you will have a good chance of running into manatees. Manatee Sanctuary Park is just one of them. 
Manatee Sanctuary Park
Weeki Wachee Springs State Park
Manatee Observation and Educational Center
Manatee Lagoon West Palm Beach
That's just a few, but if you want to see and swim with manatees on your own, you should get a kayak. Traveling up and down rivers directly connected to bays during the late fall will improve your chances. 
Kayaks are excellent because they don't have motors unless you install a trolling motor. They also allow you to get into areas where regular boats won't go. 
Final Word
Manatee Sanctuary Park is a little slice of heaven just outside Cape Canaveral, and it's a great place to see manatees if you're lucky. 
If you're not intrigued by that, the park still has plenty of other activities and amenities to enjoy. Besides, there's always something to do in Florida and exciting wildlife to observe.
Related Articles