Florida is the only state in the US, with the possible exception of some regions of California, that carries the tropical vibe of the Caribbean. Well, maybe that's a bit of an exaggeration because you have to go to south Florida to take in that particular aesthetic. But just because it has a certain vibe doesn't make it foreign.
If you are a citizen of the United States, there is never a need for a passport to travel to Florida. However, if you are from out of the country, that's a different story. Florida is considered a domestic trip, whether you fly, drive, or travel down the east coast in a boat. 
All you need to do is provide TSA with your state or federally-issued identification. That's all you need to present at the airport for departure and arrival in Florida. The TSA (Transportation Security Administration) will probably require you to undergo a verification procedure, but that should be the worst scenerio.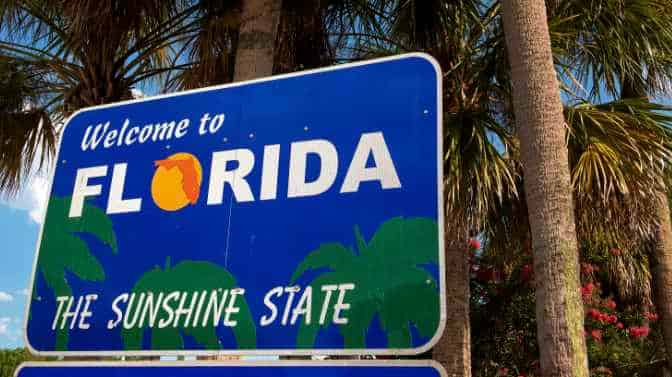 Covid-19
The only addition to landing procedures when you arrive in a new state is the Covid-19 protocols. This is only applicable if you are an international traveler arriving in Florida. Different states may have their own procedures.
Florida does not require any testing, nor does the state require a quarantine procedure. In addition, all of Florida's public transportation systems are up and running with no delays due to Covid-19-related protocols or regulations. 
Florida recommends masks, but it does not require you to wear one. Florida has eliminated mask mandates throughout the state. Restaurants and businesses are open throughout the state with no current closures or any talk of closing anything.
It is also recommended that you present a negative PCR test upon arrival, but it is not mandated. However, you may be asked for one at the airport when you land. If you do not have one, simply tell them you don't, and you will be free to leave. 
International Travelers
For international travel, your passport is your primary identification regardless of where you are going. Thirty-eight countries participate in the VISA Waiver Program, which means you won't have to have a VISA for less than a 90-day stay in Florida. 
The VISA waiver program allows visitors from abroad to fly to the US, specifically Florida, in this case, and stay for no longer than 90 days. If you are a part of the VISA Waiver Program, you will most likely have an electronic passport with a chip at the bottom. 
Under a part of the VISA Waiver Program, you will have to go through the Electronic System for Travel Authorization (ESTA). It will cost a mere $14, with $4 for the processing fee and $10 to cover the authorization charge. 
The response time for the application is generally immediate since it's an online application. 
However, it may take longer if something is wrong with the application. So if you are an international traveler heading to Florida, you should make your application well ahead of time, just in case. 
If you come from a country that is not a part of the VISA Waiver Program and will stay in Florida for more than 90 days, you will have to apply for a non-immigrant VISA. If you are just going for a vacation, your VISA will be classified as a Tourism and Visitor category.
What is the Cheapest Airport to Fly to in Florida?
While you don't need a passport for domestic travel to the state of Florida, it's always a good idea to save money on the trip. That way, you have more to spend on your vacation. In addition, Florida has five airports that won't cost you an arm and a leg to land. 
Orlando International Airport is indeed one of the cheapest airports to land in if you fly to Florida. Not only that, but Orlando is right in the middle of everything, including Disney World, Sea World, Universal Studios, and more. 
Tampa International Airport is another good spot. It's not too distant from Orlando, and Florida is a surprisingly long state, so travel takes more time than tourists realize. Tampa is also home to Busch Gardens, several cruise lines, and the Tampa Bay Buccaneers. 
Miami International Airport is surprisingly cheap to land in as well. Miami is the part fun center of Florida, and it's close to one of the most popular beaches in the state, South Beach. It's also far enough south that the weather is almost always warm, even in the winter. 
Miami is only a few hours away from the Florida Keys as well. The Florida Keys are about as close as you can get to visiting places like Cozumel, Mexico. The islands are beautiful and tropical and offer a significant number of amenities for both locals and out-of-state visitors. 
When are the Best Days to Fly to Florida?
According to Hopper, an informational website on vacation savings, the cheapest day to fly to Florida is on a Tuesday and the best day to purchase the ticket is Wednesday. So departing on Tuesdays and returning on Wednesdays seems to be the sweet spot regarding cost. 
Frontier and JetBlue also offer the cheapest flights. If you fly domestically, you will often find tickets for less than $200. Today, that's an incredible price, so long as you're willing to fly coach. First class will obviously cost you a bit more. 
May is the best month to fly to Florida as well. It comes after the spring break and falls before the tourism industry kicks into high gear. Florida is lit up with tourist and local activity during the June, July, and August stretches.
May is perfectly sandwiched between the spring break party-goers' chaos and the summer's enthusiastic beach-goers. In addition, May is also one of the cheapest months to visit the numerous theme parks throughout the state. 
It's not as cheap as November and right after Christmas, but it's pretty close. May also falls before summer vacation from school. So while you're out touring the state, you won't have to worry about all of the teenagers flooding the scene as well. They'll be busy attending school. 
How Much Money Will You Spend Vacationing in Florida?
The average person vacationing in Florida will spend around $50 per day on food for themselves and $40 on local transportation, assuming you won't have your own method of transportation when you arrive in the state. 
If you rent a car, gas prices are on the rise right now and usually go up during the summer months, especially if you're staying close to the beaches. Gas prices are always far more expensive per gallon close to the beaches. 
If the place you are staying in is within 50 miles of a beach, expect to pay a premium for gas prices. 
Final Word
International travelers will need a passport to travel to Florida. Fortunately, that does not include American citizens traveling domestically. 
If you live anywhere in the US, including Hawaii, a passport is not required to travel to Florida.
Florida has some of the most beautiful beaches in the world, along with over a thousand springs, good food, and wonderful people. So if you are planning a trip to Florida, plan to have the trip of a lifetime. 
Related Articles