Florida is a stunning state in the USA that many people wish to vacation at, as they have many beautiful beaches you can visit. However, where there are beaches, there are usually sharks, too, but do Florida's beaches have sharks, or can you swim in their oceans without worry? 
There are many beaches in Florida. Unfortunately, most of these beaches have sharks, as 15 species live in Florida's oceans. Some beaches have more reported shark attacks than others, including New Smyrna Beach, Dayton Beach, and Cocoa Beach, but the odds of an attack are low. 
Want to know which Florida beaches have experienced the most shark attacks and why? Then keep reading this article for more information about where humans commonly encounter sharks!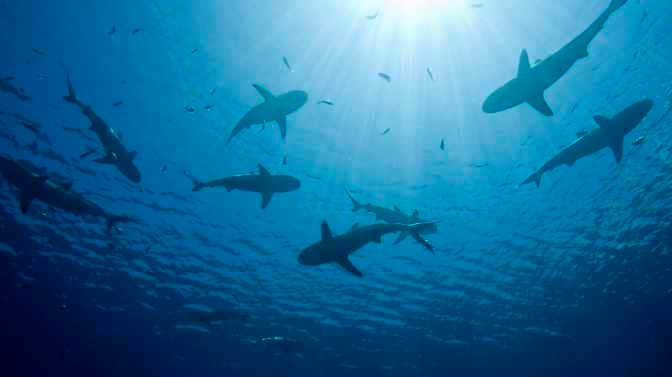 Do Florida Beaches Have Sharks?
Whether you wish to make a permanent move or just visit for a season, the sunny state of Florida should be your go-to destination. 
With its stunning beaches located between the Gulf of Mexico and the Atlantic Ocean, this delightful paradise will offer you an unforgettable summer vacation with its fun activities and breathtaking views!
Florida is home to at least 189 official beaches with over 350 miles of coastline. 
However, the fear of sharks comes with beaches and swimming in the ocean. 
Many people are terrified of sharks as they are fierce predators, and they can easily swim in the waters close to the shore without us knowing. 
Although some beaches are lucky enough to evade shark incursions, you can't say the same for some of the most visited beaches.
Unfortunately, this state is known all too well for its yearly shark attacks.
Florida beaches have an average of 25 shark attacks reported yearly, making them one of the highest coastal states for shark attacks in the USA and the world. 
About 57.6% of shark attacks reported in the United States occur in Florida.
Which Florida Beaches Have The Most Shark Attacks? 
Unfortunately, the stunningly beautiful waters of Florida are home to an array of predatory sharks, meaning there's a higher risk of shark attacks. 
This statistic can scare even the bravest of swimmers. 
To be sure they don't become an unwitting snack for a shark, savvy swimmers and tourists need to know which beaches in Florida should be on their 'do not visit' list.
You may want to avoid specific beaches to avoid potential shark attacks and stay safe on your next Florida vacation. 
While these waters may seem tempting, it is not worth taking risks and putting yourself in danger by venturing too close. Instead, seek out other options for outdoor fun if safety is a priority!
The following beaches are the ones to avoid.
New Smyrna Beach
The number one beach to avoid if you don't want a high possibility of interacting with a shark is New Smyrna Beach. 
New Smythma Beach is located in Volusia County on Florida's Central Atlantic coast. 
It is a beautiful beach, but it is accountable for several Volusia County shark attacks over the years. Since around 1882, New Smyrna Beach has recorded about 200 shark attacks. 
This is substantial, given that since 1882 only about 337 shark attacks have been reported in Volusia County, which means that New Smyrna Beach has accounted for over half of the shark attacks in this Florida county. 
So, avoid this beach if you are afraid of sharks, as you have a high risk of seeing one here. 
Cocoa Beach 
Cocoa Beach is an idyllic sandy paradise in Florida's Brevard County. It is the perfect destination for those seeking a tranquil day of relaxation. 
Tourists flock to this cozy and inviting beach year-round due to its favorable weather that allows for swimming any time of year. In addition, cocoa Beach radiates serenity making it the ideal spot to escape all your worries.
However, Cocoa Beach does have some history with sharks and shark attacks. It has been responsible for roughly 30 shark attacks in Brevard County since 1882. 
This doesn't sound like much, but since Brevard County has only reported around 155 shark attacks since 1882, Cocoa Beaches' contribution to this number is quite significant. 
Daytona Beach 
With its inviting atmosphere and perfect weather, Dayton Beach in Volusia County is an ideal tourist attraction during the summer. Whether you're looking to hit the waves or relax on the shoreline, there's no better place to go for your vacation than Daytona Beach!
Unfortunately, Dayton Beach is also well-known for the repeated shark attacks that occur there. 
Since 1882, there have been about 46 reported shark attacks at Dayton Beach. 
Although Volusia County reported a substantial number of shark attack incidents during this time, the highest amount was recorded in nearby New Smyrna Beach.
Florida Keys 
Immerse yourself in a beautiful experience of natural beauty and explore the unforgettable islands that comprise the Florida Keys. 
This archipelago is situated within Monroe County, Florida, offering people a unique opportunity to witness diverse wildlife and spectacular sunsets and make incredible memories along their journey through this paradise.
These islands offer many water activities, including boating, scuba diving, fishing, and more, to encourage tourists to visit the islands. 
With an extensive coastline and plentiful beaches, it's no surprise that the Florida Keys are prone to shark attacks. Since 1882, approximately 20 reported incidents have occurred in this region alone.
How Many Shark Bite Fatalities Are There In Florida
Reading about these relatively high numbers of shark attacks on the different beaches of Florida can make you feel unsettled. 
There have been 900 reported shark attacks in Florida since 1882, which is high and makes Florida one of the most likely places in the USA where you will encounter a shark. 
However, of these 900 reported attacks, only 40 shark attacks have been fatal in Florida since 1882. 
So, most shark attack victims in Florida survived their encounters with these deadly predators. 
Why Do Sharks Like Florida Beaches? 
As Florida has many reported shark attacks, you might be wondering why sharks love Florida waters so much. 
The answer is simple – 18.5% of Florida's landscape consists of water, and these expansive bodies contain fifteen distinct species of sharks! So it is no surprise that they make this state their home away from home.
The waters of Florida are perfect hunting grounds for these sharks as the temperature and variety of prey are perfect. 
The different shark species in Florida vary in size and temperaments, meaning some are more likely to try their luck with humans than others. 
Florida also has a booming population, with its population growth being the second-highest in the USA. 
With a growing number of beachgoers visiting Florida annually, the chances of humans and sharks having an encounter increase drastically.
Final Word
If you're looking for an unforgettable getaway, consider Florida's gorgeous beaches! But if you fear sharks, then be sure to steer clear of certain spots known for shark sightings. 
Even though there have been a large number of reported shark attacks on the different beaches of Florida, the chances of you being the one encountering the shark is still low, so don't let this slight possibility stop you from enjoying your vacation!
No matter which beach you choose, though – there is no denying that Florida offers the ultimate vacation experience.
Related Articles
Sources
https://myfwc.com/research/saltwater/sharks-rays/interaction/education/
https://economictimes.indiatimes.com/news/international/us/sharks-prowl-closer-to-florida-shoreline-heres-what-experts-have-to-say/articleshow/93982700.cms?from=mdr
https://www.floridamuseum.ufl.edu/shark-attacks/maps/na/usa/usa-all/