There's nothing good about a dirty kayak. First, the messy look might put you off riding your kayak or leave the wrong impression among your friends and family members. Second, there might be some spills that can cause the surface to become slippery, leading to a serious injury. So how do you clean it, and can you use Armor All on kayaks?
Can You Use Armor All On Kayaks?
There's a huge debate online about whether you can use Armor All on kayaks. Some say it is terrible because it eats the vinyl and pollutes the water. Others say that it's perfectly fine to use small amounts of it. 
So which is correct? I think it comes down to a personal choice but since I've used it before on my kayak, I'll be talking about why Armor All is a good choice and if you can use it on all kayaks?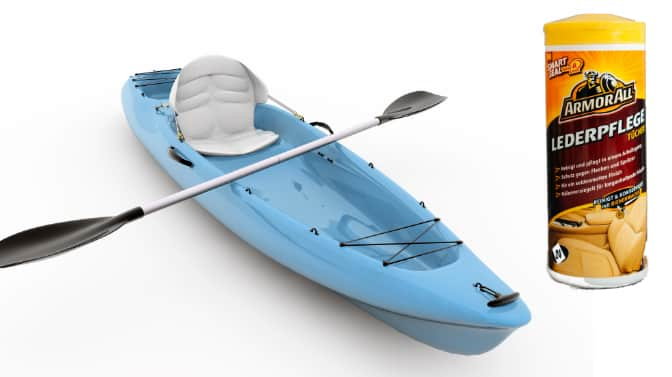 Keep reading to learn more about this protectant. If you're not sure about using Armor All, read why some people prefer using 303 Protectant for their kayaks. 
What is Armor All?
Do you think your kayak is clean because it's always in the water? Think again. 
Oil buildup, algae stains, sand, and other substances can accumulate on the outer surface of your kayak, eventually ruining its look. At the same time, the suntan oil or lotion you apply, the sand and gravel on your feet, and any food or drink that you might accidentally slip will affect your kayak's interior. 
As a result, you'll end up with a faded kayak, full of stains and smudges, and overall doesn't look that encouraging to use. This is true whether you've bought a cheaply made kayak or an expensive model that costs thousands of dollars. 
Nothing looks good about a dirty kayak. If you're taking someone on your kayak, they'll immediately get the impression that you don't care that much about your gear. The stains can ruin their outfits, and the spills can make them slip and fall. 
But Armor All is a good solution to help you maintain and clean your kayak of all the smudges, spills, and stains, and it does its job in a few minutes. 
It's an all-purpose cleaner for marine and watersports vessels like kayaks, jet skis, and canoes. This cleaner will remove all the stains and apply a protective layer to protect your kayak from further damage, so it'll always look as good as new. 
Armor All works on all surfaces, old and new. You can apply it to all types of plastic, vinyl, rubber, and leather, so using this single product, you'll be able to clean every inch on the inside and outside of your yak to keep it in perfect shape. 
What Does Armor All Do?
Marine stains are sometimes too challenging to clean. Fuel buildup, oil stains, or even the stains from your suntan oil can damage the look of your yak and make it look messy and dirty, even if you've just bought it. 
This is why you need a practical and fast-acting cleaning solution that will keep your yak as good as new. 
All you have to do is apply a single coat of Armor All and wipe it clean. With only one wipe, you'll be able to clean stains, restore color and shine, and add UV protection to your kayak. 
It removes salt spray residue and all the other marine byproducts that affect the look of your kayak. As it removes the dust and debris, it also applies a new protective layer that prevents the formation of streaks. 
Armor All works for old and new kayaks. If you have an old kayak, cleaning it with a hose and some dish soap might sound convenient, but not when it's been dirty for a long time. 
After a while, the stains and smudges settle in, and it'll be extremely challenging to break and remove them using soap. This is why you need a concentrated cleaning solution that breaks the stain's molecules and allows you to remove it with a single wipe. 
Because it works efficiently, you won't have to use a brush to scrub any stain away. Using a stiff brush might get rid of the stain but also cause irreparable scratches that ruin the look of your yak. 
Armor All works independently without much elbow grease, and a little goes a long way. It restores the color and shine of your kayak and protects it from fading, discoloration, and cracking. Using Armor All will save you time, effort, and money. 
Using Armor All will be a smart move if you have a new yak. Unlike other cleaning solutions, this solution works fast to apply a protective layer. It helps keep your new yak clean and will add UV protection to protect the surface from fading and cracking. 
Armor All is made of surfactants and water-based silicone emulsions, so it conditions and restores, protecting your yak's surface from cracking and showing signs of wear and tear after long periods of use. In addition, it doesn't contain any harsh solvents or petroleum-based chemicals, so it won't ruin the plastic surface or cause discoloration or cracking in the long run. 
Does Armor All Pollute The Water?
Most things pollute today's water, and Armor All is no different. According to the Armor All website: 
"Armor, All protectant care products, contain water based-silicone emulsions and surfactants. They do not contain petroleum distillates or alcohol. In addition, certain products contain UV inhibitors."

https://www.armorall.com/
So what does this mean? I'm not sure, but this video will explain what silicone emulsions are and how they are used in various products being used today, such as; foods, body care products, and tire production.
If you use Armor All for your kayak, you may want to use it a few days before heading out to the water. This will give it enough time to dry, which may help lessen the effect of pollution. 
According to this site, Armor All contains small amounts of solvents which is harmless to resins and plastics. It won't wash off immediately in the water and will last for a few trips. 
That said, it won't last near as long as 303 protectants. 
How Can I Use Armor All to Clean My Kayak?
After choosing a good cleaning product, you need to find the best way to clean your kayak. Luckily, Armor All doesn't need any previous preparation. 
You only have to apply it properly to restore the look of your kayak and add UV protection to protect it from discoloration and fading in the long run. 
Here is how to use it properly. 
Use a soft sponge or microfiber towel to remove any dust or debris before adding Armor All. Use a soft-bristle brush to brush away any sand or gravel, as these particles can scratch the surface of your kayak while you're cleaning it. 
Ensure that your kayak's surface is dry before applying your cleaning solution. 
Shake Armor All before use to make sure that all its ingredients are evenly mixed to remove all the stains efficiently. 
Apply a liberal amount of Armor All to a clean and dry microfiber towel or cloth, or apply Armor All to the surface you want to clean. 
Wipe off all the excess. Too much Armor All can leave your yak's surface streaky and slippery. Instead, use a clean cloth to remove all the extra product. 
Apply another coat of Armor All if you don't feel that the surface is as clean as you need it to be. If you have an old kayak with too many stains, it's recommended to apply three coats of Armor All to restore the shine, color, and gloss of your kayak. 
Use Armor All as part of your regular cleaning routine. You can use it every week or as needed to protect and clean your kayak. 
Can Armor All Be Used on All Surfaces?
Armor All is an excellent cleaning product, but it doesn't work on all surfaces. For example, it doesn't work on fabric, suede, or buckskin. 
But it's a good product to clean your kayak with all its paddles and other accessories. 
All you have to do is apply it regularly to keep your kayak squeaky clean. 
Conclusion
Using water and soap might work to get rid of some smudges, but they'll never be enough to get rid of the tough stains. Armor All is an excellent cleaning solution because it cleans, restores, and protects at the same time. 
You only need to apply a small amount of Armor All and wipe it to remove your kayak's most rigid and oldest stains. You don't have to use a lot of product or spend hours trying to maintain your kayak. 
Just wipe it with a clean cloth, and you'll end up with a clean and shiny kayak that looks as good as new. 
Related Article