Kayaking is an excellent way to spend time outdoors with friends, and it's one of the few activities that doesn't require a lot of money. Once people discover how much fun kayaking can be, they often start planning longer trips. This usually means figuring out how to transport a kayak on their car.
When buying a new kayak rack, you will get the parts to connect it to the rail or mount positions on almost any car. However, you will need to ensure that your car does have mount positions for a roof rack and that you have all the parts for your kayak rack, as it will be needed to adjust it to your car. 
It should be noted that no matter what, you must secure a roof rack to your car before you can add the kayak rack.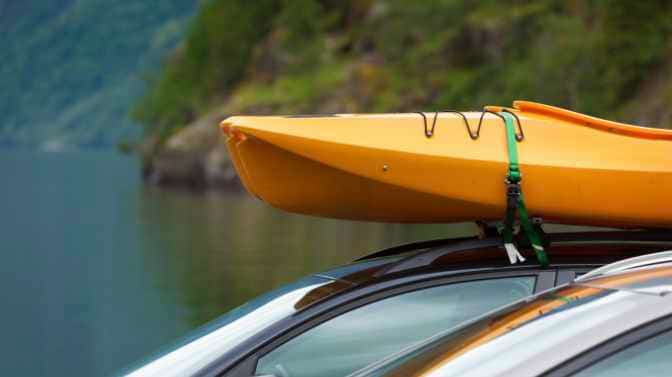 Understanding how a kayak rack works and how to add one to your car will ensure that you can easily and comfortably lift the kayak and go on the next adventure. 
*This page contains affiliate links to products I recommend. If you purchase something from this page, I may receive a small percentage of the sale at no extra cost to you.
How Do You Know If A Kayak Rack Can Fit On A Car?
If you can put a roof rack on your vehicle, you can add a kayak rack. Most modern passenger cars have the necessary mount spots. The only vehicles that cannot have a roof rack are sports cars, usually meant to be as smooth and aerodynamic as possible. 
When looking at the top of your car, using either a stepping stool or by parking close to a few steps, you will see four areas that can be lifted. 
Larger vehicles like SUVs and trucks have rails fitted to the roof, allowing for much larger roof racks. These larger racks are more versatile that can be moved and carry large cargo.
It is important to remember that adding roof rails affects the vehicle's weight and how it will behave when driving at highway speeds. 
This is why cars built for speed will not have the mounting spots for a roof rack, so it will not allow you to attach a kayak rack. 
Do You Need Cross Bars For A Kayak Rack?
You won't always need cross bars for a kayak rack; instead, you need to have a standard set of roof railings attached to your car. Unfortunately, many people mistakenly assume that the only way kayak racks can be attached to a car is by having a set of cross bars to hold onto the kayak. 
The confusion has become popular simply because cross bars are more popular to use when having to fit kayak racks or loading surfboards onto the roof of a car. 
We recommend checking what you have available to be fitted to your car before simply choosing a set of cross bars. 
Standard roof rails can be fitted with cross bars, while a set of them on their own can usually not be fitted with extra roof rails. 
Cross bars are better for carrying lighter loads on shorter trips. Therefore, campers seldom use them.
Can You Put A Kayak Rack On A Car Without A Roof Rack?
Unfortunately, it is impossible to simply put a kayak rack on a roof if the car does not already have a pre-existing roof rack. All kayak racks are designed to attach and fit onto an existing roof rack.
This is why you will see that the kits to prepare your car for a kayak rack have their own roof rails. 
It allows you to properly build the roof rack onto the car without damaging any of the mount locations or causing damage to the roof by something flexing.
We always recommend installing everything properly and using all the bolts you can, as securing anything to the roof increases the stress on the roof of your car. 
If you don't properly secure your kayak, it could fly off the highway while driving.
How Do You Know If A Car Can Take A Roof Rack?
When looking at the roof of your car, there will be four locations just above the doors that look like they can be lifted. These mount locations allow you to fit a roof rack to the car, installing either cross bars or a full roof rack with cross bars that allow you to fit more to the car. 
Many passenger cars now include these as the regular part of the design, saving time and preventing owners from damaging their vehicles to try and fit a roof rack. 
Many cars also have the option of installing a roof rack for only a few hundred dollars extra when buying the car. 
Remember that SUVs and trucks have more specific spots for roof racks because they need to bear the weight of heavier equipment.
This is why they have larger roof racks than would usually be put on a car. 
What Are The Best Universal Kayak Roof Racks?
Now that you know whether your car can have a roof rack, it's time to decide which kayak rack to purchase. 
Over the years, the number of kayak racks has changed and improved, with many people assuming they are all the same in shape and size. 
We have four kayak racks that we always recommend people get; these will ensure that you can find one that fits your kayak. 
This is usually because while the kayak roof racks are almost universally capable of fitting onto any car, all kayaks do not fit on any rack. 
Final Word
Getting a kayak rack for your car, no matter the size of your vehicle will help you explore areas you have never seen or imagined seeing. 
It is important to remember that most roof racks can be fitted with a kayak rack, and you can easily fit a roof rack to almost any car on the road. 
This makes it easier to enjoy a day on the water with your family or friends.
Whatever you do, please don't try drilling a hole into your car to try and force something to fit! 
Related Articles
Sources
https://www.rei.com/learn/expert-advice/transporting-kayak-canoe.html