How are you going to transport that kayak? This is a question that many people have asked themselves at some point. Luckily, there are many different options available, regardless of the type of vehicle you own. In this article, we'll look at the different options for transporting a kayak with a Toyota Corolla.
Can You Put A Kayak On A Toyota Corolla?
The short answer is yes. There are several after-market roof rack carriers that make it easy to carry kayaks, canoes, paddleboards, etc on the roof of a Toyota Corolla. That said, these compact vehicles have the capability of towing a small lightweight kayak or utility trailer.
Whether you're taking a kayak on a long trip or just need to transport it from your home to the water, most people prefer not to put their kayaks on top of their cars.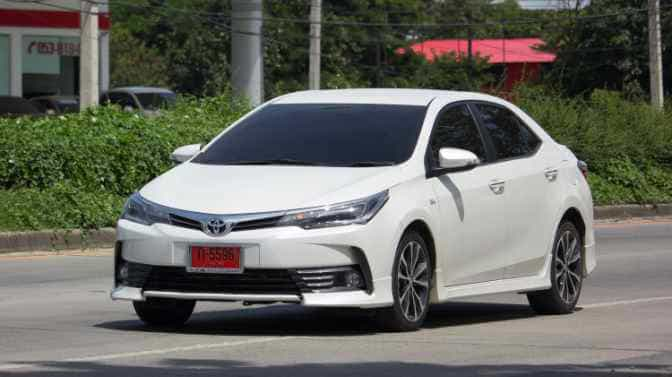 We'll take a look at all the available options for outdoor adventurers, then you can decide which method works best for you.
*This page contains affiliate links to products I recommend. If you purchase something from this page, I may receive a small percentage of the sale at no extra cost to you.
Will A Kayak Fit In A Toyota Corolla?
No, a typical hardshell recreational kayak averages 10 feet in length, making it too big to fit inside the vehicle. The vehicle has a spacious interior, but the dimensions of a typical kayak make it impossible to fit inside.
It does have a spacious trunk, with fold-down seat capabilities, but will only be big enough to carry an inflatable or foldable kayak.
To better understand this, let's take a look at the cargo space of the Corolla.
How Much Cargo Space Does A Toyota Corolla?
The sedan model offers about 13.1 cubic feet and with the seats folded down, you won't notice a lot of extra space due to the interference of the trunk lid hinges. While the Corolla hatchback offers 17.8 cubic feet with the rear seats upright, but still lacks the space needed to carry a hardshell kayak.
According to this calculator, a 10ft kayak averages about 373.3333 cubic feet. Meaning, there's no way any size, not even an 8ft kayak will fit in the trunk.
Can You Haul a Kayak In A Corolla?
Yes, you can haul a kayak with a corolla. You've likely seen other Corolla's transporting outdoor equipment such as bikes, kayaks, canoes, etc. The Toyota Corolla is a popular vehicle because it offers great gas mileage, is widely available, and is a reputable name.
If you don't have access to a truck or SUV, it just means you have to get a little creative to transport large objects.
How Do You Transport a Kayak With A Corolla?
If you only have one vehicle and it's a sedan or hatchback then the only two options for transporting a kayak are towing a kayak trailer or installing a roof rack.
Let's take a closer look at both options to help you decide which is best for you.
Utility Trailer
A utility trailer is a trailer that is designed for various tasks. It can be used to transport anything from small and lightweight objects like kayaks and bikes to heavy and bulky items like lawnmowers and tractors.
That said, according to Vehq.com the manufacturer recommends not towing anything built between 2014 and 2020. We couldn't find a "no towing" rule for the models built prior to 2014.
In fact, the older models were rated to tow up to 1500 pounds, depending on the type of engine it had. Before towing anything with your vehicle, check to see what the towing capabilities are, this site will help you do that.
The owner's manual or your local Toyota dealership to see if they recommend towing with a Corolla. Trying to tow a trailer when it clearly states "no towing" can result in costly fees that won't be covered under the warranty.
Roof Rack
A roof rack is a device that allows you to carry large objects on the roof of your vehicle. It attaches to your vehicle's roof, then you can hook all sorts of cargo, including kayaks, boats, bikes, etc. Once the cargo is securely fastened to the roof rack it's ready to roll.
There are a few different types of racks you can choose from, the most popular being the J-rack. The J-rack is made up of two metal bars that attach to either side of the trunk lid.
It's specifically designed for carrying kayaks, making it easy to strap down your kayak or other types of outdoor gear. Hooks are used for connecting the straps to the car that are then tightened via screws.
Once installed, the J-rack carrier will typically carry up to three kayaks, canoes, etc.
Can I Put A Roof Rack On A Toyota Corolla?
Luckily for you, it's easy to install a roof rack to the top of the Corolla. The Corolla offers a smooth surface on top of the roof, making it easy to install an aftermarket roof rack carrier.
Best Roof Racks for Corolla's
Many different companies manufacture these devices with varying price points and features. Meaning it can be challenging to find the right one to suit your needs. There's no need to spend a fortune on a roof rack that only gets used in the warm months.
Amazon has some great options when it comes to finding an affordable, well-reviewed roof rack that will secure your kayaks safely. The one that comes to mind is the J-Bar Roof Mounted Car Kayak Carrier.
The rack system is designed to hold 2 kayaks with a weight limit of 75 pounds. The quick installation process makes it easy to put on/take off when not in use. It accommodates kayaks up to 36 inches wide which is perfect for most recreational, fishing, sea, touring, and other types of kayaks.
How to Install A Roof Rack On A Corolla?
Installing a roof rack on the Corolla is extremely simple. Most roof racks have a universal design that fits most types of vehicles. Some newer models have factory-installed crossbars, so you can easily install the roof rack in just minutes.
This video below will walk you through how to install a Rhino roof rack on a Corolla. Regardless of the type of rack system you have, the process is pretty much the same.
How to Load A Kayak on a Corolla?
Once the roof rack is installed, you'll need to learn how to load the kayak onto the roof. Believe it or not, it's not that difficult, especially since the Corolla is lower to the ground than an SUV.
Loading a kayak on a Corolla consists of a few easy steps:
First, use a kayak cart to transport it from your garage or storage unit to the ground. Then you'll need a friend's help in lifting the boat onto the roof rack, but it is possible to load it yourself.
Flip the kayak so it's standing perpendicular against the vehicle. Next, push the bow end and slide the kayak until it is sitting on top of the car.
Lift one side and insert it into the J-racks securely. Walk behind the vehicle and slide the opposite end onto the opposite rack.
Make sure that it is well balanced on top of the car then tighten down all four straps so there are no loose ends left flapping in the wind.
Make sure both ends are secure by checking underneath before driving away!
Can You Carry a Kayak on the Roof Without A Roof Rack?
No, the newer models have aerodynamically designed rooftops for less wind resistance and improved fuel consumption. Attempting to haul a kayak without the proper equipment will result in a kayak that slides, or even falls out during transport which can result in a damaged kayak or injuring other drivers.
If you do carry a kayak on a Corolla without a roof rack (not recommended), be sure to secure it properly from all angles to prevent it from sliding off the roof while on the highway.
This video shows you how to secure a kayak to a vehicle without racks, without damaging the car.
Alternative Option for Corolla Owners
If you prefer not to mount a roof rack to the top of your car, because you're afraid it will damage the paint. The other option is to choose a kayaking spot that rents kayaks.
Renting kayaks is very affordable and removes the hassle of having to transport one from point A to point B.
Renting a kayak is also an excellent way of testing out different types of kayaks before you decide which one best suits your needs.
Kayak Equipment You Can Carry Inside The Corolla
The cargo area of the Corolla will easily carry other kayaking gear such as; break apart paddles, kayak seats, dry bags, and other accessories.
If you have an inflatable or foldable kayak, it should have no problem fitting inside the cargo area of your Corolla.
Final Word
Toyota Corolla is a compact vehicle with limited cargo space. If you want to transport your kayak by car, there are several options available for roof racks, trailers, and more.
The most popular option is the roof rack carrier that's easy to install on top of your car with straps or brackets.
Invest in a durable roof rack that saves your trunk space for other gear and equipment.
Related Articles