The Jeep Wrangler is a great vehicle for carrying boats, kayaks, or canoes. It's versatile, has plenty of storage space, and can go just about anywhere you want to be! If you're thinking about getting a boat or kayak, then this blog post is perfect for you. We'll explore the possibilities of soft-top jeeps and how they compare to hardtop models in terms of carrying capacity.
Can You Put A Kayak On A Soft Top Jeep?
A jeep with a soft top is perfect for carrying recreational kayaks because it has the necessary height to allow this. Exposed racks are a popular option because they allow you to close the top without having to remove the rack.
The only downside of putting boats and kayaks on a jeep is that it can be difficult to put them in the proper position. It takes some time to learn how best to carry these things so they do not slide off or cause you any problems during your trip.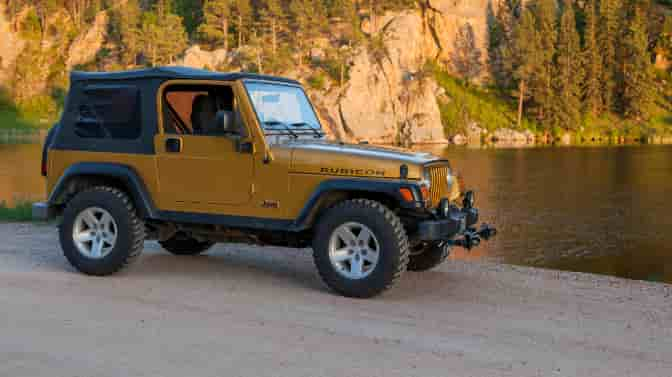 In this article, we'll take a look at the options for transporting your water vessels to and from the water.
Can A Kayak Fit In A Jeep?
No, the initial cargo capacity of a Jeep Wrangler is 31.7 ft³ (cubit feet) and 72.4 ft³ (cubic feet) with the rear seats folded down. A 10-foot kayak measures about 370 cubic feet, making it too long to fit in the back.
Foldable, or inflatable kayaks can be carried in the cargo space. It may even be possible to fit smaller 8-foot kayaks inside. That said, you may have to remove the rear hatch and side window panels.
It's essential to understand the differences between the two types of jeeps, especially if you're in the market to buy one.
Soft Top Vs Hard Top Jeep
Soft Top Jeep
A soft-top jeep is equipped with a fabric cover, which deploys over the top of the vehicle and the rear window. The soft top jeep has many advantages. It is less expensive than a hardtop because it doesn't need insulation or heat to keep the car warm in the winter months.
The soft top can be removed quickly to allow for hauling large items that won't fit inside the vehicle. A soft-top provides protection from sun damage and also allows anyone walking by to see inside your vehicle's cabin area.
Hard Top Jeep
A hard-top jeep has a metal or fiberglass shell that encloses the entire cabin, which protects occupants from the weather. A hardtop can provide better insulation in the winter months and also keep the vehicle cooler in the summer months. The drawback of a hardtop is that it requires more maintenance because it has to be washed more often to remove bugs and dirt.
The hard-top Jeep is more expensive than a soft-top but offers greater protection for passengers when driving through bad weather.
That said, you can carry a kayak on top of any type of jeep. Of course, it's easier to carry one on a hardtop, but we'll take a look at how to carry one on your soft top.
How Do You Transport A Kayak On A Soft Top Jeep?
The easiest way to transport a kayak is to install a roof rack or set up the jeep to tow a lightweight utility trailer. Let's take a closer look at these options to help you decide which is the best method for you.
Utility Trailer
Depending on the year and model of the Jeep Wrangler you buy, it may be able to tow between 3,500 to 4,000 pounds. To find the towing capacity for your vehicle is to check the owner's manual or company website.
The typical 10-foot utility trailer weighs about 1,000 pounds without any cargo on it. On average a kayak weighs between 20 and 90 pounds, and some weighing more than 100 pounds.
If you choose to tow a utility trailer with your jeep, take into account how much weight you are towing including the weight of the cargo.
Roof Rack
A roof rack enables you to carry luggage, cargo, kayaks, canoes, skis, etc on top of the vehicle. Unlike a regular roof rack, you'll want to invest in a kayak designed specifically for jeeps with soft tops.
The best options are the ones that allow you to open the top without having to remove the rack.
Best Roof Racks for A Soft Top Jeep?
There are literally several OEM roof racks to choose from for jeep owners. That said, some of the most popular brands that come to mind are; Smittybilt, Typer, Sucro, Exposed Racks, and Maxxhaul.
According to many jeep owners on this forum, Exposed Racks are the popular choice for outdoor enthusiasts. The patent-pending 'Push Pin' system makes it easy to install accessories quickly and easily.
Once installed, the rack carries items safely above the windshield, protecting them from damage. The versatile carrier can be used on both hardtop and soft-top jeeps.
The crossbars are electroplated and powder coated making them extremely durable and weather resistant. They are installed using your jeep's hard thumb bolts and work flawlessly with most competitor accessories.
When installed properly, you'll be able to open the top when carrying any type of cargo, including plywood, kayaks, and even tent racks.
How to Install A Roof Rack On A Soft Top Jeep?
Yes, the video below walks you through installing a four-point roof rack on a soft top jeep. When installed properly, you'll be able to open the top with the rack installed.
Regardless of which OEM roof rack you install, the process is similar. The video below will walk you through installing a roof rack on your vehicle.
If you don't want to install it yourself, you can have Rack Attack or your local Jeep dealer install it for a fee.
How to Load A Kayak On A Soft Top Jeep?
One of the biggest concerns about loading a kayak on a soft top jeep is damaging the soft top. Replacing a soft top can cost as much as $200 or more, depending on where you buy it.
So, let's take a look at the best way to load it without damaging the vehicle.
If it's the first time loading the kayak, you may want to remove the soft top. This will ensure you don't tear or damage it, especially, if you're loading the kayaks without any help.
If you have a light kayak, you may be able to lift it up and put it on top of the kayak. Heavier kayaks will require you to line it perpendicular with the vehicle and push it up until it lines perfectly on top.
For the best fit, place the kayak's hole side down, with the bottoms facing up. The bow should be pointed to the front of the vehicle, with the chair of the water vessel just under the speakers of the jeep.
Using ratchet straps, place one towards the front and one towards the back. Hook the ends onto any metal part of the jeep. The great thing about a jeep is that it's all metal, so you don't have to worry about any plastic parts flying off during transport.
The ratchet straps should be tight enough to secure the kayaks from falling out. If they are too tight, it could damage the kayaks.
Next using a rope or twine secure the kayaks from the nose and the back to the bumpers of the vehicle. This extra security will prevent the kayaks from rolling to the side during transport.
A slip knot works best for the front and a square knot for the back.
Can You Carry A Kayak On The Roof of A Jeep Without A Roof Rack?
No, the roll bars on the top of a jeep won't be able to securely hold a kayak without the assistance of some crossbars. This means you'll need to add a roof rack.
While it is possible to secure cargo to the roll bars using bungee cords or velcro straps, it can be dangerous to both you and other drivers in the case of an accident. It's not recommended, but you do carry a kayak on the rollbars, make sure it is secured tightly and doesn't move.
Also, make sure you don't have to travel too far and avoid any major highways.
Other Options for Jeep Owners
If you don't want to invest in a roof rack for your jeep, the next best option is to rent a kayak when you get to your destination. Many popular kayaking spots rent kayaks, canoes, paddleboards, and other water vessels.
Before planning your trip, find out if the spot you're considering kayaking works with an outfitter that rents kayaks. This way, you won't have to worry about transporting your own, and a kayak is waiting for you when you get there.
Final Word
In conclusion, a kayak can be fitted onto the roof of a soft-top jeep. The only thing that you need to do is ensure that there are no sharp edges or protrusions on the outside of your vehicle before placing it on the roof.
Hopefully, this article has shown you the best ways to carry one. A soft-top jeep is perfect for outdoor enthusiasts because it can go most places that a regular car can't.
So, load up the kayak and enjoy the day on the lake, and happy kayaking!
Related Articles