On the eve of an October 15 release date, The Apple Watch Series 7 is the most water-resistant offering from the tech giant thus far. However, water resistance does not equal waterproof, and Apple has always been hesitant to recommend submerging their watches for long periods.
Can You Kayak With An Apple Watch?
Of course, you're more than welcome to kayak with an Apple Watch, however, be mindful of the fact that all not all Apple Watches— are waterproof. The older series 0-1 are water-resistant, meaning you can get them wet, but you can't swim with them. Series 2 and newer, including the upcoming Apple Watch Series 7—they are waterproof up to 50 meters.
That said, it doesn't mean that the watch will be able to handle saltwater, as it can be deadly to the moveable parts inside the watch.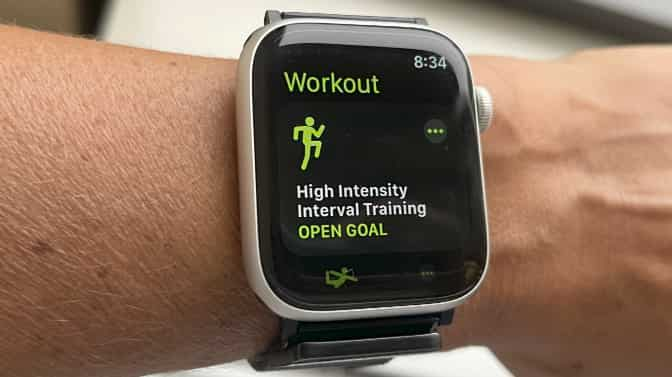 So before you decide to take your Apple watch kayaking or swim with it, it's important to understand the different series as what level of protection they have.
Apple, Kayaking, And The IP Code
To understand the level of water resistance that your Apple Watch has, you first need to understand the IP Codes. IP stands for Ingress Protection and there are two numbers—and/or an X—that follows the letters. 
Occasionally, there are more than two letters, but those are generally indicating impact resistance and other terminology which isn't applicable here. 
The first number indicates the level of ingress protection from solid particles:
X: There's no information for the level of particulate ingress protection
0: Zero protection against particulate ingress
1: Minimal protection from a 50mm – 2-inch blow from another object
2: Protection from fingers or small objects
3: Protection from tools and thick wires
4: Protection from large ants, insects, screws, and wires
5: Protection from dust/not all dust, but enough to prevent malfunction
6: Dust-tight, complete level of protection
The second number is more applicable to Apple Watches, especially for water sports, such as kayaking:
X: There's no information for the level of water ingress protection
0: Zero protection against water ingress
1: Protection from dripping water
2: Protecting from dripping water at a 15° angle
3: Protection from spraying water
4: Protection from splashing water
5: Protection from water jets
6: Protection from high-pressure water jets
6k: The highest level of protection from high-pressure water jets
7: Conditional submersion underwater for up to one meter
8: Continuous submersion underwater for up to one meter
9k: Protection from high-pressure water jets of hot water
With an understanding of the IP system, you can determine whether or not you're willing to take the risk of kayaking with an Apple Watch. Each Apple Watch Series may be a little different, with later models conforming to what is essentially common industry standards. 
Apple Watch Series 7 doesn't look to break the mold by much, but it is still a step up in IP protection over the Apple Watch Series 6. 
What Levels Of Water Protection Do Apple Watches Offer?
Apple Watches Series One through Five have an IPX7 rating, while Apple sticks with ISO industry standards for Series 6 and the soon-to-be-released Series 7. The ISO standard that Apple uses for Series Six and Seven is essentially IPX7 as well. 
Beginning with Apple Watch Series Two, there is a feature called Water-Lock that can be activated anytime you are knowingly going near or are going into the water. 
Swipe up on the Clock Screen
On the Control Center screen scroll until you find the Water Droplet icon
Select the Water Droplet to turn on Water-Lock
It's important to note, however, that Water-Lock doesn't actually keep out water, it just keeps the lock screen in place by not allowing water movement around the watch to activate the touch screen and will expel water when activated.
The IPX7 rating is basically a window that stays open wide enough to permit Apple to claim a variety of water immersion situations without technically overwhelming the level of protection that the IPX7 rating is supposed to imply.
If you look carefully at the full definition of most IP ratings, the specifics are left up to the manufacturer. According to claims—which you will find all over the web by presumably knowledgeable people—these watches can survive water up to 50 feet in depth.
However, it's important to note that while Apple uses that "window" liberally, the rating applied to most Apple Watches is IPX7, which means that it shouldn't be submerged any deeper than one meter. 
So until Apple manufactures a watch that has a higher IP rating, with official claims as to water depth protection, claims of 50 feet are disingenuous at best, misleading at worst.
Of course, we're talking about kayaking here, not deep water scuba diving. It's entirely possible that you can kayak with an Apple Watch (pick your Series) and never have a problem, even if it ends up submerged from time to time. 
The important thing to understand is that "water-resistant" is not the same as a guarantee that your Apple Watch will survive a spill if you overturn your kayak in a river. It may not ever be a problem, but there is a risk associated with it. 
If you've decided that it's worth the risk, then Apple Watches make excellent devices for any kind of sport and that includes kayaking. 
Apple Watch Features For Kayakers
Two mainstay features are a must for any paddle sports activity with an Apple Watch, Waterspeed, and Paddle Logger. Both apps are loaded with data collection and health statistics and both apps were built with the Apple Watch in mind. 
Waterspeed
Waterspeed is the kind of app that records so much data to help you keep track of your health activities on the water, that it may seem overwhelming at first. The app is designed for just about every sport on the water that requires movement. That doesn't including sunbathing on a float.
That includes a full range of weather info, with forecasts and alerts. It tracks everything from your overall speed across the water to heartbeats per minute, with an entire gamut of health information in between.
Most of that information is contained within the free version, so you get a whole lot of bang for zero bucks. The more premium features require a subscription, but unless you want wind measurements, multiple devices, and cloud syncing, you won't need it.
Paddle Logger's
Paddle Logger's best feature begins before you even hit the water. It's called PaddleLIVE Service and it keeps you connected —digitally, of course—to someone on land every time you go out. If something goes wrong, you can rest assured your connection will know.
Paddle Logger is best used in conjunction with Waterspeed, as it isn't an app that's purely focused on athleticism, health, and training, but rather on the joy and fun of kayaking outdoors. It stays in sync with your other devices, such as smartphones, and relays all of your data to them.
It also has a built-in, digital logbook with maps and layouts for all of your favorite kayaking spots. You can keep track of all of your paddling stats, update notes—like a daily journal—and share them on social media. 
With Paddle Logger, you can build your portfolio and fill it with maps, photos, journals, and activities. Its also fully integrated with the Apple Health app, so all of your health data is secured in a familiar ecosphere until you're ready to look it over. 
Of course, both apps are fully integrated with Siri voice control as well, so you never have to physically access your watch for the important things. 
These kinds of apps make it pretty clear that Apple designed its line of smartwatches with water sports in mind. As mentioned above, water damage to your Apple Watch isn't likely, but since it is water-resistant—rather than waterproof—then there is certainly a level of risk.
Is Kayaking On The Apple Watch?
The latest Apple Watch release will have the same exercises that the Series 6 had, which include the following:
Apple Watch Exercise Options
Walk
Run
Stair Stepper
Rower
Functional Strength Training
Yoga
HIT
Cycling
Elliptical
Hiking
Dance
Cool Down
Core Training
Pilates
Tai Chi
Swimming
Wheelchair
Other
Users also have the option to invest in an Apple Fitness subscription, that offers new workouts every week. All the workouts will be based on the exercise options available on the watch.
Final Word
It is possible to kayak with an Apple Watch, but there are risks. The latest release has a lot of features that make it easier—including Siri voice control and PaddleLIVE Service.
There are also two apps for water sports enthusiasts: Waterspeed and Paddle Logger.
Both have free versions as well as premium features that can be unlocked by subscription or in-app purchase. If you're considering the risk worth it, then go ahead!
Kayaking on your smartwatch will give you all kinds of data about your health while connecting you digitally to someone on land at all times so they know if something goes wrong.
Related Articles