The Golden Gate Bridge is one of the most iconic structures in America. It's also a popular kayaking destination for those who are looking to experience the thrill of paddling under the bridge. But can you kayak under the Golden Gate Bridge? Here's everything you need to know for your next outdoor venture.
Can You Kayak Under The Golden Gate Bridge?
You can paddle under this landmark, and it is a great way to see the spectacular views of San Francisco, natural wildlife, scenic enclaves, and much more. That said, the waters under the bridge are subject to heavy winds, heavy boat traffic, and powerful currents. So, it's important to have the right equipment, knowledge, and expertise before paddling it on your own.
This article provides all the answers to kayaking this historic landmark as well as the type of gear you may need to help keep you safe.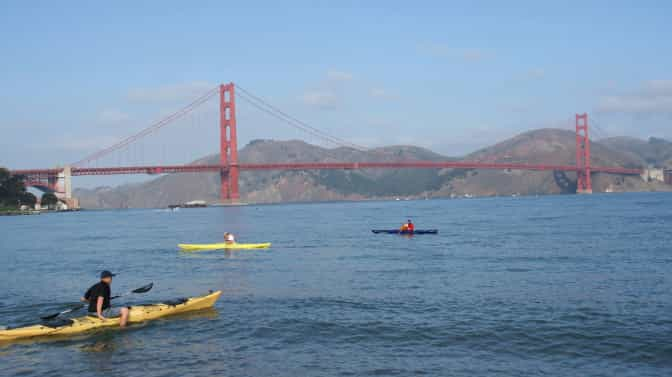 Where Is The Golden Gate Bridge Located At?
The Golden Gate Bridge is located in the Bay Area in California. It spans across the Golden Gate strait and connects San Francisco to Marin County. It measures 1.7 miles long, is a historic monument in San Francisco.
It was built in 1933 and cost around $35 million. This popular Northern California landmark is a great place for hiking, biking, fishing, and kayaking.
Can You Rent Kayaks To Paddle Under The Golden Gate Bridge?
There are many places to rent kayaks and equipment near the Golden Gate Bridge. One of the most popular options is the Sea Trek kayaking guide and rental business. Sea Trek has been connecting people to the water since 1982.
It company offers classes, camps, kayaking, and paddling trips to choose from. The Paddle The Gate Tour is a 3-hour paddling experience is the best way to experience the American landmark, especially, if for new paddlers.
At the time of this writing, the company offers the following tours and fees:
Travel from Sausalito to The Golden Gate Bridge: $115 per individual (sit-on-top kayaks and sit-in)
Paddle Under The Golden Gate Bridge: $135 per individual (sit-on-top kayaks and sit-in)
They provide all the equipment such as life jackets and paddles. They likely even offer wet suits for sale, if you forget yours.
*Regardless of which tour you choose, you'll be expected to pass an Advanced Paddle class before you can rent a single kayak.
Kayak trips are offers on the following dates:
May
June
July
Augst
September
October
November
The slots fill fast, so you'll want to book your vacation early. Check the calendar on their website for available dates before heading to San Francisco, especially, if you want to kayak on the Bay.
Where to Launch?
The Paddle the Gate tour starts at the Horseshoe Cove and you'll paddle along the coast, close to the shore while staying safely away from the shipping lanes. You'll paddle along the Marin Headlands before heading back to the launch point.
The Sausalito tour launches at the Bay Model. You won't go past the bridge, instead, you'll enjoy the sights along Sausalito's shoreline, Alcatraz, Angel Island, and the beautiful San Francisco skyline.
How close you get to the bridge will be determined by the water currents and wind.
How to Kayak Under Golden Gate Bridge?
There are multiple tours that offer the opportunity to kayak under the Golden Gate Bridge. Some places take you out on a boat to catch a glimpse of the bridge from underwater. Other places offer rentals for your own kayak or paddleboard. The hours can vary depending on which tour you decide to go with.
Utilizing one of the companies that offer a tour is the best way to kayak under, near, or around the Golden Gate Bridge, especially, if you're a beginner.
Most companies such as Sea Trek, offer Advanced paddle classes to ensure you can take care of yourself in a kayak. The currents can be as strong as six knots in several locations in the Bay.
A recreational paddler paddles about three knots – four when racing or terrified.
Both experienced and inexperienced kayakers can capsize their boat or get swept away from the currents.
Best Time to Kayak At The Golden Gate Bridge?
With over 10 million visitors flocking to see the national landmark, the best time to visit is either September or October. This is when the fog dissipates and the temperatures are still warm and enjoyable.
The San Francisco fog starts in June and lasts through August. It rolls in early in the morning and burns off by the afternoon, returning in the evening.
Late spring, summer, and autumn are the foggiest seasons, but the city is known for the fog around the Golden Gate Bridge. It has become so prevalent, the locals named the fog around the bridge 'Karl'.
Are There Certain Areas Where Kayaks Are Not Allowed?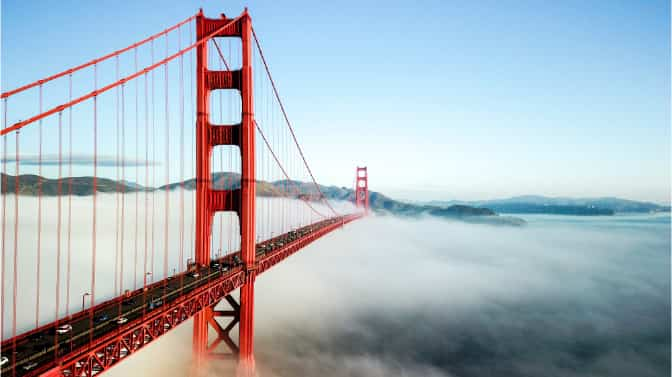 The Golden Gate Bridge is only one of the bridges with major shipping lanes with three major ports in Oakland, Point Richmond, and San Francisco.
Therefore, there are many places that are off-limits for kayakers, paddleboards, and other water vehicles.
Below are protected areas kayakers, paddleboarders and etc are not allowed to venture or dock.
Alcatraz Island: Keep at least 300 feet away from nesting cormorants and the island and no docking is allowed.
Brooks Island: A 373-acre island off Point Richmond that is off-limits to all boaters landing.
Richardson Bay: 900-acre bird sanctuary that is closed to any type of water vehicle.
Crissy Field: Park conservancy area that stretches from the shoreline to the airfield to the entrance to the lagoon is closed to kayakers. It's currently closed due to restoring the National Park to its natural state.
Regardless of where you kayak in San Francisco, it's important to know where you are allowed and not allowed to kayak. This site provides detailed guidelines and information for kayakers, regarding off-limits, limited access, and seasonal access points.
Not abiding by the rules can lead to hefty fines or even injury and death. If you're new to the area, then paying for a guided tour is the best way to sightsee the Golden Gate Bridge and the surrounding area.
What Else Should I Know Before Paddling Under The Golden Gate Bridge?
Temperature
The summers are mostly clear with comfortable temperatures averaging 55°-65°. September is the warmest month with an average high of 71° Fahrenheit and lows of around 56°F.
Keep this in mind when considering kayaking in the Bay. You'll likely get wet and want to ensure you're dressed properly.
Safety
Paddling under The Golden Gate Bridge should not be undertaken without considering certain factors. Strong currents may be too strong for beginner kayakers, and should not be taken lightly.
The currents during periods of heavy rain can also be hazardous, so it might be best to avoid paddling under the bridge if bad weather is forecasted.
Difficulty
Exploring the Bay area by kayaks is a beautiful experience. However, the currents in the ocean can be as strong as six knots, making it very difficult and dangerous for inexperienced kayakers.
The depths of water ranges from 25-100 feet deep, with a seawater temperature averaging 53° Fahrenheit. So, it's important to stay focused and ensure you know what to do if your boat does capsize.
Pets
You likely won't be able to take your dog with you, if you rent your kayak and are taking a paddling class. Every company is different and has its own rules, so be sure to check their website before taking Fido with you.
If you have your own kayak and venture on the Bay by yourself, you get to decide whether to take your dog with you or not. Of course, if your dog has never been on a kayak before, it's best to leave it at home.
You don't want your dog to distract you or cause you to capsize the water vessel.
Final Word
Kayaking under the Golden Gate Bridge is a once-in-a-lifetime experience. It's also very difficult to do because of strong currents, and shipping traffic. So you may want to consult with seasoned kayakers before attempting this feat on your own.
The good news is that there is plenty of expert-guided tours that will take care of all logistics for you!
If you're lucky enough to live nearby or plan on visiting soon, we hope this article gave you some new ideas for ways to enjoy exploring more of what San Francisco has to offer while also checking off another bucket list item.
Good luck with your adventures!
Related Articles
Sources
https://www.currentresults.com/Oceans/Temperature/san-francisco-average-water-temperature.php