You may not be aware, but you can kayak in Mammoth Cave! It's one of the best ways to experience this magnificent natural wonder. Kayaking through Mammoth Cave is a unique and unforgettable experience that should not be missed. Read on to get all the details about how you can make your own kayaking adventure happen today!
Can You Kayak Inside Mammoth Cave?
Both guided and self-guided tours make it easy to enjoy the beautiful historic sights of the Mammon Cave. A self-guided tour will require an entrance ticket of $8 per adult and $6 for children. Guided tours will require a fee of the watercraft rental, plus the entrance for the fee.
If you're looking for a day adventure or planning a camping trip, it may be worth checking out the Mammoth Cave National Park. The cave tours are amazing, and in addition to the caves, outdoor enthusiasts can hike, canoe, bike, etc.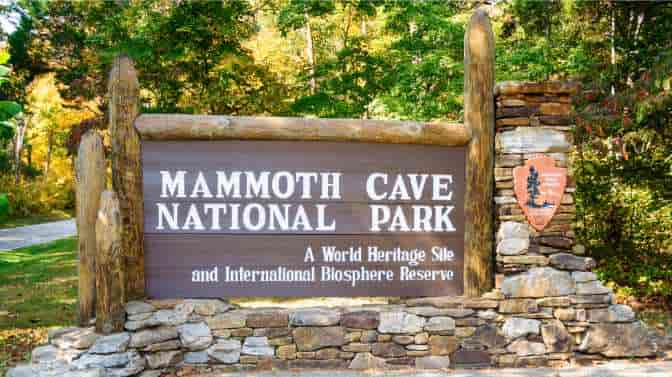 Let's take a closer look at everything you need to know about booking your next trip to the park.
What Is Mammoth Cave National Park So Popular?
Mammoth Cave National Park is located in the Commonwealth of Kentucky and is a part of the Green River Valley. It is the world's largest known cave system featuring more than 400 miles of explored limestone labyrinth.
Cave tours are one of the best ways to explore the National Park. Over two million people visit the park every year, with more than 55,000 opting for a cave tour.
The tours range from easy to difficult and can last from 1-6 hours. Any of the tours will provide an adventurous outing for you and your family.
Can You Rent Kayaks At Mammoth National Park?
Many kayak and canoe rental businesses operate in the park that offers rentals for a nominal fee. Rental fees will vary depending on the river you're visiting, how many watercraft your party needs, and the length of the trip.
Below are the three companies that work under a commercial use authorization with the National Park Service and offer both canoes and kayaks. I've done my best to show you the prices for all the rivers, to help you budget your trip.
Cave Country Canoe
Cave Country Canoe is a kayak and canoe outfitter that makes it easy for you to book and rent both kayaks, and gear you'll need for your trip. The prices shown below are for one-day trips to various rivers at Mammoth National park.
| | | |
| --- | --- | --- |
| Day Paddles | Canoes | Kayaks |
| Green Ferry to Houchins Ferry | $80 under 3 canoe rentals | $75 under 3 kayak rentals |
| Green Ferry to Houchins Ferry | $70 per canoe for 3 or more | $65 per kayak for 3 or more |
| Nolin River to Houchins Ferry | $100 per canoe (under 3) or $90 / canoe for more than 3 rentals | N/A |
| Dennison Ferry to Green Ferry | $60 per canoe or tandem kayaks | $50 per kayak |
Prices are subject to change, so be sure to call ahead or check the website to confirm the rates and availability.
Green River Canoeing
| | | |
| --- | --- | --- |
| Day Paddles | Canoes | Kayaks |
| Dennison Ferry to Green River Ferry | $68 (walk-in) or $58 (reservation) | $45 |
| Green River Ferry to Houchins Ferry | $75 per canoe | $65 |
| Nolin to Brownsville Ramp | $65 per canoe | $45 per kayak |
Check their website as the prices will change based on season and staff availability.
Mammoth Cave Canoe and Kayak
The Mammoth Cave Canoe and Kayak outfitter offers the Dennison Ferry to Green River Ferry tour. It is available for all ages regardless of experience level.
At the time of this writing, the rental prices are as follows:
Single kayak: $55
Double Kayak: $60
Canoe: $60 (up to 2 people)
Visit the outfitter's website to book your trip.
How to Kayak Mammoth Cave National Park?
The park makes it easy to kayak the Mammoth caves. Some of the outfitters such as Green River Canoeing allow you to carry your own kayak on their shuttle service for a nominal fee.
Check with the visitors center to find out where you can launch your own personal watercraft if you're planning on touring without a group.
Cave Tours to Choose From
Mammoth Cave national park encompasses about 80 square miles, with more than 400 miles of explored caverns. Meaning you can choose from several different cave tours.
Below are some of the cave tours listed on their main site that are available, as well as the associated fees.
| | | | | |
| --- | --- | --- | --- | --- |
| Cave Tour | Youth (6-12) | Adult (13+) | Senior | Access Pass Holder |
| Trog Tour | $25.00 | N/A | N/A | $12.50 |
| Frozen Niagara Tour | $14.00 | $18.00 | $9.00 | $9.00 |
| Discovery Tour | $6.00 | $8.00 | $4.00 | $4.00 |
| Extended Historic Tour (Self-Guided) | $17.00 | $23.00 | $11.50 | $11.50 |
| Gothic Avenue Tour | $15.00 | $19.00 | $9.50 | $9.50 |
| Introduction to Caving Tour | $28.00 (10+) | $35.00 | $17.50 | $17.50 |
| Mammoth Passage Tour | $9.00 | $11.00 | $5.50 | $5.50 |
| Violet City Lantern Tour | $20.00 | $25.00 | $12.50 | $12.50 |
| Wild Cave Tour | N/A | $66.00 (16+) | $33.00 | $33.00 |
To see a complete list of the tours offered, visit this site.
Best Time to Kayak Mammoth Cave National Park?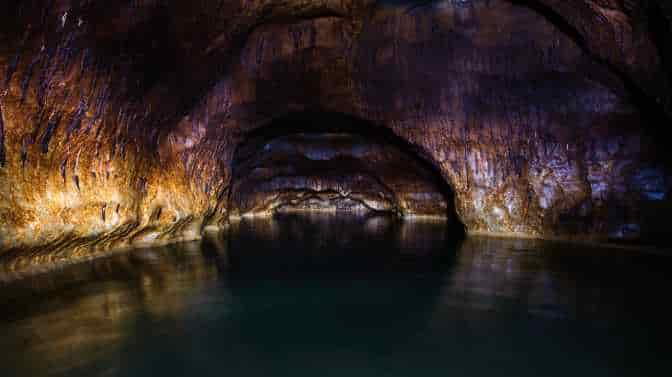 November to February is the best time of the year to visit Mammoth Cave National Park, as there are fewer people. Morning tours tend to be the least booked, even during peak seasons. That said, always call the outfitter to find out how many slots they have available as things always change, depending on what's going on in the world.
If you live nearby, you can rent one of the several hotels and make your reservation for an early morning tour. That way you can avoid waiting in crowded parking lots, long lines, and party buses with tourists or groups.
This will make your cave tour more pleasurable and less crowded.
Planning a kayaking trip can be challenging, especially, if you're not familiar with the area. Tours continually change seasonally based on available staffing.
Below is a snapshot of what to expect in terms of crowds, availability, etc, based on the different seasons. Here's the official cave tours website to help you see which cave tours are available based on your trip to the park.
Spring
March-May the tours will be harder to book, especially on the weekends and public holidays (Memorial Day). Book your tours 1-2 weeks in advance, especially, if you have a large party.
Summer
June-July is the peak season for outdoor enthusiasts and it can be more challenging to book a tour. To book an early morning tour, book your spot on a weekday (Mon-Tue). Popular tours such as the Wild Cave Tour may require you to book it 3-5 weeks in advance.
Fall
September – October will be hit and miss. The crowds thin out after Labor Day weekend, and you'll have less trouble booking a tour. However, it's still crowded, just not as crowded as in the Spring and Summer. You'll want to call book your online reservation in advance.
Winter
January – February is the quietest time in the park. During this time, there's a possibility of getting a mid-week tour nearly to yourself. That said, expect it to be very cold during these times.
Note: The park occasionally closes the rivers to boaters due to water levels in the summer. At normal levels, the Green River averages 10 feet deep, with a surface speed of about five miles per hour.
Are There Certain Areas Where Kayaks Are Not Allowed?
The website doesn't say where kayaking is allowed or not allowed. They recommend checking the water levels before heading out on the waters, to ensure you stay safe. Water levels can reach unsafe levels in the spring and early summer, or after substantial rainfall.
What Else Should I Know Before Kayaking At Mammoth Cave National Park?
Temperature
Temperatures inside the caves will hover around 54°F (12.2°C) year-round, so ensure you dress appropriately. You'll want to have a light jacket, sweater, sweats, or long pants (for children and elderly) as well as sturdy shoes such as hiking boots.
Outside the caves, temperatures in the summer are hot reaching 80-90°F. Winters are harsh reaching highs of the '30s and '40s and have been known to drop below freezing.
Safety
A US Coast Guard-approved personal flotation device (PDF) is required to be worn at all times while on the waters inside of Mammoth National Park. Never kayak alone and let your family/friends know your itinerary, and when you plan on returning.
Alcohol beverages of any kind are not allowed inside the caves.
Difficulty
All the cave tours require some physical exertion. The Dennison Ferry to Green River Ferry is classified as a Class one, the conditions can change rapidly. Meaning you may have to paddle more than you anticipated.
Expect a relaxing trip on a slow-rolling river while enjoying the majestic, natural scenery. The Green River is controlled by a dam is all flatwater paddling.
Pets
Pets are allowed in the park, but not in the caves or park buildings. During your cave tour, you can board them at the mammoth Cave Kennels. Proof of vaccination must be provided before boarding. Fees range from $3.50 for the first hour and $1.00 per hour thereafter.
Bats
Expect bats both inside and near the caves. They help keep the bugs down, but won't bother tourists. You'll also hear loud frogs and see other animals that live in or near the water.
Can You Swim In Mammoth Cave?
Swimming in any of the park waters is not recommended. The Green River flows at 4.3 knots or 5 miles per hour, which is too strong to swim against. There are no designated swimming areas in the park and no lifeguards on duty.
This includes no wading, in fact, it's recommended to stay 200 feet (61 meters) away from the water. Tubes, rafts, inflatable pool toys are not allowed on the water.
Final Word
Kayaking and canoeing at the Mammoth Cave National park is extremely popular. If you're planning to take a trip, ensure you call ahead of time to book your reservations. Expect these trips to take 1-6 hours, depending on the tour you've chosen.
The Mammoth Cave is on Central Time (GMT-5), so set your clocks and be early, so you don't lose your seat.
Follow all the safety precautions and dress appropriately, and be ready to experience some amazing views!
Related Articles