Ricketts Glen State Park is a popular destination for many people. Whether you want to hike, bike, or fish on the river that runs through this park there are plenty of places to explore and have fun. But, can you kayak at Ricketts Glen State Park? Find out everything you need to know about spending a day or more at this amazing place.
Can You Kayak At Ricketts Glen?
Lake Jean is 245 acres of flatwater making it a great opportunity for kayaking and canoeing. You can take your own kayak or rent one at the boat rental concession which is open daily in the summer season.
There are several places to kayak in Pennsylvania, but every spot is different. There are different experiences, fees, rules, hours and etc to adhere to.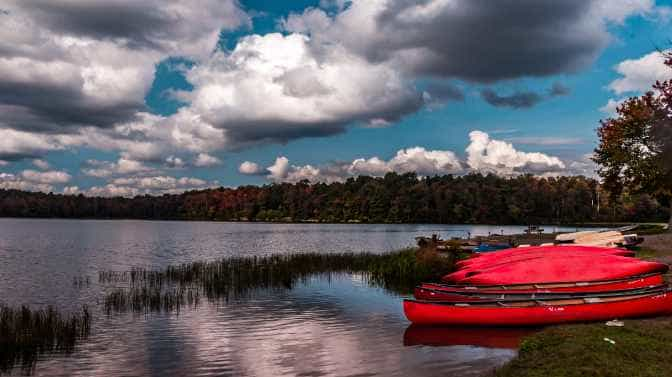 In this article, we answer the most commonly asked questions kayakers want to know before heading out on the water.
Where Is Ricketts Glen Located?
Ricketts Glen State Park is located in the town of Ricketts Glen on the Delaware River. It is located mostly in Luzerne County, with small sections in Columbia County and Sullivan County.
The Park spans 13,000 acres of land, and features 26 miles of hiking trails, with two lakes and a great campground.
Ricketts Glen State Park consists of a large forested gorge, with a cascading series of eight named waterfalls along a glen or gorge. It has several hiking trails and bike paths so you can explore the gorge on foot or by bike. More than 1 million people visit this park each year to enjoy all of its majestic views and natural beauty so it is one of the most popular spots in Pennsylvania.
Can You Rent Kayaks At Ricketts Glen State Park?
Ricketts Glen State Park provides the opportunity for the rental of kayaks, paddleboats, canoes, rowboats, and paddleboards which are available on a first-come, first-serve basis. It costs $15-$20 per hour, prices are subject to change, so check the website for updated prices.
Fees for the rentals are as follows:
Single Kayak: $15 per hour — $45 for four hours
Double kayak: $20 per hour — $60 for four hours
Canoes: $20.00 per hour — $60 for four hours
Row Boat: $15.00 per hour — $40 for four hours
Paddle Board: $20 per hour — $60 for four hours
Pedal Boat: $25.00 per hour — $35 for two hours
You'll be required to sign a waiver and show identification such as a valid driver's license, military ID, etc. The site doesn't say how old you have to be to rent a kayak, so you'll want to check with them before heading that way.
The kayak rentals are not a part of any of the other fees in the park. It doesn't say whether life jackets are provided, so it's best to bring your own, just in case.
How to Kayak At Ricketts Glen State Park?
After renting a kayak or bringing your own, you can tour the 245-acre lake while enjoying the beautiful scenery. No matter which direction you go, the lake is surrounded by beautiful views, and have an opportunity to see local wildlife. No matter where you are or what section of water you're on it's going to be spectacular.
Where to Launch?
If you rent your water vehicle, you'll launch where you rent the kayaks. On the other hand, if you bring your own kayak, you can launch at the Western Boat Launch, near the visitors center, or where everyone else launches.
The Western Boat Launch is the best place to put in. It's on the opposite side of the. lake from the boat rental place, but it's less crowded.
There are also two boat launches and a mooring that makes it easy to launch your PWC.
Do You Need A Permit?
It's worth noting that you do not need a permit for kayaking at Ricketts Glen State Park. Permits are only required for electric motorboats. You can find complete information on the boating rules and regulations on the website.
Best Time to Kayak At Ricketts Glen?
The boat rental concession is only open during the summer season. However, if you have your own kayak, you can kayak in the Spring, Summer, and early fall. You won't be able to kayak during the winter, as the lake does freeze over.
The park gets very crowded during the summer, especially on the weekends. To avoid the crowds, plan your trip during the weekday if possible. Most people visit the park for the hiking trails, but you should still expect a crowd on the lake.
Are There Certain Areas Where Kayaks Are Not Allowed?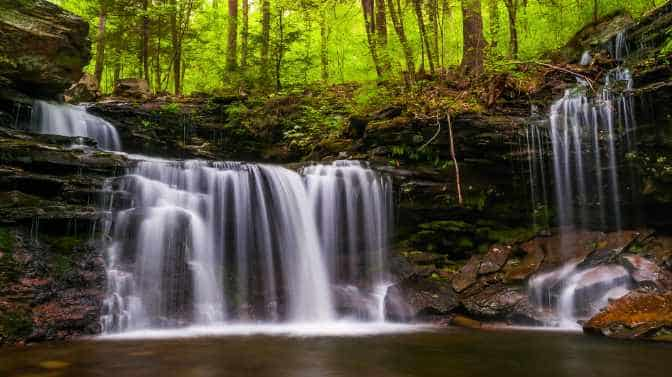 Lake Jean spans 245 acres for water vehicles to explore. The site doesn't say which areas are off-limits. That said, you'll want to abide by the rules and regulations while visiting the park.
If you're unsure of where to kayak, it's best to check with the visitors center. They will be able to tell you the safest places to visit and which areas are not allowed.
What Else Should I Know Before Kayaking At Ricketts Glen?
Temperature
Ricketts Glen State Park has a continental climate with temperatures ranging from 86°F in the Summer. July is the hottest month and June has the most precipitation.
The winter months average a daily high temperature below 49°F. January is the coldest month with an average low of 26°F and a high of 40°F. Occasionally the park can experience severe low temperatures in the winter.
When planning your kayaking trip, pay attention to the seasons.
Safety
Anyone on the lake should wear a U.S. Coast Guard-approved flotation device, or at least have one in the kayak with them at all times. Expect to get wet and dress properly for the season.
Pay attention to your surroundings as you'll be sharing the lake with other personal watercraft (PWC). Wear wading or tennis shoes, in case your boat capsizes and you fall in the water. There can be sharp rocks, glass, or other debris which can cut the bottom of your feet.
Difficulty
Lake Jean is a flatwater lake, meaning you won't experience any fast-moving currents. Therefore, you'll have to paddle to get from point A to point B.
That said, it is a leisurely paddle that won't exert a ton of energy. Of course, this depends on the weather you're kayaking for. For instance, if your kayaking on a windy day, it will exert more energy than kayaking on a calm sunny day.
Pets
Pets are in the kayaks, but owners must ensure they do not jump out or continually bark at passerby's.
Hours
During the Summer, you can rent kayaks at the boat rental concession daily from 10:00 A.M. to 6:00 P.M. At the time of this writing, the last rental of the day is 5:00 P.M.
Where to Stay?
If you're coming from out of state, you can choose to stay at the Ricketts Glen State Park campsite. Otherwise, you can book a room at some of the nearby hotels. You may be able to find some great deals on Airbnb if you book for your trip in advance.
Can You Swim at Ricketts Glen State Park?
There is a 600-foot beach where swimming is allowed. The beach is open from Memorial Day Weekend to Labor Day, from 11 a.m. to 7 p.m.
There are some areas where swimming is not permitted, such as the waterholes below the waterfalls. Be sure to read all of the signs carefully before entering any of these areas, or risk getting a ticket from a nearby ranger.
Other Activities To Do At Ricketts Glen State Park
The park offers a variety of different activities for people of all ages. You can visit the park and take advantage of the following:
Picknicking
Wildlife Watching
Fishing
Swimming
Hiking
Fishing
Hunting
Boating
So if you don't want to kayak or want to visit the park during the offseason, there are still several outdoor activities you'll enjoy.
Final Word
The Ricketts Glen State Park offers a unique opportunity for kayakers to explore the park's breathtaking waterfalls and scenic views. You bring your own or rent one for a small nominal fee.
If you're looking for a new favorite kayaking spot, this may just be it. The next time you're in Pennsylvania, be sure to check out this amazing place.
It may just become your favorite spot to kayak!
Related Articles