Kayaking is a great way to explore the world around you and get some exercise, but not everyone has access to a kayak. If you live in Kentucky or planning a trip there, you may be wondering can you kayak at Jacobson Park?
Can You Kayak At Jacobson Park?
Kayaking is allowed at Jacobson Park. When launching from the boat/kayak launch, you'll have to pay a launch fee of $3.20 per water vessel. You'll also be expected to sign a waiver, adhere to marina rules, and park hours.
There are several places to kayak in Kentucky, but every spot is different. There are different hours, rules, fees, and etc to adhere to.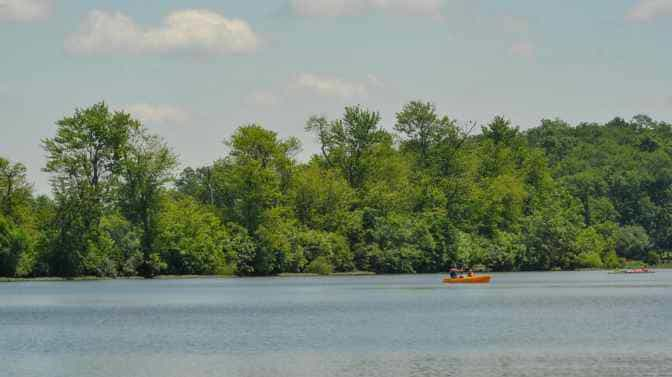 This article provides all the answers to the most commonly asked questions kayakers need to know before heading out on the water.
Where Is Jacobson Park Located?
Jacobson Park is a 216-acre park located in East Lexington, just outside Man O War Blvd. The reservoir is 46.3 acres used by the Lakeside Golf course and Kentucky American Water Company.
It is one of the city's most visited parks because it has many amenities such as; a dog park, four volleyball courts, kayak, and canoe rentals, fishing, dog park, playgrounds, and a sizeable disc golf course.
Can You Rent Kayaks At Jacobson Park?
At the time of this writing, you can rent kayaks and pedal boats. Below are all the fees for the Marina and Boat dock.
2 person kayak: $7.50 for 30 minutes,
4 person pedal boats: $7.50 for 30 minutes
2 person pedal boats: $5.30 for 30 minutes
Boat launch: $3.20 per vessel
*All the prices above are with taxes included
Anyone renting or launching a water vessel is required to wear a U.S Coast Guard-approved flotation device. One will be provided during the rental, or you can bring your own PFD with you.
People under the age of 16 must be accompanied by an adult chaperone.
ADA Kayaking and Pedal Boats
The pedal boats and adaptive kayaking are a part of the Therapeutic Recreation Program and provide trained staff for assistance. Trained staff and reservations for the pedal boat require advance reservations. Spots are contingent on staff availability and weather conditions.
For more information regarding adaptive kayaking, call (859) 288-2900.
How to Kayak Jacobson Park?
As long as you don't have a powerboat, you can launch from anywhere you want. You can bring your own watercraft, even stand-up paddleboards.
Most people tend to launch at the kayak or boat launch. Some Reddit users prefer to launch on Reservoir 4, so they don't have to pay the launch fee. However, many of the reservoirs located near the park are privately owned, and launching is not allowed.
That said, the launch fee is only $3.20 and goes back into maintaining the park, reservoir, etc. So, it's a good cause to help keep the park maintained and open for kayakers and park visitors.
Where to Launch?
Kayakers and boats (without motors) are asked to launch at the marina. In 2018, the park started working on a kayak/canoe launch.
The kayak/canoe launch was created to provide additional recreational opportunities for individuals with disabilities.
Everyone will be required to fill out a waiver. This not removes the park's liability but helps keep track of the kayakers on the lake.
Best Time to Kayak At Jacobson Park?
The park is open year-round, but spring and summer are the best seasons for water sports. The water will freeze during the winter, making it impossible to kayak.
Are There Certain Areas Where Kayaks Are Not Allowed?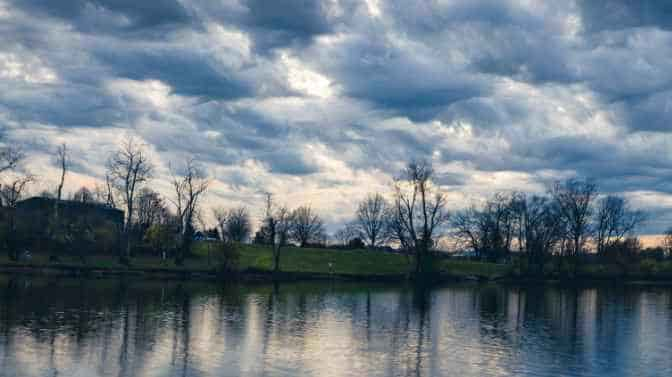 According to this forum, there are four reservoirs located in Lexington. Many of those reservoirs are privately owned, meaning you can't kayak or fish in them. Reservoir 3 and 4 are considered Jacobson park and is legal to kayak.
If you're unsure of where to launch or kayak, it's best to ask the people who work at the marina. They will be able to tell you which reservoirs are off-limits to kayakers.
What Else Should I Know Before Kayaking At Jacobson Park?
Temperature
The temperatures in the summer are hot reaching 80-90°. Winters in Kentucky can be harsh, reaching lows in the 30s and 40s, and can drop below freezing. Hence why the water at the reservoir can freeze.
Safety
A U.S. Coast Guard-approved personal flotation device must be worn at all times while on the water. Anyone under the age of 16 requires an adult chaperone. Avoid kayaking alone and always let your family/friends know your itinerary.
Possession or consumption of alcohol is prohibited while kayaking or visiting the park.
Difficulty
It is considered flat water that will require you to paddle often. You won't need to exert a lot of energy unless you're paddling on a windy day.
Don't expect to sit in the kayak and let the water float you while you sit back and enjoy the scenery. You may have some small currents, but it will still require some effort on your part.
Pets
The park has a dog park, but won't be allowed to go on the kayak with you. So be sure to leave your dog at home, hire a pet sitter, or have someone take them to the dog park while you enjoy the day on the lake.
All animals must be on a leash while visiting the park.
Hours
During the spring and summer, the marina hours are:
Monday: 11 a.m. – 7 p.m.
Tuesday: 11 a.m. – 7 p.m.
Wednesday: 11 a.m. – 7 p.m.
Thursday: 11 a.m. – 7 p.m.
Friday: 11 a.m. – 7 p.m.
Saturday: 11 a.m. – 7 p.m.
Sunday: 12: 00 p.m. 7:00 p.m.
The final launch of the day is 6:15 p.m, so be sure you get there before that time, otherwise, you'll be asked to come back the next day.
During the school season, the dock is only opened on the weekends. October 3, is the last day of the season.
Can You Swim In Jacobson Park?
No, the reservoir is a big source of drinking water for more than half a million customers. Kentucky American Water Company (KAWC) sources water from Jacobson Park, and two plants at the Kentucky River.
This is the reason boats with motors and swimming are prohibited. In addition, the water is always shallow because the water is constantly being pulled from the lake by treatment plants for the purpose of producing drinking water.
Final Word
Jacobson Park is a great spot to bring or rent a kayak for the day. With over 45 acres of water, you'll see many birds, ducks, waterfowl, Coots, etc.
If you live in the area, load up your kayaks and head out to the lake. Jacobson Park is located at 4001 Athens Boonesboro Rd., Lexington, KY 40509.
You won't regret it and if you live close enough, it will probably be one of your favorite spots to visit!
Related Articles