Are you looking for ways to transport your kayak with a Subaru Crosstrek? If so, this is the article for you. We'll be discussing how to load and unload a kayak using a Subaru Crosstrek as well as whether or not you can fit a kayak inside a Crosstek.
Can A Kayak Fit Inside A Subaru Crosstek?
The short answer is no, not even an 8-foot kayak with the passenger seat folded down. The Crosstek has 20.8 cubic feet behind the rear seats and 55.3 cubic feet with the rear seats folded flat. The dimensions of a 10ft kayak average about 373.3333 cubic feet, meaning it's too long to fit inside.
Inflatable, foldable, and a child's kayak can fit inside, but you'll need to fold the seats down to make more room. That said, you will still have a hard time closing the rear door without scratching the interior.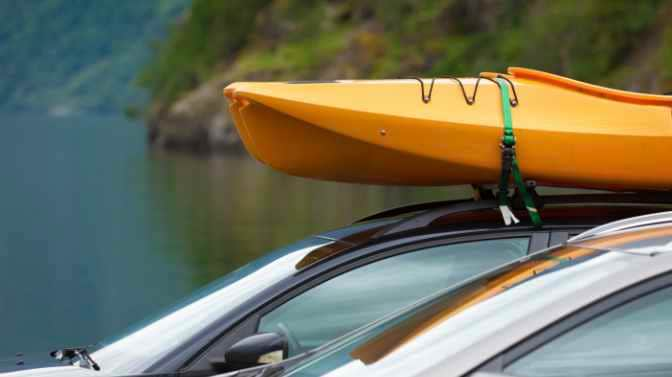 Most recreational kayaks measure 10 feet in length and will require you to install a roof rack, or tow a small utility trailer, to get your kayak from point A to point B.
So let's take a closer look at the available options for Crosstek owners to see which method is right for you.
*This page contains affiliate links to products I recommend. If you purchase something from this page, I may receive a small percentage of the sale at no extra cost to you.
How Much Cargo Space Does A Subaru Crosstek Have?
Regardless of the model, all Crossteks have a spacious interior with up to 121.6 cubic feet of interior volume, which is more than other compact SUVs such as the Nissan Rogue Sport, Toyota C-HR, and the Hyundai Kona.
The wide gate opening makes it easy to load and unload kayak gear, such as paddles, clothing, shoes, signaling whistle, personal flotation devices, paddle leash, etc. 
Can You Haul a Kayak In A Crossteck?
Yes, you can haul a kayak with a Subaru Crosstek. You've likely seen other Crosstek owners transporting outdoor equipment such as kayaks, canoes, paddleboards, bicycles, etc.
It's a popular vehicle with outdoor enthusiasts because the vehicles are designed to properly navigate trails, beaches, and fields you'll likely encounter on your ventures.
How Do You Transport a Kayak With A Crosstek?
The best way to transport a kayak with a Subaru Crosstek is to install a roof rack or pull a lightweight kayak or utility trailer.
Kayak Trailer
A kayak trailer is a lightweight and portable device that provides a simple way to transport your kayak. It's perfect for those who don't want to install roof racks on their Crosstrek.
Kayak trailers work by mounting with a hitch (or via extension bars with hitch-less systems) and rails at either end of the car. The downside to towing a trailer is it affects the gas mileage, and the Crosstek doesn't have as much towing capacity as the Subaru Outback.
That said, the Crosstek has a towing capacity of between 1,000lbs and 1,500lbs, depending on the model year and trim.
Note:
Small (4×7) typically weigh about 700-800 pounds unloaded.
A fishing boat trailer weighs between 200 to 1,000 lbs without the boat.
The average weight of a kayak trailer is about 200 pounds unloaded.
The most important part is knowing the exact towing capabilities of your vehicle. Exceeding the towing capacities of the vehicle can strain your engine and transmission, which won't be covered under the warranty. 
Another downside is you'll likely have to add a hitch or towing package before you can safely tow a trailer.
To find the towing capabilities of your vehicle model, consult the owner's manual, or visit this website.
Roof Rack
A roof rack is a device that attaches to the roof of your vehicle to carry extra cargo, typically large items like kayaks, without obstructing rear visibility. This is the most popular and affordable option for Crosstek owners.
Roof racks come in several different styles, including:
Foldable and removable roof racks. A trunk mount rack that attaches to the rear door of your vehicle. Cargo box carriers, such as a cargo basket or box which mounts on top of your existing roof rack.
Can I Put A Roof Rack On A Subaru Crosstek?
The newer models come with pre-installed crossbars making it easy to install a roof rack, cargo boxes, etc on top.
The type of carrier you choose will depend on how many kayaks you'll be transporting at once.
Best Roof Racks for Crossteks
Many different companies such as Yakima, Thule, Rhino offer different rack systems with varying points and features. Meaning you can literally spend thousands on something with tons of bells and whistles if you don't know what to look for.
The great thing is you don't have to spend a fortune on a rack that won't be used daily.
Amazon has some amazing and affordable options that have great reviews and will carry your kayak and other equipment safely. The one that comes to mind is the Subaru Genuine Thule Kayak Carrier.
It is manufactured from genuine OEM parts making it compatible with Subaru vehicles. Thule is a well-known brand that produces high-quality products that are known to last.
The system comes with everything you need such as a Torx screwdriver and etc. It mounts easily and quickly to the stock bars. 
How to Install A Roof Rack On A Crosstek?
Installing a roof rack on a Crosstek is extremely simple since all racks come with step-by-step instructions. That said, this video walks you through the process of installing a roof rack, that you can follow along.
How to Load A Kayak on a Crosstek?
Loading a kayak onto a Crosstek is extremely easy, especially, when it's loaded from the back. All you do is stand the kayak perpendicular and lean it up against the vehicle.
Bend down and grab the stern and push the kayak until it is sitting on top of the vehicle, careful not to push too hard or you'll push it over the edge.
Next push one side of the kayak to line it up with the carrier or slip it into the J-carriers of the rack. Now walk to the opposite side of the vehicle and push the other side until it is sitting securely inside the racks.
Once the rack is securely and evenly positioned in the carriers, use the tie-down straps to secure it to the vehicle.
Pull-on the straps, if the kayak moves, it's not secured properly and you risk it falling out or shifting during transport. 
Can You Carry a Kayak on the Roof of a Crosstek Without A Roof Rack?
While it's not recommended to carry a kayak on a Crosstek without a roof rack. Some people will try strapping the kayak to the pre-installed stock bars.
These bars are not meant to carry items. Instead, they are pre-installed making it easy to use in conjunction with Genuine Subaru roof attachments and aftermarket products.
That said, if you do attach your kayak to the roof of your vehicle without a roof rack, make sure it is securely fastened on all sides. Otherwise, you risk it sliding off the vehicle and damaging the kayak.
Worse it can slide forward obstructing your view which can cause an accident. 
What Type of Kayaks Will Fit Inside a Subaru Crosstek?
The only kayaks that will fit comfortably inside the Crosstek are inflatable and foldable kayaks. Recreational, Fishing, Sea, Whitewater, etc kayaks are too big in dimensions and should be carried on the outside.
If you're unsure of what the dimensions of your kayak are, this site will help you determine whether or not it will fit.
Other Options
Your last option is to choose a kayaking spot that offers rentals. This way, you won't have to worry about transporting the kayak. You pay a nominal fee to use a for a certain number of hours.
This is a great great way to save money and test out different kayaks if you're in the market to buy one.
Final Word
The Subaru Crosstek has a spacious interior but you won't be able to fit a hardshell kayak of any size inside. Your best option is to install a versatile aftermarket roof rack to carry your outdoor equipment such as paddleboards, kayaks, skis, etc.
Load the smaller equipment inside the vehicle and strap down the larger equipment with roof rack straps.
If you're thinking about buying a Crosstek, there are plenty of ways to transport your kayak using aftermarket accessories. Whether it's strapping on an easy-to-use trailer or installing a durable rooftop carrier system, there is something for every budget and taste.
Related Articles