The Subaru Ascent is the perfect vehicle for your next outdoor adventure. With plenty of space for all of your gear, you can easily take your kayak or canoe with you wherever you go. But what's the best way to transport it? Can you fit a kayak inside a Subaru Ascent, or what are your options? 
Can A Kayak Fit Inside A Subaru Ascent?
The short answer is no, the best option is to carry it outside the vehicle. The Subaru Ascent has 86.5 cubic feet of cargo capacity with the second and third row seats folded down. However, an adult recreational kayak averages about 373.3333 cubic feet, making it too long to fit inside the midsize SUV.
Inflatable, foldable, and a child's kayak can fit inside, but you'll need to fold the seats down to make more room. That said, you run the risk of scratching the interior, damaging the kayak, or making it hard for the driver to see.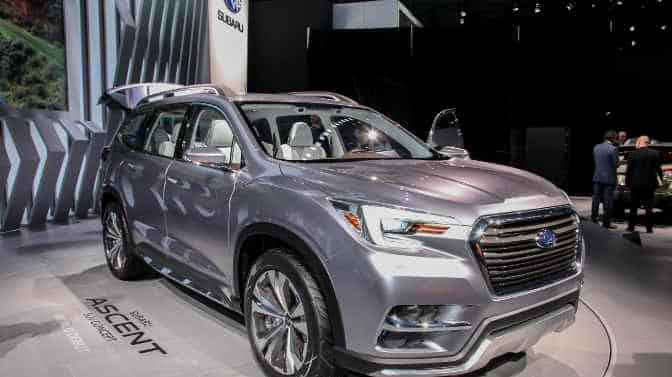 Even though the Ascent doesn't have the same off-road capabilities as the Outback or Subaru. It is still a good SUV for outdoor enthusiasts, thanks to its AWD system. It has the capacity to carry up to 700 pounds on the roof and can tow up to 5,000 pounds when properly equipped. So, if you're looking for a vehicle that can handle your kayak and all of your gear, the Ascent is a great option.
However, you will have to get creative on different ways to transport your kayak to and from your favorite spots. Let's take a closer look at some of the best options for transporting a kayak with a Subaru Ascent.
*This page contains affiliate links to products I recommend. If you purchase something from this page, I may receive a small percentage of the sale at no extra cost to you.
But First…
How Much Cargo Space Does A Subaru Ascent Have?
The 2022 Subaru Ascent is classified as a mid-size SUV, which means it has plenty of space for gear, luggage, and even a kayak or canoe. There are four trims to choose from: the Subaru Ascent, Ascent Premium, Ascent Limited and Ascent Touring.
The cargo dimensions will vary depending on the vehicle's trim and model. That said, the Ascent has plenty of cargo space. It offers 86.5 cubic feet with both rows of seats folded down.
With just the second row folded down, there's 47.5 cubic feet.
That said, the cargo dimensions will vary depending on the trim, and model of vehicle you own.
If you have an older this site is a great place to research to find out the dimensions, towing capacity, and everything else you need to know about your specific vehicle.
Regardless of model, when all seats are in their upright position, there's still plenty of space for smaller items like luggage or gear.
Can You Haul a Kayak In A Ascent?
Yes, you can haul a kayak with a Subaru Ascent. You've likely seen other Ascent owners transporting outdoor equipment such as kayaks, canoes, paddle boards, bicycles, etc.
It's a popular vehicle with outdoor enthusiasts because it offers enough seating for a family, comes with standard all-wheel drive and 8.7 inches of ground clearance. Meaning it can go off-road without worry about damaging the undercarriage.
How Do You Transport a Kayak With A Subaru Ascent?
The best way to transport a kayak with a Subaru Ascent is to install a roof rack, pull a lightweight kayak or utility trailer, or install a mount hitch with cargo basket.
Kayak Trailer
A kayak trailer is a lightweight and portable device that provides a simple way to transport your kayak. It's perfect for those who don't want to install roof racks on their Ascent.
Kayak trailers work by mounting with a hitch (or via extension bars with hitch-less systems) and rails at either end of the car. The downside to towing a trailer is it affects the gas mileage, and the Ascent doesn't have as much towing capacity as the Subaru Outback.
That said, the Ascent has a towing capacity of up to 5,000 pounds when equipped with with the towing package. This means that the maximum weight of a trailer cannot exceed 5,00 pounds. So you'll need to make sure that the trailer and kayak combined are under that limit.
If you're looking for a lightweight and easy to use Trailer, the Malone Auto Racks MicroSport Kayak Trailer is a great option. It has a max capacity of 350, making it perfect for carrying one or two kayaks.
It features a steel frame with galvanized coating for durability, and is equipped with J-Pro2 saddles, which will securely hold your kayak in place while you're driving. The Malone Auto Racks MicroSport Kayak Trailer is also easy to assemble and small enough, to store it in your garage when not in use.
There are literally tons of different kayak and utility trailers you can tow with your Subaru Ascent.
The most important part is knowing the exact towing capabilities of your vehicle. Exceeding the towing capacities of the vehicle can strain your engine and transmission, which won't be covered under the warranty. 
Another downside is you'll likely have to add a hitch or towing package before you can safely tow a trailer.
To find the towing capabilities of your vehicle model, consult the owner's manual, or visit this website.
Roof Rack
A roof rack is a device that attaches to the roof of your vehicle to carry extra cargo, typically large items like kayaks, without obstructing rear visibility. That said, it's important to note that a vehicle won't be able to carry as much weight on top of the roof, as they can tow.
According, to Fatherly, most SUV's, and cars can carry on average about 165 pounds. Exceeding the recommended weight limit can lead to dangerous driving conditions.
So, it's best to consult with your local dealer to ensure you're not exceeding the capacity of your vehicle.
There are a few things you'll need to consider when choosing a roof rack for your Ascent, such as:
The height and width of your Ascent's rooftop
The types of kayaks you want to transport (i.e. sit-on top, tandem, etc.)
The number of kayaks you want to transport
Shape and design of the vehicle's roof
There are several manufacturers that make roof racks for the Subaru Ascent, such as Yakima and Thule. You'll want to do your due diligence to find the right one for you. I've personally found that the J-style racks work best as they make it easy to transport a kayak with the hull facing up.
Roof racks come in several different styles, including:
Platform Racks
Raised Rails
Gutter Mounts
Etc..
Hitch Mount
According to eTrailer the Curt Trailer Hitch receiver is perfect and will fit 2019 – 2022 Subaru Ascent Modes. It offers a Gross weight capacity (GTW) of 5,000 pounds with a tongue Weight of 750lbs.
The OEM Curt Trailer Hitch trailer is perfect, especially if you don't use the mount hitch on a regular basis. It works perfectly with the pre-installed hidden towing panel, which comes with the Subaru towing package as an added feature.
Here's what it looks like and how to access the hidden hitch.
To mount a hitch cargo basket to the Ascent, remove the accessible panel, to expose the 2″ receiver and wiring jacks. The most challenging part of using a cargo basket, is finding one that suits your needs.
This Hitch Mount Cargo carrier is perfect for your outdoor adventures, as it can work as both a cargo basket and camping table. It also offers a weight capacity of 500 pounds, which is ideal for carrying kayaks, canoes, luggage or any of your outdoor equipment.
It also has heightened sides, which prevent items from falling out while driving.
Can I Put A Roof Rack On A Subaru Ascent?
The newer models come with pre-installed crossbars making it easy to install a roof rack, cargo boxes, etc on top.
The type of carrier you choose will depend on how many kayaks you'll be transporting at once.
Best Roof Racks for Ascents
Many different companies such as Yakima, Thule, Rhino offer different rack systems with varying points and features. Meaning you can literally spend thousands on something with tons of bells and whistles if you don't know what to look for.
The great thing is you don't have to spend a fortune on a rack that won't be used daily.
Amazon has some amazing and affordable options that have great reviews and will carry your kayak and other equipment safely. The one that comes to mind is the Subaru Genuine Thule Kayak Carrier.
It is manufactured from genuine OEM parts making it compatible with Subaru vehicles. Thule is a well-known brand that produces high-quality products that are known to last.
The system comes with everything you need such as a Torx screwdriver and etc. It mounts easily and quickly to the stock bars. 
How to Install A Roof Rack On A Ascent?
Installing a roof rack on a Ascent is extremely simple since all racks come with step-by-step instructions. That said, this video walks you through the process of installing a roof rack, on a 2019 Ascent.
You can follow along, as the process will be the the same, regardless of which year model you own.
How to Load A Kayak on a Subaru Ascent?
Loading a kayak onto a Ascent is extremely easy, especially, when it's loaded from the back. All you do is stand the kayak perpendicular and lean it up against the vehicle.
Bend down and grab the stern and push the kayak until it is sitting on top of the vehicle, careful not to push too hard or you'll push it over the edge. Next push one side of the kayak to line it up with the carrier or slip it into the J-carriers of the rack. 
Now walk to the opposite side of the vehicle and push the other side until it is sitting securely inside the racks.
Once the rack is securely and evenly positioned in the carriers, use the tie-down straps to secure it to the vehicle.
Pull-on the straps, if the kayak moves, it's not secured properly and you risk it falling out or shifting during transport. 
Can You Carry a Kayak on the Roof of a Ascent Without A Roof Rack?
It's not recommended carrying a kayak on the Ascent or any vehicle without a roof rack. That said, several people have done it, and it's not hard to find YouTube videos showing people how to tie down your cargo without a rack.
However, trying to drive long distances or on the highway without a roof rack can be extremely dangerous and is not worth the risk.
In short, get a roof rack, they are relatively inexpensive and easy to install. It only takes a few minutes to put one on and will save you a lot of headaches in the long run. 
What Type of Kayaks Will Fit Inside a Subaru Ascent?
The only kayaks that will fit comfortably inside the Ascent are inflatable and foldable kayaks. Recreational, Fishing, Sea, Whitewater, etc kayaks are too big in dimensions and should be carried on the outside.
Depending on how many passengers you're carrying, there's plenty of cargo space to carry other equipment such as the life jackets, coolers, paddles, and etc.
If you're unsure of what the dimensions of your kayak are, this site will help you determine whether or not it will fit.
Other Options
Rentals
Kayak rentals have become extremely popular as it allows people to rent the equipment they need to spend the day on the water. Instead of transporting your own kayak, you can simply rent one when you get to your destination.
Many popular tourist places offer rentals and some even offer guided tours. This can be a great option if you're not familiar with the area or want to learn more about kayaking.
Kayak Club
Another option is to join a kayak club. Some clubs book trips and provide all the equipment you need, and all you do is pay a yearly membership fee. That said, all clubs are different, so you'll want to find one that offers use of the equipment before joining.
Go With A Friend
The last option is to go kayaking with a friend and have them transport the kayak for you. This option works good if your friend owns already has a vehicle that is equipped to transport a kayak.
Instead of having to worry about transporting your gear, you just offer them money to pay for the gas. This is a great option if you want to go kayaking but don't own the necessary equipment.
Kayaking is a great way to spend the day outdoors, and with these transportation tips, you can get your kayak to any destination. With a little planning, you can have everything you need for a day on the water.
Final Word
The Subaru Ascent has a spacious interior but you won't be able to fit a hardshell kayak of any size inside. Your best option is to install a versatile aftermarket roof rack to carry your outdoor equipment such as paddle boards, kayaks, skis, etc.
Load the smaller equipment inside the vehicle and strap down the larger equipment with roof rack straps.
If you're thinking about buying a Subaru Ascent, there are plenty of ways to transport your kayak using aftermarket accessories. Whether it's strapping on an easy-to-use trailer or installing a durable rooftop carrier system, there is something for every budget and taste.
Related Articles