The Ford Edge is a midsize SUV with plenty space and a comfortable cabin. It's a great option for families or those who need a vehicle with a little more room. It offers an 8-inch road clearance making it a versatile vehicle for those off road experiences. But can you fit a kayak inside a Ford Edge?
Can A Kayak Fit Inside A Ford Edge?
The 2022 Ford Edge has about 113 cubic feet of space with the seats down. Unfortunately, it isn't enough space to carry a hardshell plastic kayak, unless you leave the cargo gate open with the kayak sticking out. If you own this midsize SUV, you'll have to find some alternative methods to transport your kayaks, canoes, SUP, etc.
Inflatable or foldable kayaks are the best types of kayaks to transport inside a Ford Edge. You won't have to fold down the seats, meaning you can still carry occupants in the SUV leaving you plenty of room for more equipment.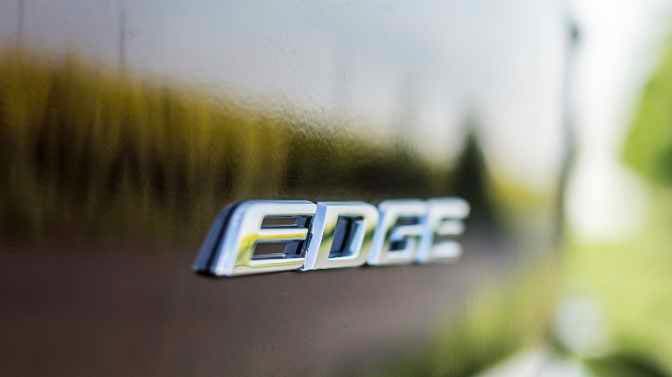 If you own an Edge midsize SUV, it doesn't mean you can't use it to transport a kayak. It just means you'll need to carry it on on the roof of the car or tow a trailer.
Before we get into the different options of transporting a kayak, let's first take a closer look at the interior space of the different models of the SUV.
How Much Cargo Space Does A Ford Edge Have?
The Ford Edge is a roomy, compact SUV with plenty of seating area to carry up to five adults. There are five different models of the Ford Edge: SE, SEL, St-Line, Titanium, and Edge St.
The cargo space varies from model to model with the smaller SE model having the least amount of space and the larger ST model having the most.
Below are the different 2022 models along with the cargo space dimensions.
| | | |
| --- | --- | --- |
| Ford Edge 2022 Dimension | First Row | Second Row |
| Headroom | 40.2 inches | 40.3 inches |
| Shoulder Room | 60.3 inches | 60 inches |
| Hip Room | 55.9 inches | 57.5 inches |
| Leg Room | 42.6 inches | 40.6 inches |
Regardless of trim, the 2022 model boasts a spacious 113.9 cubit feet. Meaning, it can safely carry up to five passengers, without skimping on leg room or cargo space in the back.
Now that we know how much space is available inside the Ford Edge, let's take a look at some of the different ways you can transport a kayak.
How Do You Transport A Kayak With A Ford Edge SUV?
If you own a Ford Edge, you have two options for transporting your kayaks from point A to point B.
Utility Trailer
All 2022 Ford Edge models come equipped with either the Twin-Scroll 2.0L EcoBoost or the upgraded 2.7L V6 Twin Turbocharged EcoBoost engine. Without the upgraded engine, the Ford Edge has a towing capacity of up to 1500 pounds.
The upgraded engine gives the vehicle 335 hp and 380 lbs of torque under the hood. It also features all wheel drive and a towing capacity of up to 3500 pounds. This gives you plenty of power to pull a utility trailer with one or more kayaks on board.
Upgrading to the Fords towing package provides you with everything you need to tow such as; wiring harness, hitch receiver, and the 4-pin trailer wiring harness. The tow package is standard on the ST model and is available for both the SEL and Titanium models.
If you have an older SUV, you'll want to contact your local dealer to find out what the towing capacity is. Make sure to have the vehicle's VIN number on hand when you call.
Utility trailers come in all different shapes and sizes, so it's important to pick the right one based on the number of kayaks you want to transport and how much gear you
All newer Ford Edge models won't have any issue pulling a small lightweight utility trailer to carry your kayak. Since most kayak trailers weigh about 200 pounds unloaded.
Before pulling a heavier trailer, make sure your vehicle is properly equipped to tow it. Towing a trailer that is too heavy, adds extra strain to your engine and transmission, that won't be covered under the warranty.
Using a trailer to transport your kayak, is the most expensive option. Unless you have a newer model, you'll have to add a hitch to your SUV. Expect to spend $800-$1500 or more on a small utility trailer, depending on where you live.
Roof Rack
Most compact SUV owners will opt to install a roof rack. It is the most economical method for transporting canoes, kayaks, bicycles, paddle boards, and other bulky equipment.
The newer model SUVs come with pre-installed roof rack side rails, making it easy to install an aftermarket roof rack.
Roof racks for SUVs come in several different styles including foldable and removable racks making them easy to remove when not in use. The kind you get will depend on the make and model of your vehicle, type, and the number of kayaks you have.
Can You Put A Roof Rack On A Ford Edge?
Yes, the SUV comes with pre-installed factory roof rack side rails, making it extremely easy to install a roof rack. The Ford Edge has a rooftop weight limit or capacity of 165 pounds, which is more than enough to carry two kayaks.
Be sure to follow the maximum weight limits, otherwise, you run the risk of damaging your vehicle.
How to Install A Roof Rack on a Ford Edge?
Installing a kayak on a Ford Edge is no different than installing it on any other SUV. Most after-market roof racks will install easily onto the factory-installed crossbars. Here's a video walking you through how to install a roof rack on a 2013 Ford Edge.
The process will be the same, regardless of the year of your SUV. There may be some slight differences depending on the roof rack you've chosen.
Can You Carry A Kayak On A Ford Edge Without A Roof Rack?
While not recommended, it is possible to carry a kayak without a roof rack. If you decide to transport a kayak without a rack, be sure to use durable foam pads, or pool noodles to help secure the kayak and keep it off the roof of the vehicle.
It will protect the roof of the vehicle from dings and scratches. Also, make sure to take the back roads and stay off the freeway. Driving at high speeds can cause the kayak to shift and come loose.
Not having a roof rack also limits the number of kayaks you can transport at one time. Most likely, you'll only be able to carry one kayak without a rack.
Transporting a Kayak in a Ford Edge
Even though a kayak won't fit comfortably inside a Ford Edge, some people will still transport it with the kayak hanging out the back. We've all seen vehicles with smaller cars and SUVs with kayaks hanging out the back or window.
It's not recommended carrying a hardshell kayak inside the midsize SUV. Doing so can scratch or damage the interior of the vehicle. It can also affect the driver if it is pushed too far to the front of the SUV.
If it is transported inside the vehicle, use a sturdy rope to properly secure the vessel so it doesn't shift during transport. If it sticks out more than three feet from the rear, tie a red or orange warning flag to the protruding end to warn other drivers.
Several states have overhang laws that prevent items from hanging out over the end of the vehicle, so check the laws in your area.
Other Options for Edge Owners
If you're scared a roof rack will damage your vehicle and you don't want to pull a trailer, consider renting a kayak. Several popular kayaking spots offer kayak rentals, so you don't have to carry your own.
Renting a kayak allows you to test out different kayaks. It's also a great option if you're just starting out and not sure if kayaking is for you.
Kayak rental prices will vary depending on the place you're visiting. When you rent a kayak, they provide the kayak, paddles, and life jacket.
Kayaking Equipment to Carry Inside A Ford Edge
The spacious interior of the Edge SUV will have no issues carrying coolers, life jackets, paddles, and other essential kayaking gear. As mentioned above, foldable and inflatable kayaks can be stored in the cargo area, without folding the seats.
Final Word
Don't expect a 10 or 12 foot kayak to fit inside a Ford Edge SUV. The only way to transport a kayak that size is on the roof or by pulling a trailer. The other options would be to rent a kayak, borrow a friends, or join a kayak club, so you don't have to carry your own kayak.
Before towing a utility trailer, make sure you know the towing capacity of your vehicle. Never pull a trailer too heavy, as it can damage the vehicle. The best and most convenient method to transport a kayak with a Ford Edge is to invest in an OEM roof rack.
If you're looking for aftermarket kayak equipment for your Ford Edge or other midsize SUV, there are several different options to choose from; all of which makes moving your kayak from your house to the water a breeze.
Related Articles
Sources
https://www.andymohrford.com/ford-edge-towing-capacity-plainfield-in.html