For kayakers, the kayak is an essential piece of equipment. It allows you to take your favorite water sport with you on long trips or short day trips. If you are looking for a vehicle that can fit your kayak and still provide plenty of room for other items, then it might be time to consider trading in your car for an SUV like the Ford Escape!
Can You Fit A Kayak In A Ford Escape?
No, a kayak of any size won't fit comfortably in the back of a Ford Escape. The back of a Ford Escape has 33.5 cubic feet of cargo space behind the seats, and 65.4 cubic feet with the seats folded down. A 10-foot kayak, measures about 3780 cubic feet, making it too long to fit in the back.
That said, the Escape has above-average cargo space for a compact SUV, making it a great vehicle for outdoor enthusiasts. It's the perfect vehicle for transporting both you and your gear to and from your favorite kayaking spot.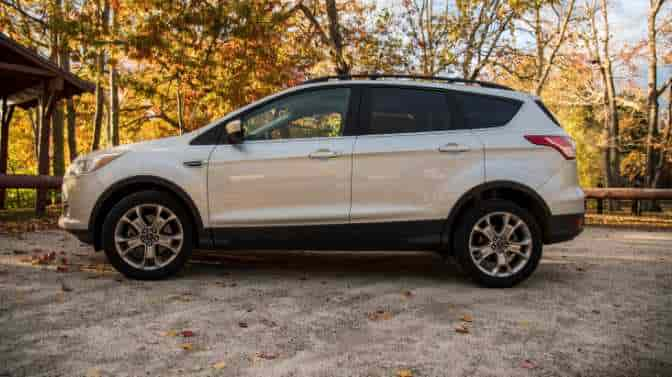 Just don't expect your kayak to fit inside unless you have an inflatable or foldable kayak.
As an owner of a Ford Escape, there are a few options for transporting your kayak, which we will discuss below. As well as why this vehicle is a great choice for outdoor enthusiasts.
*This page contains affiliate links to products I recommend. If you purchase something from this page, I may receive a small percentage of the sale at no extra cost to you.
Can You Haul A Kayak On A Ford Escape?
A kayak can't fit inside the compact SUV, but it doesn't mean you can't use it to transport a kayak. Outdoor enthusiasts have two options for hauling a kayak which are:
Using a utility trailer
Installing a roof rack
Let's take a closer look at the different options and how to decide which one is right for you.
Utility Trailer
A utility or kayak trailer is an extremely versatile and easy method to transport your kayak, using a compact SUV with limited cargo space. That said, it's important to understand what the towing capacities are for your vehicle, to ensure you don't pull too heavy of a trailer.
At the type of this writing, there are over 10 Ford Escape models ranging from Hybrid, Titanium, Plug-in-Hybrid, etc.
So let's take a closer look at the essential information regarding towing capacity specs to help you find the right kayak trailer to pull.
Engine Choices
Since the conception of vehicles, there were two different types of engines, which were either 4-cylinder or 6 cylinder engines.
4 cylinder engines can tow 1,000 lbs to 2,000 pounds which are more than enough to tow a kayak utility trailer.
A 6 cylinder engine has more power and has a towing capacity of up to 3,500lbs. That said, you may need to add a towing package to get the best results.
Today's newer models have been redesigned and offer consumers three engine types:
Escape Hybrid & Plugin In Hybrid: 2.5L iVCT Atkinson Cycle 1-4 Hybrid Engine
Escape: 1.5L EcoBoost
I've also created a table of the maximum towing capacities for various models, based on the information I found after researching the main Ford website and other online sources.
| | |
| --- | --- |
| Models | Maximum Tow Capacity |
| S | 3,500 lbs with tow package |
| SE | 3,500 lbs with 2.0L EcoBoost and Class II Trailer Tow package |
| SE Hybrid | 3,500 lbs with tow package |
| SE Plug-In-Hybrid | 3,500 lbs with tow package |
Most Ford Escapes won't have any issues pulling a kayak trailer, as they won't weigh that much.
Drive Train Configurations
Ford Vehicles offer two drive train configurations, front-wheel drive or all-wheel drive options. All-wheel drive is best for towing, as it provides more power to all the wheels, improving the overall traction.
Front-wheel drive vehicles can lose their traction in the front if there is too much weight in the back of the vehicle.
Towing Capacity
According to the type of engine build your vehicle has, a Ford Escape has a towing capacity of 1,000 lbs – 3,500 lbs. Meaning, no matter the build, a Ford Escape will have no problem towing a small trailer with 2-3 kayaks.
Roof Rack
If you're not sure what type of engine or tow capacities your vehicle has, then consider using a roof rack to haul your kayaks. A roof rack makes it easy to tow your kayak without having to worry about towing a trailer that is too heavy for the vehicle.
There are many makes and models available to choose from. The newer models come with the option to add a roof rack before delivery, for an extra cost.
Can I Put A Roof Rack On My Ford Escape?
Brands such as; Thule, Yakima, Rhino, etc offer vehicle-specific roof racks making it easy to install an after-market roof rack on a Ford Explorer.
Depending on what you're looking to haul, you can get a set that has four or six kayak carrier mounts. The number of carriers you need will depend on how many kayaks you want to transport at once.
Best Roof Racks for A Ford Explorer
There are literally tons of different models to choose from, which can make it challenging to know which one to get.
The roof rack you choose must fit the make and model of your vehicle, so be sure to do your due diligence.
Below you'll find a few options depending on the model of vehicle you drive.
The EZREXPM Roof Racks are a versatile rack designed for the 2012-2019 Ford Escape Kuga models. The versatile rack comes with side rails, making it easy to attach a luggage rack.
The installation process is extremely easy and doesn't require any cutting or drilling. The adjustable crossbar makes it easy to haul kayaks, bicycles, fishing rods, skis, etc.
The HEKA Cross Bar Roof Racks are designed for the 2012-2019 Ford Escape models. This model is compatible with the factory raise lifts for the KUGA model. It has a load capacity of 165 lbs when the load is evenly distributed.
It comes with easy to assemble instructions and can be easily removed in minutes. It is made of durable aluminum that won't rust in the rain or harsh elements.
How to Install A Roof Rack On A Ford Escape?
How you install a roof rack, will depend on the type you get. However, the steps to installing one are similar no matter what type of vehicle you have. The video below will walk you through installing an OEM roof rack on your vehicle.
How to Load A Kayak On A Ford Escape?
Installing the roof rack is easy, but loading a kayak can be more challenging. The best way to load the kayak is to remove any items from inside the kayak. This makes it easier to load and ensures nothing flies out during transport.
Even if you're a female or trying to load it by yourself, you can load a kayak on the Ford Escape. Here are the steps to do it:
Lift the kayak and walk yourself up to the kayak to lean it against the vehicle.
Bring the stern around so the kayak is perpendicular.
Now push the kayak (lifting with your knees) and slide the kayak on top of the vehicle. (making sure not to slide it too much where it falls over on the other side)
Reach under the bow and spin it sideways.
Now bring the stern up over the other part of the roof rack.
Ensure the kayak is sitting straight on the bars.
Tie the kayak down with the ropes to ensure it is secured tightly and doesn't move during transport.
Transporting A Kayak In A Ford Escape
Even though a kayak won't fit inside a Ford Escape, some people will transport it with the kayak hanging out the back. We've all driven down the highway to see someone carrying something that sticks out on one end of the vehicle.
It's not recommended to transport them inside a Ford Escape, but if you do make sure know how to keep yourself and other drivers safe.
Don't use bungee cords, as they are too stretchy and the kayaks will still move. The last thing you want is the kayaks to fall out and damage or hurt another driver.
Instead, use a sturdy rope and tie it with a good knot to prevent the kayaks from shifting during transport. If the kayaks stick out more than 3 feet from the rear bumper or on top of the hood, tie a red flag warning flag to each protruding end.
Several states place a limit on how far an item can overhang or protrude from the rear of the vehicle, so make sure you know what the rules are.
Basically, you want to make sure the kayaks are secured properly to prevent them from falling out during transport.
Other items that are too long to put in a Ford Escape are; canoes, surfboards, snowboards, etc.
Kayaking Equipment That Fits Inside A Ford Escape?
The paddles, life jackets, waterbags, and any other equipment will fit comfortably inside the cargo space. Many will come apart making it easy to store them inside the vehicle.
If your paddles don't come apart, you can put them inside the kayak. Just make sure they don't fall out during transport.
Final Word
The kayak won't fit inside the vehicle, and you shouldn't try to fit it, otherwise, it can damage your vehicle.
The Ford Escape is a popular choice vehicle for outdoor enthusiasts because it makes it easy to transport a kayak, canoe, snowboard, or any other equipment a regular car can't.
The large spacious interior will hold all your other equipment such as clothing, food, cooler, etc without any issues.
You can choose to haul your kayak using a utility trailer or installing an aftermarket roof rack. If you're hauling several kayaks or plan on towing heavy gear such as an RV, ensure you get the right engine build to keep your vehicle safe.
Sources
https://wideloadshipping.com/max-length-front-back
Related Articles