Can 3 people fit in a kayak? Well, that all depends on the size of your kayak. In this blog post, we will discuss the best ways to find out how many people can fit in a kayak and what type of kayaks are best suited for group activities. We'll also answer some frequently asked questions about fitting three people into a small boat!
Can 3 People Fit In A Kayak?
It depends on the size, design, shape, and number of seats. Some are designed for two people, while others can hold for or more! But if you want to know how many people can fit in your specific model, there are several different things you should consider: 
What type of vessel do I have?
Maximum weight capacity
Your comfort level
Kayaking laws in the area
Storage Space
Kayaks are not cheap, especially, when you're considering getting a tandem or more than one. Before investing your hard-earned money into a new kayak, you first have to determine what type of kayak you need.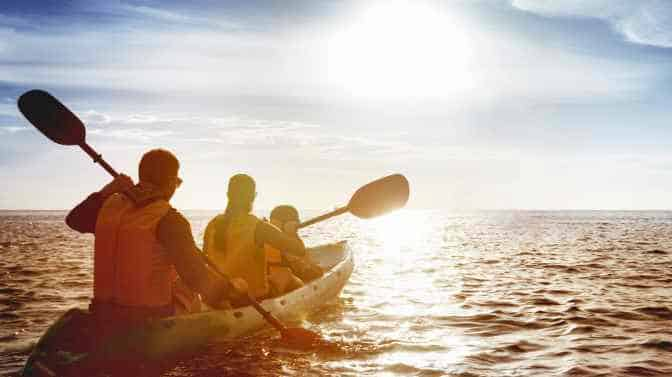 Let's take a closer look at how to determine what type of kayak is best for more than one passenger and which best suits your needs.
Can A Kayak Have More Than One Person?
Yes, as long as you have a tandem or multi-person kayak that is designed to carry more than one person. Many people prefer to paddle in groups because it's more enjoyable and for safety reasons.
Regardless of which you get, you can still kayak with a group of friends. But determining which type of kayak is best before your trip can make your trip much more pleasurable.
Solo Vs Multi-Person Kayak
Tandem or multi-person kayaks are designed to allow more than one person to sit in the same boat. They are typically longer and wider than a single kayak.
Some tandems have two separate cockpits, each with its own seat or backrest. Both cockpits will have adjustable footrests for both paddlers.
While tandems are popular, they're not for everyone! If you and your partner frequently get into arguments while kayaking or if one of you is always taking pictures while the other wants to move, then a tandem might not be right for you.
Some people also find that tandems can be more difficult to control than single kayaks because it takes additional effort to keep the kayak parallel and in line.
On the other hand, some people prefer tandems because they can take turns paddling.
On the other hand, solo kayaks are designed to be used for one person. They are typically shorter, narrower, and have a smaller cockpit which requires less paddling power to control. 
If you're not sure if you would like a ride a tandem every time you head out to the water. Consider an inflatable tandem that allows you to convert it to a solo. This way, when if you don't like the tandem, it can be converted back to a solo kayak.
What Is The Weight Limit On A Kayak?
All kayaks have a weight limit. If you're planning to kayak with more than one person, then your weight limit will depend on the type of kayak.
For example, many tandems are designed for two average-sized adults and children under 80 lbs. But there are also larger tandem options that can hold up to three or four people. Some models have a weight limit of 500-600 pounds.
Many single kayaks have a weight limit of around 250-300 lbs. but there are also kayaks that can hold more than 500 lbs.
Kayaking with a group of friends often means that you'll be pushing the weight limit on your vessel, so it's important to consider this before investing in a new kayak or if you already own one.
How Many People Can Fit In A Kayak?
The number of seats or backrests in a kayak determines how many people can comfortably sit in it.
For example, single kayaks typically have a seat or backrest. But tandems come in two types: those with separate cockpits (one for each person) and have a seat or backrest for one occupant per cockpit.
If you are looking for a kayak that can hold more than one person, then make sure to get a model with a higher weight limit. Also, keep in mind the size of the kayak when determining how many people it can hold.
Larger kayaks will be able to accommodate more passengers than smaller kayaks.
Your Comfort Level
Three people in the same water vessel is a lot. Make sure everyone has enough legroom, so they don't get cramped.
The minimum length for a 3-person kayak should be no less than 10 feet. You want a snug fit in the cockpit, but not too tight that it makes it challenging to get in or out quickly, in case of an emergency.
Too much legroom gives you less control over the watercraft. It'll be harder to maneuver. This can be challenging, depending on the height of all the passengers.
The size of the kayak to get will vary depending on the size, weight, and mobility issues for all passengers. This guide will help you understand what to look for regardless of the type of kayak you're in the market for.
Kayaking Laws In The Area (How Many People Are Allowed In The Kayak?)
The US Coast Guard has boating regulations that require motorized boats less than 20 feet in length to have a capacity plate decal attached to the vessel. This is to ensure the boat is not overloaded.
While the law doesn't pertain to human-powered kayaks or canoes. It does pertain to a kayak that has had a motor attached to it. If you purchase a kayak with a motor attached to it, the kayak will have the decal attached to it.
The decal states the maximum horsepower of the boat, maximum weight capacity per person, and the maximum weight capacity of gear allowed on board. To find out more about the decal and other water safety regulation laws, visit this site.
If you have two or more people on board a motorized kayak, the weight of each passenger and the gear may require you to adhere a decal to the vessel.
Nonmotorized kayaks won't have to worry about this law. However, the weight of all the passengers and gear combined may affect the way the kayak handles.
Storage Space
A 3 person kayak or larger tends to have more storage space than a solo kayak. This is due to the fact that they are longer and wider. The longer and wider width, not only provide more storage space for everyone on board but make it stable and faster.
Final Word
Kayaks can have more than one passenger if designed for that purpose. Trying to fit more than one person in a kayak designed for one person, is not recommended. Chances it the weight limit of everyone will surpass the maximum allowed, and it could be very dangerous.
All passengers need to be seated comfortably in the cockpit to safely enjoy a day on the water. Don't forget to take along one life jacket for everyone on the vessel.
Related Articles