Busch Gardens amusement parks are some of the best in the world, and anyone who lives close by is likely to visit multiple times a year. For this reason, Busch Gardens introduced annual passes that allow guests to visit the park at any time for one annual payment. These come with several perks and discounts while in the parks. Is it possible to share these passes with someone else, or are they non-transferable?
Busch Garden annual passes, Fun Cards, and day tickets are non-transferable. Annual passes require a matching photo ID for park admittance, regardless of the pass tier. Lending your annual pass to someone else will result in the pass being revoked without a refund. 
There are several advantages to using a Busch Gardens annual pass, but they are expensive, and getting the best use from them is challenging. Not everyone can visit amusement parks every month, so some buy them to share them with family or friends. However, there can be some severe consequences to doing this.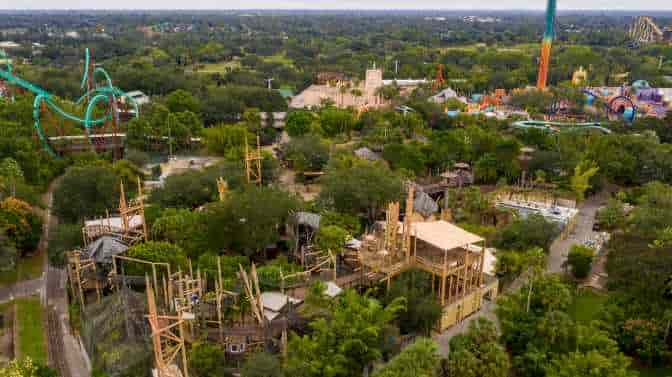 Can Someone Else Use Your Busch Gardens Pass?
Buying a Busch Gardens pass makes sense for people who visit the parks regularly. Using a pass like this significantly reduces the costs of visiting the park. In addition, pass members have access to several perks that make visiting the park even better. 
However, if you cannot use your pass and want to lend it to someone else, or if you are considering sharing it with friends or family, think again. 
Busch Gardens' annual park passes are non-transferable. 
Annual passes for Busch Gardens all require a photo ID that matches the park pass for admission. Failure to present this form of ID before entering the park will result in a refusal of entry. It may even result in the pass being confiscated. 
When you purchase an annual pass to Busch Gardens, you agree to these terms upon payment. 
Regardless of the pass you buy, be it the most basic tier or the highest tier pass, it is non-transferable and cannot be used by anyone other than the registered holder of the pass and confirmed with ID upon entry. 
The same is true for Busch Gardens Fun Cards. 
Can You Bring Anyone With You Into The Park With A Pass?
We have established that you cannot let someone else use your pass for Busch Gardens, but can you use the pass to get other people into the park with you?
Busch Gardens annual passes are non-transferable, but many of the pass packages come with complimentary tickets for additional guests besides the pass holder. 
Silver, Gold, and Platinum annual pass members are given free day tickets as part of the annual package. 
Silver members get two free tickets, Gold members receive four free day tickets, and Platinum members can bring six additional guests into Busch Gardens for free. 
However, there is a caveat to this, as there always is with these types of passes. 
The free tickets are only available during certain seasons and promotions. 
Guests with annual passes can only bring additional guests in for free during these times. However, guests with annual passes do receive ticket discounts outside of these periods. 
Silver, Gold, or Platinum Busch Garden holders can bring other people into the park with them for either a heavily discounted rate or completely free, depending on the season. 
Are Busch Gardens Day Tickets Transferrable?
There are several ways to buy entrance into Busch Gardens amusement parks, including Fun Cards, annual passes, and general day tickets. 
For example, day tickets. These tickets allow you access to the park for a specific day. Unfortunately, non-refundable and non-transferable. You cannot give your tickets to anyone else to use for the day. 
If you contact customer relations for Busch Gardens, they may extend your ticket or move it to another day if it has not been used. 
There are reports of guests using tickets given to them by someone else, and they do get through security. Still, if guests are caught doing this, they can be removed from the park and banned from future entry. 
If you have tickets that you cannot use, it is better to contact customer support and have the tickets moved rather than giving them to someone else to use. 
What Happens If You Let Someone Else Use Your Pass?
Anyone caught selling, or letting others use their annual passes can face severe consequences.
The reality is that all Busch Gardens annual passes are non-transferable and non-refundable. When buying an annual pass, every guest agrees to the terms of the pass, which state that the pass can be revoked due to misuse. 
Misusing your Busch Garden annual pass, including giving it to someone else, will result in losing it. You may even be banned from the park if the offense is severe enough. 
Never give your pass to someone else to use. Instead, buy them a day ticket or wait for a season when Busch Gardens runs a promotion for free entrance for additional guests. 
These are much safer options for bringing your friends and family into Busch Gardens amusement parks, and they will never incur any negative consequences. 
Final Word
Busch Gardens offer annual passes that come with significant perks and discounts. But the unfortunate reality is that these passes are non-transferable, and lending them out can have dire consequences for the pass holder and the person trying to use them. 
Never lend your Busch Gardens pass to anyone. It is better to wait for annual free ticket promotions or to make use of the discounts provided to pass members to bring people with you into the park. 
The same is true for all Fun Cards and day ticket passes. If you have any questions or concerns, visit the Busch Gardens official page or contact customer service to get your questions answered. 
Related Articles
Sources
https://buschgardens.com/tampa/tickets/theme-park-tickets/
https://www.tripadvisor.com/FAQ_Answers-g34678-d107648-t5461005-We_have_4_tickets_we_can_t_use_Can_other_people.html