For many people, kayaks are a beloved hobby. If you own one, then you know that they can be bulky and heavy to transport. You might have seen an upside-down kayak somewhere in your travels and wondered if this was the best way to transport it? We're here with some information on transporting your kayak: the good, the bad, and what we recommend!
Can Kayaks Be Transported Upside Down?
Composite kayaks (made of fiberglass, carbon fiber, aramid, or other high-tech fabrics) should be transported on their bottom using cradles to prevent deformation. Rotomold or kayaks made from polyethylene materials can be transported in any manner. As long as it is convenient for your roof rack, vehicle, utility trailer, or transportation method you have.
The method you carry your kayak on top of your vehicle will depend on the type of roof rack you have, and the style and composition of the kayak.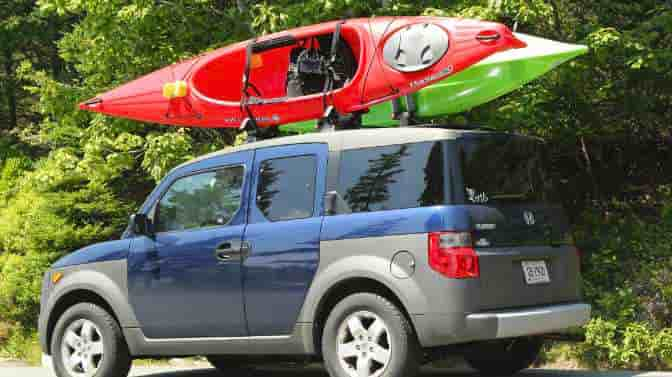 *This page contains affiliate links to products I recommend. If you purchase something from this page, I may receive a small percentage of the sale at no extra cost to you.
Some kayaks can be carried upside down, but others can be damaged or deformed when transported incorrectly.
Should I Haul My Kayak Upside Down? (Hull-Side Up)
The way to transfer your kayak will depend on the type of crossbars, kayak, racks, tie down strap, vehicle, and the distance you need to transport the vessel.
To prevent issues with carrying your kayak, it's best to always purchase the kayak before buying the roof rack system.
That said, f you've purchased the roof rack before the kayak. Read the owner's manual to determine the best method for transporting your kayak. The owner's manual will clearly state the best method for transporting the kayak. And will clearly state what the kayak is composed of.
That said, buying a second-hand kayak on Facebook Marketplace, eBay, etc is becoming more popular. Because it helps people save money. So it's hard to determine what the kayak is made of. Making it hard to know the best way to transport it.
If you're unsure of what your kayak is made of, it's best to carry it on its side, or hull side down to prevent damage.
Let's take a look at some of the different and easiest ways to transport a kayak without damaging it.
How to Transport A Plastic Hardshell Kayak?
Kayaks made of high-density polyethylene (HDPE) aka plastic kayaks are extremely sturdy. Meaning, the kayak straps, ratchet straps, ropes, etc used to secure them, will not damage the structure. These types of kayaks consist of most white water kayaks, most recreational, touring and etc.
Hardshell plastic kayaks can be carried hull side up, right side up, or on its side.
When transporting a sit-in kayak. It's best to remove the paddles, gear, or anything that is unattached to prevent it from falling out.
When transporting it upside down, use a cockpit seat cover to keep water, dirt, and debris out of your yak. It will also improve the gas mileage on your vehicle, due to the fact that it reduces the wind drag and aerodynamics of the vessel.
How to Transport a Composite Kayak?
Composite kayaks are composed of aramid, carbon, fiber, or a blend of other high-tech fabrics. Making them more expensive but less durable than plastic kayaks.
Composite kayaks are glossy sleek kayaks and ultra-lightweight, making them fast and responsive on the water. That said, their design makes them susceptible to bending or cracks in the hull when transported incorrectly.
These kayaks should always be transported hull side up, or upside down. Never transport it with the cockpit up, as the tension from the tie downs can damage the structure.
Instead, invest in an aftermarket j-rack system that allows the kayak to rest on its hull and dek/hull seam. A great roof rack for a composite kayak is the Yakima – JLow, J-Style Fold Down Rooftop Kayak Carrier.
Yakima systems allow you to buy separate attachments for your bike, kayaks, cargo baskets, and more.
How to Transport An Inflatable Kayak?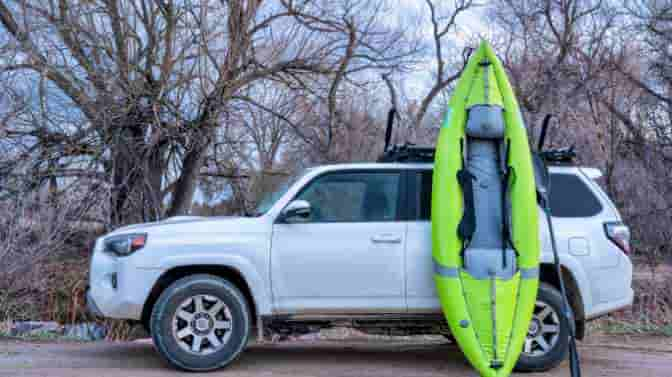 An inflatable kayak can be transported either inside the vehicle or on top of it face down the right side up. It'll be easier to load onto the vehicle when loading it right side up, especially, when loading it by yourself.
Air kayaks are easiest transported inside the vehicle, it reduces wind resistance, keeps the kayaks safe, and allow you to carry multiple kayaks.
That said, don't forget to pack your pump to inflate the kayaks when you get to your destination.
Loading the vessel on the top of the vehicle is easy. You don't need a fancy roof rack, in fact, you can load it directly on the crossbars or carry it without any crossbars. Just make sure you put down some towels to protect the paint from scratches.
The most important thing is to ensure to use straps or tie-downs that won't puncture the water vessel. Before tightening the straps, release some of the pressure from the air valves by letting some of the air out.
The reason being is the heat from the sun will expand the pressure of the boat during transit. Tie off the hanging straps to the cam buckle so they don't hang beside the car.
Ensure both the front and back are secured tightly to the automobile especially the front end. The front of the vessel will be exposed to high winds and you don't want it falling off during transit.
How to Transport A Thermoform ABS Kayaks?
Thermoform kayaks offer superior performance, use higher quality plastic than polyethylene kayaks, making them as lightweight as composite kayaks.
These kayaks can be carried using the same method as a polyethylene kayak. They are composed using rotational molding or lamination using ABS plastic, making them extremely durable and environmentally friendly.
While it uses plastic as the main component, it should not be confused with rotomolded polyethylene vessels.
Tips for Transporting A Kayak
Getting a new kayak from your house to the water will differ for everyone, depending on the type of kayak you have. Perception Kayaks has some great tips for transporting a kayak from your home to the water.
Below are some more simple guidelines to help you transport the kayak as safely and efficiently as possible.
Invest in the right roof rack system: Horizontal roof racks and crossbars are the most common method of transporting recreational kayaks. Whether you invest in j-bars, pads, saddles, rollers, cushions, cradles, kayak stackers, etc.
Always follow the manufacture's guidelines: Whether you have an aftermarket roof rack or pre-installed vehicle, follow the recommended guidelines.
Secure it properly to the vehicle: Make sure the kayak is properly secured to the top, front, and back of the vehicle using straps, tie-downs, or ratchet straps to prevent it from moving during transit.
No Roof Racks: When loading a kayak on a bare roof, use something soft and sturdy such as foam blocks, rolls, or poodle noodles to protect the top of the car roof and bottom of the kayak. Make sure you use something soft but not too soft that it gets crushed under the weight of the kayak.
Speed Limit: Driving with one or multiple kayaks affects the way a car handles, especially the gas mileage. Maintain a speed of 50-70 mph on the freeway and pull over if you feel the vessel start to shift. Driving at slower speeds can also improve the overall fuel consumption.
Overhang Laws: Every state has it's own set rules regarding how far cargo can stick out on a car or truck. According to the United States of Transportation Federal Size Regulations Law, the overhang limit is 3 feet on the front, 4 rear and 4 inches on the side. If you're carrying a larger kayak, you may need to attach a red or orange flag to the rear of the automobile.
Take a Friend With You: While it's possible to load a kayak on your own. It's much easier to carry a kayak from the car to the water with two people.
Final Word
If your kayak is made of composite materials, always transport it cockpit side down or hull side up using a specifically designed roof rack. This will ensure the structure doesn't get damaged when tying it down.
Kayaks made of polyethylene, thermoform, or any other sturdy material can be transported in any position on the roof or your vehicle, utility trailer, or any other method as long as it is secured properly.
Inflatable kayaks can be transported on the top of the vehicle, but are better suited inside the cargo area of the vehicle.
All kayaks regardless of type should be centered properly on the vehicle and properly secured so they don't shift during transit. It will improve the handling of the vehicle, fuel consumption and prevent it from falling off during transit.
Related Articles