When it comes to finding space for all of your outdoor gear, the Honda Pilot is a great option. It has plenty of storage space both inside and out. But can you fit a kayak inside? We'll take at some of the best ways to transport your kayak, using your Honda Pilot as well as other tips to help you out with your outdoor adventures.
Can You Fit A Kayak Inside A Honda Pilot?
The short answer is no, there is not enough room inside to transport any size hardshell kayak. There is plenty of space for your belongings and passengers. Unfortunately, there is only 83.9 cubic feet of cargo space behind the first row, with the seats upright, and 109 cubic feet with the seats folded. The cargo space only decreases behind the second and third rows.
That said, if you have a foldable kayak or a 6-foot child's kayak, it may fit inside. However, you'll need to fold the second and third-row seats to make more room. Even then, you may have a tough time closing the rear tailgate.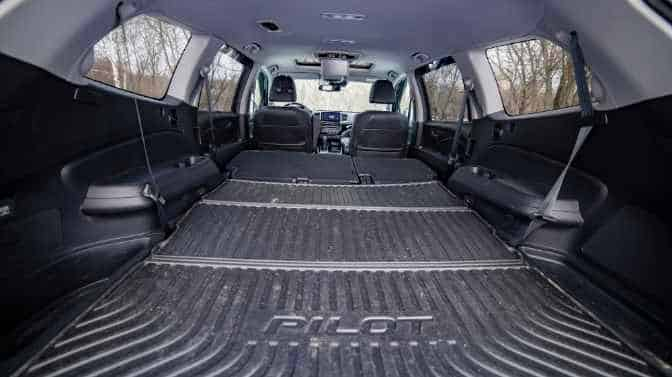 If you own a Honda Pilot, you can still use it to transport your kayak, however, you'll need to transport it on the roof, using a trailer, or rent kayaks when you get to your location.
Let's take a closer look at the available options for Honda Pilot owners to see which method is the best for you.
How Much Cargo Space Does A Honda Pilot Have?
If you're in the market for a vehicle and considering getting a Honda Pilot, you likely want to know how much cargo space it has. This will help you determine if the vehicle can hold everything you need for your family's adventures.
Here's a closer look at the specific dimensions of cargo space on the standard lineup. If you have an older model or a different trim, your vehicle may have different measurements.
Cargo Space (cu. ft.) for a 2022 Pilot
83.0 (seats up/all models)109.0 (seats folded/all models)
42.0 (behind third row/LX, EX, and EX-L trims)
16.0 (behind third row/Touring and Elite trims)
There's plenty of cargo space to carry your kayak equipment such as; life jackets, paddles, and other essential gear. However, you'll need to find other creative ways to transport the kayak.
How To Transport A Kayak On The Roof Of A Honda Pilot
Roof Rack
One of the easiest ways to transport the kayaks on a Honda Pilot is to invest in a roof rack. There are a few different types of roof racks available on the market, so finding the right one won't be hard.
You'll want to find one that attaches easily to the top of your vehicle and won't scratch the paint. Once you have the roof rack installed, you can simply place the kayak on top and strap it down.
Roof racks come in several different styles, including; canoe & kayak carriers, cargo baskets, cargo boxes, snowboard, and ski racks, etc.
The type you choose will vary depending on the year of your vehicle. That said, several manufacturers such as; Thule, Rhino-Rack, and Yakima offer roof racks that are compatible with most models.
Towing A Kayak Trailer
According to this website, a 2022 Honda Pilot has a towing capacity of up to 5,000 pounds with the added towing package. Without the towing package, the standard Pilot models can tow up to 3,500 pounds.
Meaning, that it will have no problem towing a small kayak trailer which typically weighs about 100-400 pounds unloaded, depending on the size.
When fully loaded, the trailer can weigh 200-800 pounds, depending on how many kayaks or canoes are loaded. If you're unsure of how much your vehicle can tow, you can always check the owner's manual or ask your local dealership.
There are a few different types of kayak trailers on the market, so you'll need to do your research to find one that fits your needs. Some kayak trailers are designed for one kayak while others can hold multiple.
You'll also want to find a trailer that's easy to load and unload by yourself. If you're frequently going solo on your kayaking adventures, this is an important factor to consider.
Can I Put A Roof Rack on A Honda Pilot?
Installing a roof rack on your Honda Pilot is a relatively easy process and can be done in about 30 minutes. You'll need to find a rack that's compatible with your vehicle and follow the instructions provided by the manufacturer.
Best Roof Racks for Honda Pilots
As mentioned above, there are several types of racks to choose from. However, after doing some research, we've found that the following racks are some of the best on the market and will work with most Honda Pilot models.
-Thule Hull-a-Port Aero Kayak Carrier
-Yakima JayLow Folding J-Style Kayak Carrier
-Malone Downloader Xpress Single Fold Down Kayak
The type of rack you purchase will depend on whether your vehicle already has the standard rails and crossbars. That said, with a little bit of research, you should be able to find a rack that meets your needs and budget.
How to Install A Roof Rack on a Honda Pilot
Installing the roof rack is a pretty easy process, but it's always best to follow the manufacturer's instructions.
First, you'll need to find the roof rack that's compatible with your vehicle. Once you have the rack, open up the package and read through the instructions.
Most manufacturers provide step-by-step instructions with pictures, making it easy to follow along.
Next, you'll need to gather the necessary tools and materials. In most cases, you'll only need a few basic tools such as; a screwdriver, drill, and measuring tape.
If you find yourself having issues, here's a video of how to install a roof rack on an older model vehicle. The process will be similar for most models.
Once you have the rack installed, you'll want to test it out to make sure everything is secure. You can do this by gently tugging on the rack to see if it's snug against the vehicle.
If everything feels secure, you're ready to load up your kayak and hit the open water.
How to Load A Kayak On A Honda Pilot
Loading the kayak on an SUV is more challenging than loading it on a pickup truck.
That's because the height of an SUV is much taller than a truck, making it more difficult to lift the kayak onto the roof.
However, with a little bit of effort, you should be able to get your kayak secured without any issues.
First, you'll want to position the kayak so that it's parallel to the vehicle. You can then lift one end of the kayak onto the roof and rest it on top of the rack.
Once you have one end on, it's time to lift up the other end and secure it in place.
Most kayak racks come with straps or ropes that you can use to tie down the kayak. You'll want to make sure the straps are tight so that the kayak doesn't move around while you're driving.
Can You Carry A Kayak on the Roof of A Honda Pilot Without A Roof Rack?
While it is possible and it's not hard to find YouTube videos with people showing you how to strap down a kayak without a roof rack. It is not recommended, as it can be dangerous and can cause you to have an accident.
A roof rack provides extra support and helps to distribute the weight of the kayak evenly. When secured properly, a kayak rack helps to prevent your kayak from slipping or falling off the vehicle.
What Types of Kayaks Will Fit Inside A Honda Pilot?
The only type of kayak that will fit inside a Honda Pilot will be an inflatable. No recreational, whitewater, fishing, or tandem kayaks will fit, as they are all too long.
That said, there are a few inflatable kayaks on the market that would be a good option for someone looking to transport their kayak inside their vehicle.
Other Options for Kayaking With A Honda Pilot
If you're not an avid kayaker you may want to consider renting a kayak when you get to the water. Several places offer kayak and equipment rentals for a small fee. Meaning, that all you do is pay the fee and you get access to the kayak, life jacket, and paddle.
Once you're done kayaking, you return the equipment without needing to transport it onto your vehicle. If transportation is required, the rental agency may provide transportation and pickup services for an additional fee.
Renting a kayak is a great way to save money if you're just testing out the sport. In addition, it's a great way to test out different types of kayaks before you buy one.
However, if you're an avid kayaker or someone who enjoys spending time on the water, then buying your own kayak is the way to go.
Not only will you have access to your kayak whenever you want, but you'll also save money in the long run.
Final Word
The Honda Pilot is a roomy SUV with plenty of cargo space. However, it's not designed to transport kayaks or other large equipment. Your best option is to install a versatile roof rack system.
With a roof rack, you'll be able to transport your kayak safely and without damaging your vehicle. Plus, you'll have peace of mind knowing that your kayak is securely fastened to your vehicle.
Related Articles
Sources