Kayaking is a popular activity for outdoor enthusiasts. One of the most challenging parts of kayaking is transporting it from your garage to the water. Can you fit a kayak in a Toyota Highlander? If not what's the best way to transport a kayak? Well, let's take a look and answer all your questions so you can get out on the water.
Can A Kayak Fit In A Toyota Highlander?
Yes, you can, a 2021 Toyota Highlander has 16 and 84.3 cubic feet of cargo space with a seating area making it roomy enough to carry eight people. Which is spacious enough to safely carry an 8-foot or 10 ft kayak with some creativity and a blanket to prevent scratching the interior.
That said, the best type of kayak to transport inside a Toyota Highlander is an inflatable or foldable one. You won't have to fold the seats down, and passengers can still ride in the SUV with plenty of room for other kayaking gear.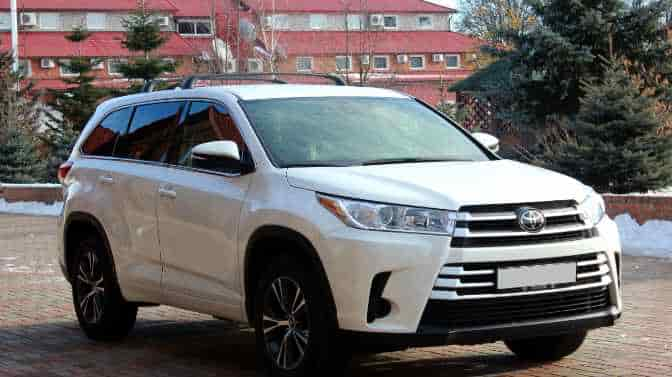 *This page contains affiliate links to products I recommend. If you purchase something from this page, I may receive a small percentage of the sale at no extra cost to you.
So while it is possible to carry a smaller kayak inside a Toyota Highlander, what are your options for a 12ft or longer one?
There are several options for transporting a kayak. Before we cover the different options you have, let's take a closer look at the interior space of a Toyota Highlander.
How Much Cargo Space Does A Toyota Highlander Have?
The Toyota Highlander is a spacious SUV, that offers various cargo sizes, depending on the position of the seats. Both the second and third-row seats slide, recline, and fold down, allowing you to carry more cargo.
Front: 83.7 Cubic Feet
Middle: 42.3 Cubic Feet
Rear: 13.8 Cubic Teet
That said, regardless of the model even with the seats folded down, a hardshell kayak, won't fit inside easily without scratching the interior of your SUV. Most people, myself included don't want to scratch their kayaks or the interior of their vehicle when transporting their water vessels.
This is why some people will transport their kayaks with half the kayak inside their SUV, and the trunk open. While that is an option, there are better ways of transporting a kayak using an SUV, without leaving part of it hanging out of the vehicle.
How Do You Transport A Kayak On A Highlander?
The easiest way to transport a kayak with a Toyota Highlander is to tow a lightweight kayak trailer or install a roof rack. Let's take a closer look at both options to help you decide which method is right for you.
Utility Trailer
The newer model Toyota Highlander has a maximum towing capacity of 5,000 pounds with an optional tow package offer. Meaning, it won't have any problems pulling a lightweight kayak trailer.
Note:
The average weight of a kayak trailer is about 200 pounds.
A small (4×7) trailer weighs between 700-800 pounds unloaded.
A fishing boat trailer weighs between 200 to 1,00 pounds by itself.
If you have an older Highlander, refer to the owner's manual to find out what the maximum towing capacity is before trying to tow anything.
Never exceed the max towing capacity. Doing so can strain the engine, transmission, damage your tires, and even warp your chassis, which can be costly or result in serious injury.
The downside with towing a utility trailer is you'll need to install a hitch on your vehicle (the newer models come with a hitch) and purchase a utility trailer which can range from $1,000 to $2,000 or more depending on the features you choose.
Roof Rack
Installing a roof rack is the most economical way to transport kayaks, canoes, bikes, snow skis, and other outdoor equipment. Many of the newer models come equipped with a Yakima skyline roof rack system.
SUV rack systems come in many different styles including:
Foldable and removable roof racks
Hitch mounts that attach to the hitch and still allow you to open the cargo door.
The type you choose will depend on how often you use it, and whether you want to transport the kayaks on the top of the vehicle.
Can You Put A Roof Rack On A Toyota Highlander?
Yes, most vehicles have a roof weight limit of 70-165lbs. Always check the owner's manual or call the dealership to find out what the weight limit is on your specific model.
Best Kayak Racks for Toyota Highlanders
Depending on the year of your vehicle, it likely already has crossbars installed. So, you'll want to choose a roof rack that attaches to your pre-installed crossbars.
You can choose from the most popular being models such as the Malone SeaWing Saddle. It attaches to the existing crossbars, making them easy to install and set up.
Another good option is the Malone's HandiRack Inflatable pads. These inflatable roof racks make it easy to tie down and carry your outdoor gear, with a roof rack system that is easy to install and remove.
How to Install A Roof Rack on a Toyota Highlander?
Installing a roof rack on a Toyota Highlander is no different than any other SUV.
When you purchase your roof rack, follow the instructions to ensure it's installed properly. Pay attention to torque settings, as overtightening or under tightened screws can damage the top of your vehicle.
This video will walk you through the process of installing an OEM cross bar roof rack system. The process is virtually the same regardless of the model or rack system you own.
How to Load A Kayak on a Highlander?
Once the roof rack has been properly installed, and you've tested it to make sure it's secure. It's time to learn how to load the kayak on the roof. It can be challenging, especially, if you've never loaded a vehicle onto an SUV.
To load the kayak on the Highlander, follow these steps:
Pull the kayak out of your garage and lay it on the driver's side of the vehicle horizontally.
Lift and flip the kayak and lay it perpendicular against the vehicle. Then push the bow end and slide the kayak until it is resting on the roof of the SUV while inserting it into the V-block frame of the rack system.
Have a friend hold the front end of the kayak while you slide the opposite end of the kayak to the top of the vehicle.
Make sure both ends are sitting securely inside the kayak rack system before tying it down.
After it's properly secured, pull on both ends of the kayak to ensure doesn't move, before drying away.
Can You Carry A Kayak on the Roof of a Highlander Without A Roof Rack?
We've all seen people towing their kayaks without a roof rack. While it is possible and there are no laws stating you have to purchase a roof rack. That said, there are laws that will hold you responsible if the cargo you're carrying falls off and damages or worse kills another driver.
If you do carry a kayak on a Highlander without a roof rack (not recommended), make sure you secure it properly from all angles to prevent it from falling off the top while on the highway.
Watch this video that walks you through how to secure a kayak to a vehicle without a roof rack. She'll show you easy it's done all while not scratching the top of your SUV.
Other Options for Toyota Highlander Owners
If you don't want to purchase a roof rack or pull a trailer with your vehicle, then consider renting a kayak. There are several different locations that offer kayak rentals, so you don't have to carry any equipment.
Renting a kayak is a great way to spend the days outdoors without having to transport one from point A to point B.
It's also a great way to test out different kayaks before deciding which type you should buy.
Kayak Equipment You Can Carry Inside The Highlander
The spacious interior of the Highlander will have no problem carrying other kayaking gear such as bilge pumps, paddles, coolers, life jackets, dry bags, etc.
As mentioned above, if you have a foldable or inflatable kayak, you can toss it in the cargo area without any issues.
Final Word
The Toyota Highlander is a spacious SUV with plenty of cargo space for carrying your kayak accessories. While it is possible to fit an 8ft or 10ft kayak inside, you'll be much better off installing a roof rack or pulling a hitch, especially, if you plan on carrying passengers.
Trying to carry a hardshell kayak inside the cargo area, can cause damage to your vehicle, or you'll have to transport it with a portion of the kayak hanging out the SUV.
As far as we're concerned, only foldable and inflatable kayaks should be transported inside the cargo area.
Related Articles