Kayaking is a great outdoor adventure that provides, exercise, fun, and amazing scenery. There are several amazing areas to plan a trip, but you need to figure out how to transport the kayaks. Most outdoor enthusiasts transport their own kayaks using an SUV. In fact, you've probably wondered can a kayak fit in a Subaru Outback?
Can A Kayak Fit In A Subaru Outback?
The smallest kayaks are 10-12 feet (recreational) in length, so they will not fit inside a Subaru Outback. The Subaru Outback has more room than any other new wagon, with 32.5 cubic feet of cargo space behind rear seats and 75.7 with the seats folded up. Smaller kayaks with a maximum of 8 to 9 feet long can fit inside, but you'll need to move the seats down in the crossover SUV to make more room.
Most adults prefer the longer kayaks as they are easier to maneuver. Therefore, you'll have to attach it to the roof or tow it with a utility trailer. Otherwise, you'll want to look at either the inflatable or foldable kayaks. These will fit inside the Outback with ease.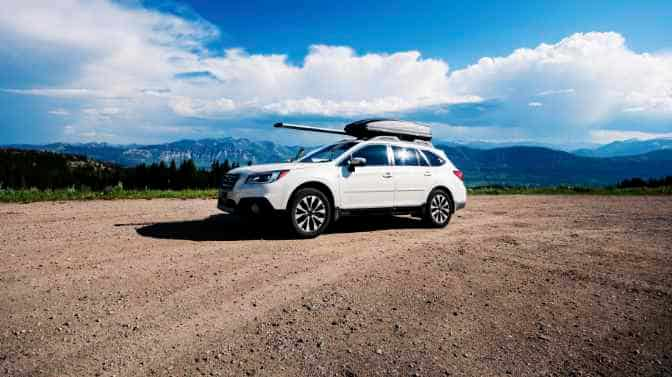 *This page contains affiliate links to products I recommend. If you purchase something from this page, I may receive a small percentage of the sale at no extra cost to you.
Which Subaru Has The Most Cargo Space?
If you're in the market for a new Subaru and are concerned with cargo space, check out the Subaru Ascent. It offers 86.5 cubic feet of cargo space which is more than the Honda Pilot, Mazda CX-9, and Toyota Highlander.
Can You Haul A Kayak In A Subaru Outback?
A kayak can't fit inside the crossover SUV, but it doesn't mean you can't use it to transport a kayak. The two options for carrying a kayak with the vehicle are to use a utility trailer or use the manufacturer's pre-installed roof rack.
Let's take a closer look at these options and how to decide which is right for you.
Utility Trailer
A kayak or utility trailer makes it extremely easy to carry one or multiple kayaks regardless of how much cargo space your vehicle has. Most Outbacks won't have any issue towing one.
That said, it's important to understand what the towing capacities are for your vehicle. This will ensure you don't tow too heavy of a trailer and damage your vehicle.
At the time of this writing, there are three Subaru Outback models which are the Outback, Outback Premium, and Outback Limited.
Most Subaru Outbacks have a towing capacity of 2,700 – 3,500 lbs. Below is a table of the different models with their towing capacity.
| | | |
| --- | --- | --- |
| Model | Max Towing Capacity | Horsepower |
| Outback 2.4L Turbocharged Boxer Engine | 3,500 lbs | 270 HP |
| 2018 Subaru Outback 2.5i Boxer 4-cylinder | 2,700 lbs | 175 HP |
| 2019 Subaru Outback 3.6L Boxer 6-cylinder | 2,700 lbs | 256 HP |
A kayak trailer can weigh anywhere from 200-850 pounds. Many Outback owners have had no problem towing fiberglass or aluminum boats, motorcycle trailers, and compact/lightweight trailers.
Your Subaru Outback will have no problem towing a light utility trailer. Of course, the towing capacity of your vehicle will depend on the make, model, and year.
The vehicle towing capacity will be listed in the owner's manual. You can also check out the specifications and towing capacity by visiting the vehicle manufacturer's website.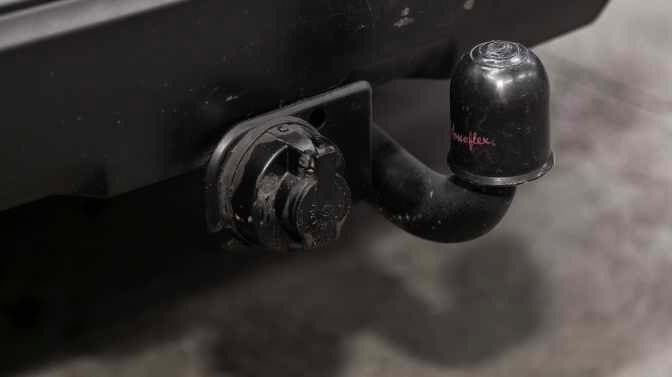 You'll need to install a hitch and a wiring harness before towing the trailer on the roads. The wiring harness connects to the vehicle's electrical components making it possible to power the brake lights, and turn signals on the trailer.
Roof Rack
All Subaru Outbacks come with a pre-installed factory roof rack, making it easy to haul anything on the roof. The roof rack comes in handy for outdoor enthusiasts with hobbies such as biking, kayaking, skiing, snowboarding and etc.
The biggest problem with the roof rack is that it can be challenging to secure the kayaks in place. Some people in online threads such as Paddling.com complained about the crossbars being pulled by the crosswinds when he was driving at speeds up to 55 mph while carrying a 10-foot kayak.
It is possible to carry the kayaks with the factory-installed roof rack. Many people prefer to use kayak holders, which secure them in place.
If prefer to load the kayak on the factory-installed kayak, you'll want to make sure it is secured properly to prevent the kayak from shifting during transport.
Can I Install Kayak Holders On My Subaru Outback?
Yes, in fact, just having a crossbar to transport your kayaks will make the process of transporting a kayak complicated and cumbersome. Manufacturers such as; Yakama, Thule, XGeek, etc make it easy to install aftermarket products to a Subaru Outback.
Best Kayak Holders for a Subaru Outback
There are several different models of kayak holders to choose from. Many kayak holders will work flawlessly with the factory roof rack, while others will require you to buy a new system.
The roof rack you choose will depend on the make and model of your vehicle. Below are a few of the most popular options we found for Subaru owners.
The Subaru Genuine E361SXA201 Yakima Kayak Carriers are genuine EOM high-quality product that can be installed on a Subaru Outback. It comes with rubber brackets, and hardware making the assembly process easy. The rubber brackets protect the roof of the vehicle from scratches or damage.
It's an extremely affordable kayak carrier that is perfect for anyone on a budget. Only genuine OEM parts are used, meaning it is durable and long-lasting and won't have to be replaced any time soon.
Next, the Thule Hule A Port Aero Rooftop Kayak Carrier is a versatile watercraft carrier making it easy to transport kayaks, canoes, and stand-up paddleboards. The J-style or saddle mode can transport up to two kayaks.
It is compatible with all types of load bars, making it one of the most universal carriers on the market. It is compatible to work with the Thule crossbars, but can be fitted to work with the existing roof rack system on the Outback.
When not in use, it can be folded down, saving both space and fuel consumption, as there will be no wind resistance.
The best thing about this carrier is it doesn't require any assembly. In the j-cradle position, the carrier can hold a maximum of 130 pounds. This is more than enough to carry any of your outdoor watercraft vessels.
Can A Kayak Be Transported On The Roof Without A Roof Rack?
We've all seen people driving down the highway hauling something that is too big for the cargo area. Just because it fits inside the vehicle if you push the kayak in between the driver and passenger up to the windshield, doesn't make it safe to haul.
It will affect your driving ability and can make it challenging to reach the gears, causing you to get in an accident. If it doesn't fit inside the cargo area without having to leave the hatch open, it belongs on the roof or in a utility trailer.
What Types of Kayaks Will Fit Inside A Subaru Outback?
Both inflatable and foldable kayaks will fit in the trunk of a Subaru Outback. These vehicles are not meant to carry large loads in the interior of the cargo, which is why they come with a default roof rack.
Final Word
An adult hard-shelled kayak won't fit inside the vehicle, and you shouldn't try to haul it inside. Doing so can damage the vehicle or make it hard to drive.
If you have a longer recreational, or fishing kayak, the best options for transporting are to use the installed roof rack. Use the spacious interior cargo area to carry other equipment such as coolers, chairs, clothing, life jackets, and etc.
The Subaru Outback makes it easy to haul your kayak, as it comes with a pre-installed roof rack!
So, grab the kayak and enjoy the time on the water!
Related Articles