The Jeep Wrangler is a versatile vehicle making it popular among outdoor enthusiasts because of its off-road capabilities. But can you fit a kayak in a Jeep Wrangler? If you're in the market for a new vehicle, you're likely looking for a vehicle that can help you transport your kayak, canoe, or any of your outdoor equipment without issues. So, here's everything you need to know about transporting kayaks in a Jeep.
Will A Kayak Fit Inside A Jeep Wrangler?
The short answer is yes, a smaller sized 6,8, or 10 foot kayak will fit inside the cargo area, if you have a 4-door model. To get the kayak inside, you'll want to fold down the back seats and use some towels to protect both the kayak and interior, then place the nose of the kayak in through the back window and carefully slide it all the way through, until it sits over the passenger side of the vehicle.
The downside to transporting the kayak inside the Jeep Wrangler is you won't be able to have any passengers ride inside the vehicle. Also, you run the risk of damaging the brake light on the back window or the kayak itself if you're not careful.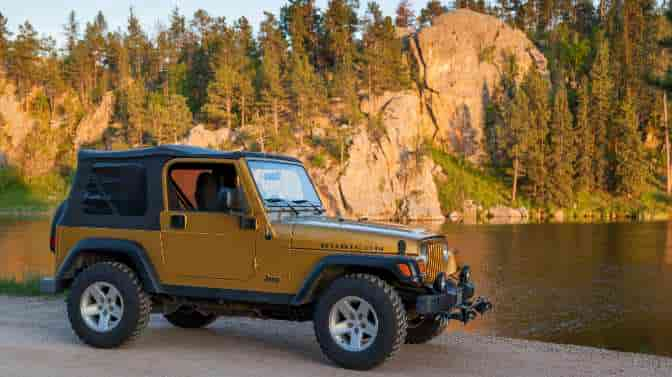 *This page contains affiliate links to products I recommend. If you purchase something from this page, I may receive a small percentage of the sale at no extra cost to you.
As a jeep owner, there are a few other options you have for transporting a kayak, which we will cover. But first, let's take a closer look at the cargo space, and the differences in the 2 and 4-door jeeps.
How Much Cargo Space Does A Jeep Wrangler Have?
The cargo space on the Wrangler depends on the body type, of jeep you have. At the time of this writing, there are 11 different styles to choose from. These models are as follows:
Willys
Sahara Altitude
Rubicon
Sport
North Edition
Freedom
Sport Altitude
Sport S
Sahara
High Altitude
Rubicon Recon
The models differ in price, but also in the amount of available cargo space. The 2-door body styles have the smallest cargo area coming in at 12.9 cubic feet with all seats up and 31.72 cubic feet with the rear seat folded down.
The largest cargo area is found on the Unlimited model which boasts a whopping 31.72 cubic feet with all seats up, and 70.60 cubic feet with the rear seat folded down.
As you can see, there is a significant difference in space available depending on which model of Jeep Wrangler you have. If you're someone who kayaks often or plans to transport larger items, it might be worth it to invest in a jeep with more cargo space.
Options for Transporting A Kayak
Regardless of whether your jeep is 2-door or 4-door there are other options to choose from for transporting your kayak. The best part is these methods are safer and you won't have to worry about the kayak damaging your jeep or taking up all the space inside.
Roof Rack
One option is to get a set of roof racks and tie the kayak down on top of the vehicle. As a jeep owner you can choose from reputable manufactures such as; Thule, Yakima, Rhino Rack, etc that offer high quality roof rack cross bars, racks, and more.
One of the most popular roof racks are the cross bar style kayak cargo carriers. These work perfectly for hard top jeeps such as the Gladiator JT. The 88 pound maximum load capacity is sutiable for most type kayaks, even fishing kayaks which tend to weigh more.
When choosing a roof rack, you'll want to make sure it's compatible with the jeep model you have as well as the size and weight of your kayak. Many roof racks can accommodate more than one kayak at a time which is great if you often go on trips with friends or family.
Hitch Mounted Carrier
Another option for transporting a kayak is to get a hitch rack aka hitch "basket." These types of carriers make it easy to transport bulky camping, fishing, and kayaks. They come in different sizes, so you'll want to make sure you find one that suits your needs.
eTrailer has a great hitch basket that suits most Jeep Wranglers. You get a complete kit that makes it easy to access your access to the back hatch. Watch the video below to see how easy it can be to use the cargo basket to add extra room to any model Wrangler.
Towing A Kayak Trailer?
The last option for transporting a kayak with a Jeep wranger is to invest in a small kayak or utility trailer. A kayak trailer measures about 134 inches wide and 58 inches wide, and weighs about 800 pounds without cargo.
The maximum towing capacity is 2,000 pounds for the 2-door configuration and a maxium of 3,500 pounds for the 4-door body styles. You can also opt to purchase an additional towing package that offers a more powerful engine and transmission for an extra cost.
While towing a kayak or utility trailer is doable with a Jeep Wrangler, it's important to note that you'll be limited in terms of speed and maneuverability.
You'll also want to make sure you have the proper hitch and wiring harness installed before attempting to tow anything.
Towing a trailer is the most expensive option out of all three, because you have to ensure your vehicle is set up properly to tow. In addition, towing too much weight can damage your Jeep's transmission, which is costly to fix.
Can I Put A Roof Rack On A Jeep Wrangler?
Regardless of whether you have a soft top or hardtop, it is possible to put a roof rack on your jeep. To do so, you'll want to find a compatible roof rack system that will work with the model of your jeep.
You can find roof racks for jeeps at most auto parts stores, or online through retailers such as Amazon, eTrailer, REI, etc. Be sure to read the reviews before purchasing to make sure it's compatible and easy to install.
Once you have a roof rack, you'll want to make sure you have the proper tools and supplies to install it. This can include; a ratchet and socket set, drill, screwdriver, drill bit, tape measurer, and an impact wrench (optional).
How to Install A Roof Rack on a Jeep Wrangler?
Installing a roof rack on your jeep is a fairly easy process that shouldn't take more than an hour or two. You'll first want to make sure you have the correct size crossbars for your jeep.
Next, you'll want to attach the brackets that came with your roof rack kit onto the crossbars. Once the brackets are in place, you can then attach the crossbars to your jeep's roof.
Be sure to follow the instructions that came with your roof rack kit, as each one is slightly different. Don't forget to browse YouTube for help, as there is likely already a video that will teach you how to install a kayak rack on a Jeep Wrangler.
After the crossbars are installed, you can then add the kayak carrier to the roof rack and secure it in place. And that's it! You're now ready to load up your kayak and hit the open road.
If you're unsure or don't feel comfortable putting the rack on by yourself, you can also take it to a nearby auto shop and have them do it for you.
How to Load A Kayak on a Jeep Wrangler?
Once the roof rack is installed, it's time to load the kayak onto the jeep. You'll want to start by lifting the kayak onto the rack, making sure it's placed in the middle of the crossbars.
Next, you'll want to secure the kayak in place by straps or bungee cords. Most kayak racks come with the straps you can use. However, there's nothing wrong with using extra straps or rope if you don't think that it's secure enough.
Be sure to not overtighten the straps, as this can damage the kayak. Also make sure you don't tighten the ropes to anything that can damage the vehicle such as; the antenna, mirrors, etc.
I recommend using the vehicles bumper to help secure the kayak in place.
Can You Carry A Kayak on a Jeep Wrangler Without A Roof Rack?
No, most jeeps come with either a soft top, hard top or dual. They don't even come with factory crossbars, which you need in order to attach a kayak carrier.
Trying to transport a kayak on top of the roof without the proper equipment can be hazardous.
That said, I'm sure there are some videos on YouTube or social media showing someone carrying a kayak without a roof rack. It's also not recommended, as you run the risk of damaging your jeep or having the kayak fall off while in motion.
If you do carry a kayak and it falls off while transporting it, you will be held liable for any damages that occur. Not to mention, it's just not safe.
The best way to transport a kayak is by using a roof rack and carrier system. This will ensure that your kayak is safe and secure during transport.
What Types of Kayaks Fit Inside A Jeep Wrangler?
Like the Jeep Cherokee, the Wrangler is a midsize SUV that has plenty of cargo space to carry a lot of your outdoor equipment, just not a hard shell kayak. However, if you use an inflatable kayak, you can deflate it and fit it easily inside the cargo area.
The cargo area is also big enough to transport other equipment such as; life jacket, paddles, cooler, and more.
Other Options for Kayaking Without Transporting A Kayak
You can still kayak if you don't own a Jeep wrangler or a vehicle that can tackle various terrains, or you don't want to haul your kayaks. There are a few different ways that you can enjoy kayaking even if you don't have a kayak.
Some popular places to go kayaking offer rentals, so all you need to do is show up with your swimsuit and some sunscreen. This can be a great option if you're going on a trip and want to try kayaking for the first time without having to invest in equipment.
However, you'll want to call ahead to make sure that they have kayaks available since some places only offer a limited number of rentals.
Another option is to join a kayaking club. This can be a great way to meet new people who share your love for the sport while also having access to kayaks. Many clubs charge a small annual membership fee and provide you with all the equipment you need to kayak.
The best part is the club plans all the trips, all you do is show up!
Final Word
A 4 door Jeep Wrangler has more cargo space and you can fit a kayak inside. That said, you risk damaging the interior of the vehicle, or worse, the kayak. It's much safer (and easier) to transport a kayak using any of the methods above.
Related Articles
Sources
https://jandlkayaking.com/J_L-member-info.html
https://cars.usnews.com/cars-trucks/jeep/wrangler/2021/interior