If you're looking for a vehicle that can transport your kayak, the Jeep Grand Cherokee is a great option. With its spacious interior and off-road capabilities, the Grand Cherokee can get you to your favorite kayaking spot with ease. But will a kayak fit inside a Grand Jeep Cherokee?
Can You Fit A Kayak Inside A Grand Jeep Cherokee?
The short answer is maybe, depending on the size of the SUV and kayak. It will take some positioning of both the seats, headrest, and kayak to fit properly. You won't have any issues fitting a 6-foot or 8-foot kayak inside the cargo area but may experience scratches, dings, or scuffs from trying to position it properly.
You may have to open the rear window to let the kayak hang out, which can be challenging for the newer models. It can be challenging to transport a full-size kayak inside. However, if you have a 6-foot child's kayak or foldable one, it will fit easily inside.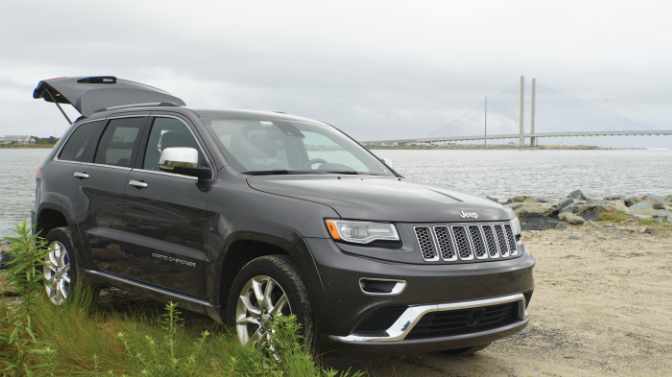 Here's a video that will show you how to load a kayak into a Jeep Wrangler, and you can use these tips to help you load it into the Cherokee.
If you own a Jeep Grand Cherokee, then you know it's a great midsize SUV with plenty of room for your outdoor adventures. We'll take a look at the different options for transporting a kayak both inside and outside. But first, let's take a closer look at the available options, inside dimensions, and cargo space.
Is The Jeep Grand Cherokee A Small or Large SUV?
The Jeep Grand Cherokee is a midsize SUV, but it's on the larger end of that spectrum. It has a wheelbase of 116.7 inches and is 193/5 inches long. The width comes in at 77.5 inches, and the height is 70.8 inches tall.
How Much Cargo Space Does A Grand Jeep Cherokee Have?
When it comes to interior passenger space, there's plenty of room for five adults with headroom measuring in at 39/9 inches up front and 39.2 inches in the back. Legroom comes in at 40.3 inches in the front and 39.2 inches for rear passengers.
If you're looking to transport a kayak, you'll have plenty of space with 46.9 cubic feet of cargo room behind the second row and 70.8 cubic feet with the rear seats folded down.
It has plenty of space for kayaking equipment and accessories. However, if you're taking the family kayaking, the best option is to transport the kayaks outside of the vehicle. As carrying it inside the driver can be dangerous, as it may disturb the driver.
How to Transport A Kayak on the Roof of a Jeep Grand Cherokee?
Roof Rack
One of the best ways to transport the kayak is to invest in a roof rack specifically made for Jeep Cherokees. Many of these racks will attach to the pre-existing roof rack that comes with the vehicle.
The four main types of jeep kayak racks consist of lift-assist racks, flat crossbars, folding J-racks, and traditional J-racks.
The most popular type is the J-style rack, which is great for carrying one or two kayaks. These racks make it easy to secure the kayak in place using straps that attach to the roof.
When considering the type of rack to purchase, you'll want to take into account the size of your kayak, how many kayaks you want to transport, and the budget.
Towing A Kayak Trailer
If you have a brand new jeep, you may not want to put a roof rack on top, because you're nervous it will scratch the paint. In this case, towing a small kayak trailer is a great alternative.
Kayak trailers are designed to be lightweight and easy to tow behind your vehicle. They range in size from single-axle trailers that can carry one or two kayaks to double axle trailers that can transport up to four kayaks.
Most kayak trailers are composed of aluminum, galvanized steel, and steel. Making them extremely versatile and durable to withstand the elements. They won't have any issues carrying bikes, canoes, paddle boards, and other outdoor equipment.
The 2022 Jeep Grand Cherokee has a maximum towing capacity of 7,200 pounds, with the proper configuration making it easy to tow any size kayak trailer, boat, and small popup.
Without the towing package, it can still tow up to 3,500 pounds. If you're not sure how much your vehicle can tow, check the owner's manual or contact the dealership.
Can I Put A Roof Rack On A Grand Jeep Cherokee?
Yes, the Jeep Grand Cherokee comes with pre-installed raised side rails. These rails make it easy to attach a roof rack to your vehicle without any drilling or modification.
If you have the older model without the raised side rails, you can still install a roof rack, but it will require more creativity to get it to work. Some older jeep owners in this forum suggest purchasing Yakima or Thule crossbars to make it easier.
Some people have found it easier to take the vehicle and have a roof rack custom-made for their jeep. This is a great option if you don't want to drill into the roof of your jeep or you're unsure about which roof rack to purchase.
No matter what method you choose, make sure the roof rack is secured tightly to avoid any accidents while driving.
How to Install A Roof Rack on a Grand Jeep Cherokee?
Installing a roof rack is not as hard as you think. Most roof racks come with step-by-step instructions to help you through the process.
If you're still unsure, here's a video that walks you through how to install a roof rack on a 2011 – 2021 Cherokee.
Be sure to watch the video completely before installing your rack. As the video walks you through mounting the roof rack to the rain gutter of the vehicle instead of the factory roof rails. The reason being is the factory rails are considered a weak point and won't be able to carry the load.
So there is going to be some drilling required. Make sure you have the proper tools for the job, including a power drill, measuring tape, and Philips screwdriver.
After you install the roof rack, be sure to test it out by adding some weight to it and driving around the block. This will help you get a feel for how the rack handles and if there's any noise or vibration coming from it
How to Load A Kayak On A Jeep Cherokee?
Loading a kayak on an SUV is more challenging than loading one onto a car. That said, there are several YouTube videos with tips and tricks to help you load it.
The easiest way to load a kayak on an SUV is to lay the kayak on its side across the roof. If you're using J-racks, ensure the kayak is positioned evenly on the rack. Ensure there is the same amount of overhang on the front and back of the kayak.
If it's not positioned evenly, it will move or become loose during transport.
Once the kayak is in position, use straps or ropes to secure it to the roof rack. Make sure the straps are tight and won't come loose while you're driving.
Can You Carry A Kayak on a Jeep Grand Cherokee Without A Roof Rack?
Tons of people have carried their kayaks on their vehicles without a roof rack. Although, we don't recommend it, as it is dangerous and can cause you to have an accident if the kayak slips during transport.
If you cause an accident due to negligence, your insurance company may not cover the damages, and you could be sued for any injuries or property damage that occurred.
It's best to play it safe and use a roof rack when transporting a kayak on an SUV.
What Types of Kayaks Fit Inside A Grand Jeep Cherokee?
As mentioned above, the smaller 6-foot and 8-foot kayaks may fit inside the cargo area. Some jeep owners have touted being able to fit a 12-foot kayak inside a Jeep Cherokee.
That said, if you want to carry passengers, an inflatable kayak is your best option. You can deflate it and fit it nicely without sacrificing space in the cabin.
Just make sure you have a good pump to inflate it when you're ready to hit the water.
Other Options for Kayaking
A Jeep Grand Cherokee makes it easy to enjoy the great outdoors and take you and your cargo anywhere. However, if you're not ready to invest in a roof rack or kayak trailer, you can consider renting a kayak when you get to your destination.
Many popular kayaking spots offer kayak rentals for a small fee. They provide everything you need including the life jacket and paddle.
Once you're done on the water, you return the equipment without having to worry about transporting it. If you paddle a long-distance and transportation is required, the company may offer a shuttle service to pick you up.
Renting a kayak is not only a great way to save money. But it is a great way to test out more expensive kayaks, to see if it's the right one for you.
Final Word
A kayak can fit inside a Jeep Grand Cherokee, but you won't be able to carry any other passengers. You also run the risk of damaging your kayak or the interior of your SUV.
If you're looking for a way to transport your kayak, we recommend using a roof rack or towing it behind your Jeep Grand Cherokee. Whichever method you choose, make sure you follow all safety precautions to ensure a safe and fun trip.
Related Articles
Sources
https://virginia.sportswar.com/mid/11834584/board/general/