Kayaking is a great way to get out and enjoy nature, and it can be a lot of fun to do with friends and family. If you're looking for a vehicle that can transport your kayak, the 4Runner may be a good option for you. In this post we'll cover everything you need to know about how to fit a kayak in a 4Runner. From dimensions and cargo size to tips on securing your kayak for transport. So read on and get ready to hit the open water!
Will A Kayak Fit In A 4Runner?
The short answer is yes, if you have a short, skinny kayak, such as a whitewater kayak. That said, it won't be the best solution and you run the risk of damaging the interior seats, or kayak. When carrying the kayak inside the 4Runner, fold the seats down, and roll down the back window. Load the kayak from the back window and push it towards the front passenger seat, making sure not to disturb the driver.
It isn't the best option for transporting a kayak. But it can be done if you're kayaking close to home and avoiding the highways. If you're planning a longer trip, then it's best to invest in a kayak rack. There are many different types of racks, and the type you choose will depend on the features of your vehicle. But generally speaking, a roof rack is the best option for transporting a kayak. It keeps the kayak securely attached to the vehicle and out of the way of other cargo.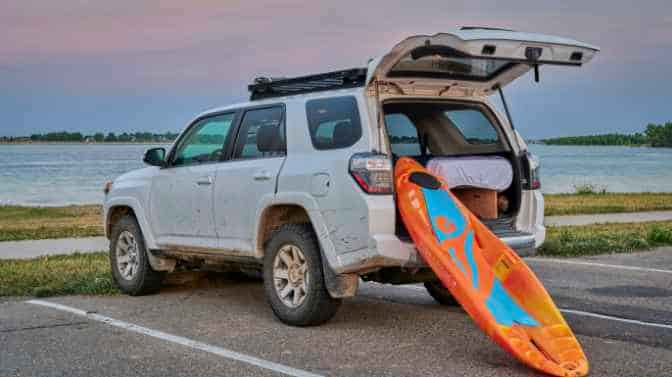 We'll discuss all the different options below, but first let's take a closer look at the inside cargo space of the 4Runner.
*This page contains affiliate links to products I recommend. If you purchase something from this page, I may receive a small percentage of the sale at no extra cost to you.
Is The 4Runner A Small or Large SUV?
A 4Runner is a mid-sized SUV that is produced by Toyota. It is comparable to the Ford Explorer, Chevrolet Tahoe, and several others. It is a popular choice among outdoor enthusiasts due to its off-road capabilities and spacious interior.
If you're in the market for a new SUV, expect to between $47,190 and $52,420, for the Limited and the TRD Pro, which are the two top 4Runner models.
Other Toyota SUV's
If you're in the market for a new vehicle, and not sure if you want to consider a different Toyota brand. You may want to consider the Toyota Highlander, Rav4, and Sequoia. All three are great choices if you're looking for an SUV that can transport a kayak.
The Highlander is the largest SUV in the Toyota lineup. That said, you won't have any issues transporting a kayak with a 4Runner. Let's take a closer look at the dimensions and cargo space, so you know what you'll be working with, if you get this vehicle.
How Much Cargo Space Does A 4Runner Have?
The 4Runner features a boxy cargo area, that gives you 47.2 cubic feet of space, with the seats up. If you fold down the rear seats, that number jumps to 89.0 cubic feet of space.
To give you an idea of how much that is, a kayak measuring 12 feet long and 30 inches wide will take up about 27 cubic feet of space. So as you can see, even with a kayak, you'll still have plenty of room for other gear.
That said, you won't have room to carry any passengers and you risk scratching the interior or damaging the kayak.
Options for Transporting A Kayak?
Even though the 4Runner offers plenty of cargo space, most owners prefer to use other methods for transporting their luggage, kayaks and canoes, bicycles, etc. Below are some of the most popular options to consider.
Roof Rack
A roof rack is the most popular way to transport a kayak. It is also the best way to ensure that your kayak is secure and won't be damaged while in transit.
There are many different styles such as the popular DRSports Universal Foldable Kayak Rack. It's perfect for carrying a surfboard, SUP, skis, kayaks and canoes. The best part, is they fold down when not in use making it easy to fit in the garage.
Another more affordable option with tons of reviews on Amazon is the TMS J-Bar Kayak Carriers. It's a great low-cost solution that easily mounts on the vehicles crossbars. It accommodates a 36″ wide and a maximum of 75 pound capacity, which is more than enough two kayaks.
As mentioned there are several kayak manufacturers to choose from, so you'll want to find one that is compatible with your vehicles make and model.
Towing
The Toyota 4Runner boasts of a powerful V-6 engine, that offers a towing capacity of up to 5,000 pounds, when properly equipped. The towing capacity of the vehicle will depend on which generation model you have. At the time of this writing, there are five generations of the SUV.
The 2022 model come with the following enhanced towing features:
Wiring harness
Towing hitch receiver
4.OL V6 Engine
The V6 engine produces 270 hp and 278 lb-ft of torque, which won't have any problem towing a small kayak trailer, utility trailer, or even a small fishing boat.
If you have an older 4Runner, you'll want to ensure it is properly equipped to tow. Otherwise you risk the trailer being too heavy for the vehicle and cause damage to the engine or transmission.
Hitch Mount
Lastly less expensive than installing a towing package is to purchase a hitch rack or cargo basket.
The racks are perfect for carrying bikes, while the cargo baskets are perfect for kayaks, and canoes. They are easy to load and unload and offer a great deal of stability while in transit.
When looking for a cargo mount carrier, look for one that has a good weight capacity. This will ensure that it can handle the weight of your kayak or canoe. The MeeFar Folding Hitch Mount Carrier Basket is a great option that can hold up to 500 pounds.
Plus, it has an angle shank, that offers additional clearance when you're taking your vehicle off-road or tough terrain.
It's important to note, that you'll want to double check the vehicles maximum tongue weight, as this should not exceed the limit.
Can I Put A Roof Rack On A 4Runner?
The new generation 4Runners come with a pre-installed factory side rails, without crossbars. That said, with a few simple steps you can install OEM (Original Equipment Manufacturer) or other types of crossbars.
To install the crossbars, you'll need access to a flat screwdriver or plastic prybar. You'll also want a towel or cloth to protect the paint. This video will walk you through the entire process of removing the side rail caps to install a crossbar on the 5th Gen Toyota 4Runner.
How to Install A Roof Rack on a 4Runner?
Once you've installed your choice of crossbars, you can then install any type of roof rack or luggage rack. The installation process is easy, and most manufacturers provide you with everything you need in the box.
If you're not sure how to install one, search YouTube as there are plenty of 4Runner owners who will walk you through the process of installing one, regardless of the make and model.
How to Load A Kayak on a 4Runner?
Loading a kayak on a 4Runner can be challenging as the 4Runner has an overall hight of 71.5 inches. That said, it is possible even if you kayak by yourself. The easiest way to get a kayak on top of SUV or high vehicle is to gather the following equipment before starting.
Kayak Cart
Straps
Short Rope
Towel or pad (to protect the vehicle)
Place a towel on the top of your roof, where the kayak will sit. Ensure it covers the back of the window. Then secure the kayak cart on the back window, with the tires facing up, using the straps and rear bar of the roof rack.
Once the kayak cart is secure, lift the kayak up and rest it on top of the cart's wheels. Move to the back of the kayak and push it on top of the vehicle and slide it until it sits securely in place.
Use straps or rope to secure the kayak in place, so it doesn't shift during transit.
Can You Carry A Kayak on a 4 Runner Without A Roof Rack?
Yes, it is possible to secure a kayak using only the pre-installed side rails. However, it's not recommended as it's more difficult to properly secure a kayak on the vehicle. The side rails are
mostly for looks and are not strong enough to support the weight of a kayak.
It's best to install a proper roof rack that can hold the weight of the cargo. Plus, you don't want to worry about the kayak falling off on the freeway and causing an accident.
Types of Kayaking Equipment That Will Fit In A Toyota 4Runner?
The inside cargo area can easily carry other equipment such as; oars, coolers, life jackets, inflatable kayaks, and more.
You can even install a cargo net to carry smaller items such as; fishing gear, snacks, and drinks. The net can also be used to secure larger items in place so they don't shift during transit.
Kayaking Without Transporting A Kayak
Maybe you're testing out kayaking to see if you want to purchase one? Or maybe you don't have the storage to keep a kayak at your house?
No problem, you can still go kayaking with friends and family without having to transport your own kayak. Below are some of the options to consider if you want to spend the day on the water, but don't have your own kayak or just don't want to transport one.
Kayak Rentals
Kayak rentals allow you to reserve a kayak online or walk in to a place that offers them. The company provides you with a kayak, paddles, and a life jacket. You then get to paddle around for a set amount of time before returning the kayak.
Kayak rentals are great if you want to go kayaking without having to own or transport a kayak. They're also perfect for those who want to try kayaking before making the investment.
Just be sure to book your rental in advance as they can fill up quickly during the summer months.
Joining A Kayaking Group Or Club
Another great way to go kayaking without having to transport your own kayak is by joining a local kayaking group or club. These groups charge a monthly or yearly membership fee that allow you access to kayak equipment.
They meet 1-2 times per month, usually on the weekends, and paddle around for a few hours. Most organizations will provide classes, weekly river trips, or longer paddling and camping trips. The best part, is they make all the reservations, you just have to show up.
Final Word
The Toyota 4Runner is a roomy vehicle that can carry up to five passengers. It can even fit a 8-10 foot kayak inside, but you run the risk of scratching both the kayak and vehicles interior. If you're planning a kayak trip, the best option is to transport the kayak on the outside, using a roof rack, hitch mount basket, or towing a small trailer.
Related Articles
Sources
https://www.motortrend.com/features/toyota-4runner-towing-capacity/