If you're visiting the Sunshine State, you've likely realized that it is an ideal location for kayaking, with all the bodies of water around it. But as fun, as it is to paddle in the sea or a spring, sometimes you want to go floating down a long stretch of river. But what are the best rivers to kayak in Florida?
There are hundreds of rivers in Florida, some of which offer spectacular kayaking. The state's north provides quiet wilderness experiences and Florida's only class III rapids, while central Florida has numerous small spring-fed rivers near urban centers. Unfortunately, the south has fewer rivers for kayaking.
With nearly 1,700 rivers in Florida, it can be tough to know which will be best for paddling. Some rivers are degraded and don't make for a beautiful experience, while others are hidden gems. So we've assembled a guide to the best rivers in Florida for kayaking, whatever your level of expertise.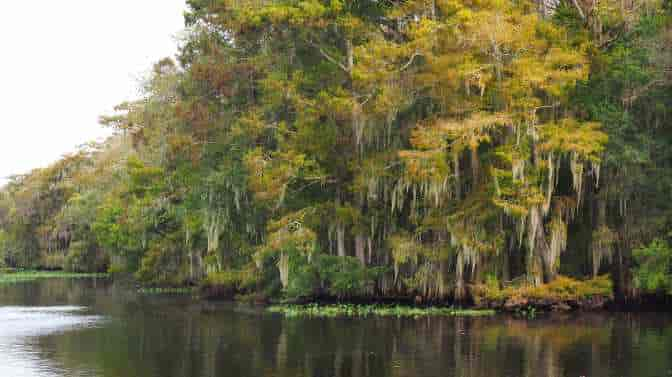 The Best Rivers To Kayak In North Florida
Largely rural north Florida offers several stunningly beautiful rivers far from the bustle and lights of the cities, perfect for leisurely kayaking adventures. The Suwannee River also allows you to experience Class III rapids if that's your thing.
Blackwater River
The Blackwater River is aptly named for its slow-moving, dark, tannin-stained waters that contrast with white sand beaches, perfect for picnicking or camping. The Blackwater River Paddling Trail stretches 31 miles from the Alabama border to inside the Blackwater River State Forest. 
Kayak rentals and shuttles are available, tour operators offer day and overnight kayaking trips, and there are multiple places to put in along the river.
Wakulla River
This river includes the 10-mile Wakulla River Paddling Trail, which offers easy paddling in the slow-moving waters of a spring-fed river. You will see a lot of wildlife, including fish, water birds, alligators, turtles, and manatees. 
The river can be paddled either upstream or down. Guided tours, kayak rentals, and a shuttle are available. 
Suwannee River Paddling Trail
The Suwannee River, famous for Florida's state song, offers the 171-mile Suwannee River Wilderness Trail. Tannin-stained water offers paddling ranging from easy to the state's only Class III rapids (depending on water conditions). 
The river and banks offer plenty of wildlife; you can shelter overnight at river camps, picnic on white sand beaches, or buy supplies at small towns. But mostly, you will have a quiet experience along this iconic river that flows through several state parks. You can rent kayaks from several outfitters.
Santa Fe River
The Santa Fe River is located north of central Florida. It offers paddling for various abilities, plenty of wildflowers and rare wildlife, and some outstandingly pretty springs, especially Lily Springs, Poe Springs, and Ginnie Springs. 
At one point, the river disappears into a sink in the limestone bed and flows underground for 3 miles before reappearing on the surface.
The Best Rivers To Kayak In Central Florida
Central Florida offers some great shorter rivers for kayaking located conveniently close to the urban areas of Orlando and Tampa-St. Petersburg. Alternatively, you could take one of the longer kayak trails along the rivers in the Green Swamp.
Weeki Wachee River
The 7,4-mile spring-fed Weeki Wachee River is great for family-friendly paddling adventures. It offers crystal-clear turquoise water, many manatees, and a calm river you can paddle in either direction. You can rent kayaks at the state park, and shuttle services are available.
Crystal River
More than 300 manatees gather in the Crystal River from October through March, and you can get close to them on a kayak or even go swimming with them (with an accredited guide). You can also take in numerous springs and the remains of Indian settlements and temple mounds.
Rainbow River
The Rainbow River is fed by one of the largest springs worldwide and offers clear water brimming with fish and birds. This 6-mile river offers easy paddling in a gentle current and the occasional deep boil in the shallow bed. If you want a change from paddling, you can snorkel or scuba dive.
Silver River
The 8-mile Silver River flows from Silver Springs to the Ocklawaha River along the western boundary of the Ocala National Forest and offers outstanding natural beauty. You can see many turtle species, feral rhesus monkeys, and the ospreys and anhingas that breed here or visit the Silver Springs historical attraction or the state park.
Chassahowitzka River
The Chassahowitzka River, or Chaz for short, is designated as an Outstanding Florida Water and offers hardwood swamps, salt marsh, and springs along its length. Camping and kayak rentals are available at the campground.
Wekiva River
The Wekiwa Springs feeds the Wekiva River (yes, they are spelled differently), and a 27-mile paddling trail from King's Landing runs through Wekiwa Springs State Park to the Wekiva River. 
This lush tropical landscape offers opportunities to see wildlife, from alligators to black bears. In addition, you can rent a kayak at King's Landing or the state park.
Rivers Of The Green Swamp
The Ocklawaha Paddling Trail along the Ocklawaha River is 8,9 miles of beautiful scrub pine, white sand banks, and hammocks running through the Green Swamp in the heart of Florida. Alternatively, the Peace River Canoe Trail covers 70 miles of the Peace River through cypress swamps and oak forests. In the north of the swamp, the Withlacoochee River offers easy paddling in tannin-stained waters.
The Best Rivers To Kayak In South Florida
South Florida doesn't offer many rivers for kayaking unless you count the "river of grass," the vast Everglades wilderness. However, there are a couple of rivers we can recommend.
Turner River
You can rent a kayak in Everglades City and follow the kayaking trail along the Turner River from 8 miles east of town, or hire a guide to take you. You will experience the grass, mangrove tunnels, and cypresses and see alligators, American crocodiles, and abundant bird life.
Loxahatchee River
The Loxahatchee River is a federally-designated Wild and Scenic River that meanders through groves of ancient cypress trees into a mangrove-lined estuary. It provides a habitat for manatees and rare and endangered bird species along its length.
Final Word
Whatever part of Florida you are in, there are some magnificent rivers in which you can kayak. Although you won't find much white water in this state, if you are looking for a leisurely paddle in beautiful surroundings with lots of wildlife to see, you will find plenty of options.
Related Articles
Sources
https://www.visitflorida.com/travel-ideas/articles/outdoors-nature-great-kayaking-in-florida/
https://fcit.usf.edu/florida/maps/pages/11100/f11166/f11166.htm