One of the most remarkable ways to see Palm Beach County is by kayaking through the Intracoastal Waterway, Loxahatchee River, and the Lake Worth Lagoon. By exploring further into the swamps and cypress forests of South Florida, effortlessly gliding through shallow waterways, and sneaking past unwelcoming residents, you can explore the best places to kayak in Palm Beach County and what to expect there.
The best places to kayak in Palm Beach County can take you on a voyage through gorgeous waterways, quiet beaches, coastal lakes, natural reserves, and other parks. Lake Worth Lagoon, Loxahatchee River, and Lake Okeechobee link to a vast network of locations by canals, rivers, and waterways.
The best places to kayak in Palm Beach County are listed below, and we explore which of these locations you may hire kayaks at or sign up for guided tours.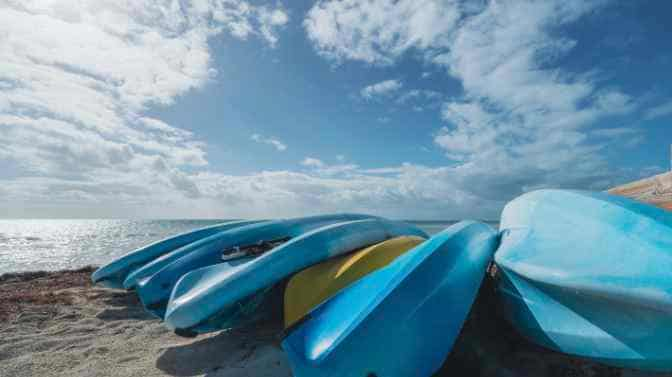 Lake Worth Lagoon
Lake Worth Lagoon is a lagoon that connects Palm Beach County to the barrier beaches that divide it from the Atlantic Ocean, except for two artificial inlets that link the lagoon to the Atlantic Ocean. 
The estimated 21-mile-long lagoon is home to an incredible collection of marine life and borders thirteen cities. The marine life that inhabits Lake Worth Lagoon includes:
Seagrass
Mangroves
Manatees
Sea Turtles
And over 250 species of fish
When kayaking along Lake Worth Lagoon, you can explore interconnected regions of nature made up of islands, marinas, beaches, protected nature areas, and waterways, including:
John D. MacArthur Beach State Park – is an environmental treasure that preserves the estuary's majestic plant and animal life, including several rare or endangered tropical and coastal species of plants. This pristine beachfront is the only state park in Palm Beach and offers a variety of activities, such as kayaking, canoeing, snorkeling, and fishing.
Snook Islands Natural Area – was established due to the Palm Beach County rehabilitation effort and was an uninhabitable area. However, it is now home to hundreds of species of marine life and birds. Further, it has an over 500-foot-long covered boardwalk and observation platform and an almost 600-foot-long fishing pier. Kayaking by Snook Islands allows you to observe the oysters responsible for filtering the lagoon water.
Ocean Ridge Natural Area – is an artificial refuge that provides habitats and protective nurseries for various inhabitants. Ocean Ridge is famous for its serene beach experience, double-story observation platform, and water activities that you can enjoy from the floating docks, like kayaking, fishing, and boating.
Okeeheelee Nature Center – is a combination of woodlands, ponds, wetlands, and flatlands home to various animals, including turtles, owls, snakes, baby alligators, tortoises, and many different bird species. Okeeheelee Nature Center offers activities, including fishing, kayaking, boating, golfing, and hiking.
And many more
Lake Worth Lagoon runs into the Atlantic Ocean in Palm Beach County through Palm Beach Inlet and Boyton Inlet. 
Further, you can travel along the North Palm Beach Waterway from the lagoon to Lake Worth Creek, Juno Dunes Natural Area, and as far as the Loxahatchee River. Alternatively, local businesses offer a selection of guided tours of the area and kayak rentals and are close to many of the kayak launch spots on the lagoon. Luckily, Lake Worth Lagoon has no reported sightings of alligators or alligator attacks.
Loxahatchee River
Loxahatchee River is the first river in Florida to be federally designated as a Wild and Scenic River. The river's mixture of fresh and saltwater results in diverse wildlife in this region. Therefore, a more comprehensive range of species calls these habitats home, including endangered species such as:
Wood Stork
Manatee
Sandhill Crane
Peregrine Falcon
And almost 260 unique species of birds
The Jupiter Inlet connects the Loxahatchee River with the Atlantic Ocean, and the Indian River flows from the Loxahatchee River past Peck Lake to St Lucie River. The Loxahatchee River connects to multiple places like:
Jonathan Dickinson State Park – Features unique locations like scrub forests, coastal sand hills, and swamps. In addition, the Jonathan Dickinson State Park has the Elsa Kimbell Environmental Education and Research Center that conserves the nature and history of the park. Further, the park offers activities such as cycling, canoeing, fishing, kayaking, and swimming.
Hungryland Slough Canal – takes you from the Southwest Fork Loxahatchee River past the Karen T. Marcus Sandhill Crane Acces Park to the PGA National Resort featuring a famous hotel, luxurious spa, and championship golf course. Alternatively, you can follow the Hungryland Slough Canal to the Hungryland Slough Natural Area that lies before the massive JW Corbett Wildlife Management Area.
Jupiter Ridge Natural Area – is an area of protected land consisting of depression marsh, mangrove swamp, scrubby Flatwoods, and the longest shoreline of any natural area on the Atlantic Intracoastal Waterway. The location features various hiking trails and activities like canoeing and kayaking and is part of the Great Florida Bird and Wildlife Trail.
And many more
The Loxahatchee River is ideal for kayaking, and multiple local businesses offer a variety of guided tours and kayak rentals. 
Additionally, there are many launch locations along the river for your convenience. However, the Loxahatchee River is well-known for its population of alligators, and there have been reports of several alligator attacks.
Lake Okeechobee
Lake Okeechobee is well-known for being the largest freshwater lake in Florida and partially falls under Palm Beach County. Therefore, the lake provides essential irrigation for crops and water to nearby communities and environments. 
In Addition, Lake Okeechobee is a natural habitat for various species of fish, birds, and other wildlife. But beware, Lake Okeechobee is home to thousands of alligators, including some of the bulkiest alligators in Florida.
However, Lake Okeechobee forms part of the Okeechobee Waterway that cuts through a 154-mile stretch of Florida and connects the St Lucie River in the Atlantic Ocean to Fort Myers on the Gulf of Mexico. The Okeechobee Waterway's kayak journey generally takes two days to complete and is considered one of the best routes to kayak in Florida.
Final Word
Kayaking in Palm Beach County will take you on a journey through scenic waterways, serene beaches, coastal lakes, nature reserves, and various parks. Lake Worth Lagoon, Loxahatchee River, and Lake Okeechobee connect to a diverse network of areas through canals, rivers, and waterways. 
Therefore, these famous locations are the best places to kayak in Palm Beach County, and nearby establishments provide guided tours and kayak rentals.
Related Articles