If you are in the Sunshine State on vacation or live in the Orlando or Tampa areas, you may want to go kayaking and wonder where to go. Whether you wish to paddle in inland rivers or coastal waters, by day or night, here are the best places to kayak in central Florida.
Central Florida offers excellent kayaking, from bioluminescence in the Indian River Lagoon to manatee tours in the Crystal River, and plenty of opportunities to take leisurely paddles along scenic rivers, viewing Indian mounds and an abundance of wildlife, especially alligators and birds.
There are many unique experiences while kayaking in central Florida, from enjoying the crystal-clear waters of spring-fed rivers in the local state parks to witnessing the spectacular displays of bioluminescence at night off the Space Coast. You'll enjoy kayaking in central Florida, whether a visitor or a local.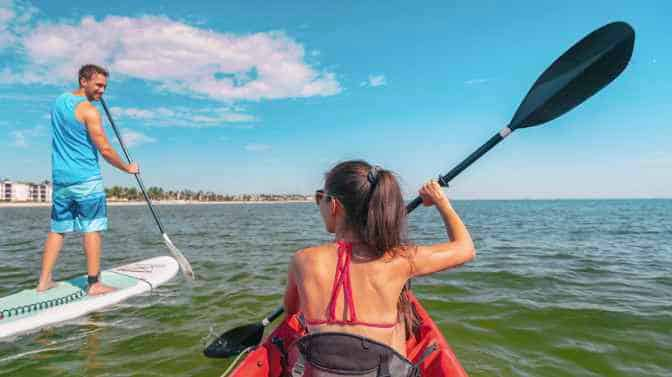 The Best Kayaking In Central Florida
Central Florida offers some fantastic kayaking opportunities from spring-fed rivers to urban paddling, nocturnal bioluminescence tours to encounters with manatees. Here are some of the very best.
Crystal River, Citrus County
Located north of Tampa and west of Ocala, the Crystal River is a critical overwinter gathering place for manatees. Over 300 of the gentle creatures come together in the river from October to March.
Some kayak tour operators offer you a chance to paddle among these gigantic aquatic herbivores. For a closer experience, you can legally swim with manatees in Crystal River, provided you go with an accredited guide.
You will also see numerous springs and the remains of Indian villages and temple mounds. In addition, the national wildlife refuge protects species such as deer, black bears, alligators, American crocodiles, otters, and bobcats.
Rivers Of The Green Swamp
The Green Swamp extends over some 870 square miles in the heart of Florida, and four major rivers rise here: the Withlacoochee (South), the Ocklawaha, the Peace, and the Hillsborough, which all offer an abundance of kayaking experiences.
The Withlacoochee River (South), a blackwater river, has a mostly-easy 76-mile paddling trail between Lacoochee and Dunnellon. 
The Ocklawaha River runs along the edge of the Ocala National Forest and offers the Ocklawaha Paddling Trail, 8,9 miles of scrub pine ridges, hammocks, and sugar sand banks.
The Peace River Canoe Trail runs for 70 miles along this river between Bartow and Arcadia, through cypress swamps and hardwood forests. The Hillsborough River Paddling Trail extends for 30 miles. 
It offers everything from the easy North, the ferocious Seventeen Runs with white water suitable only for experienced paddlers, to the intermediate Middle and South sections.
Indian River Lagoon
In central Florida, you should make time for an evening paddle in the Indian River Lagoon, a giant lagoon system on the Space Coast near Cape Canaveral. 
Several tour operators offer nighttime tours of this area.
The reason? Bioluminescent algae (dinoflagellates) light up the water from July through September. And glowing stingless comb jellies shine in November through March. 
The bioluminescence makes the water glow with a cool bluish fire that flickers in all directions at any disturbance in the water, whether from paddles splashing or fish jumping, creating a magical natural light show.
Launch at the bridge at Parrish Park or Sand Point Park (both in Titusville) if you are kayaking on your own. 
If you are paddling the Indian River Lagoon, the Merritt Island Wildlife Refuge adjacent to NASA's Kennedy Space Center is well worth visiting. 
You can see mangroves, manatees, and a host of migrating birds. Bring a compass or GPS to avoid losing your bearings in the mangroves.
A note of caution: be aware that high winds can create challenging chops on shallow coastal waters. Be mindful of conditions before setting out.
Weeki Wachee, Hernando County
If you wish to go paddling near Tampa-St. Petersburg, visit the Weeki Wachee River. This spring-fed river offers a current that will help you paddle if you launch near the headsprings in Weeki Wachee Springs State Park, where you can rent kayaks.
It will take you some 3 hours to paddle to the exit point at Rogers Park, and along the way, you will have opportunities to see manatees and turtles. 
There are alligators, but they tend to stay in the marsh areas. See the underwater Mermaid Theatre with mermaid performances.
Chassahowitzka River, Citrus County
This river (the Chaz, for short) has been designated an Outstanding Florida Water and offers several crystal-clear springs and a river running through hardwood swamps and salt marsh. 
You can base yourself at the Chassahowitzka River Campground and rent kayaks here. In addition, the river affords many opportunities to see alligators, manatees, otters, and bird life, including bald eagles.
King's Landing, Orange County
King's Landing is conveniently near Orlando and is found on the crystal waters of Rocks Springs Run, a tributary of the Wekiva River. A Jurassic jungle affords opportunities to see alligators, fish, turtles, black bears, deer, and an abundance of birds while you are kayaking.
Lake Toho and Shingle Creek, Osceola County
If you want to do a little kayak fishing, you probably want to visit Lake Tohopekaliga or Toho for short. Located south of Orlando, it's well-stocked with large bass, and you will also see plenty of alligators and birds. Just keep a lookout for wake from motorized vessels.
You can access Shingle Creek from the lake or at Shingle Creek Regional Park, where you can rent kayaks. It offers a 2-mile paddling trail with plenty of bird life and alligators.
Econlockhatchee River
The Econlockhatchee River, or Econ River for short, is a tributary of the St. Johns River that flows through Osceola, Orange, and Seminole counties, east of Orlando. It is a designated Outstanding Florida Waters and among the last undeveloped rivers in central Florida.
You will see many Indian mounds along its banks and wading birds, turkey, eagles, sandhill cranes, alligators, and deer. 
The best section to paddle is the 19-mile State Designated Trail through the Little Big Econ State Forest, where numerous sandbars offer picnicking opportunities. In addition, you can camp in the forest at designated campsites. 
Winter Park Chain of Lakes, Orange County
The city of Winter Park near Orlando offers urban kayaking through 6 lakes (Virginia, Mizell, Osceola, Maitland, Nina, and Minnehaha) connected by canals. 
You can paddle through a section or even the entire length of the system and view the backyards of historic mansions. You can find rentals at Dinky Dock on Lake Virginia.
Speak To A Local About Paddling In Central Florida
If you are going paddling in central Florida and you are reading this post, you most likely are either not a local or not experienced. If that is the case, we strongly recommend that you speak to a friendly local paddler about local conditions, places to launch, etc. 
Look at the Facebook group Kayak Junkies of Central Florida for willing, helpful advice.
Final Word
Central Florida offers some fantastic kayaking; whether you are a newbie or an out-of-state visitor, you're sure to find plenty to delight you in this part of the world. 
So don't wait; get out there and get paddling!
Related Articles
Sources
https://www.orlandosentinel.com/travel/central-florida-explorer/os-et-central-florida-kayak-paddleboard-liststory-20200221-gjl7nqp6ibfzvjsgtczyhty6di-list.html