With over a thousand springs spread out across the state, it makes sense that some of them are accessible by boat. In fact, the ones where you can boat are some of the most popular springs.
Boating is, of course, kind of a loose term because even a kayak is technically a boat. But that doesn't mean you can't bring a larger boat into a Florida spring, especially if it's deep enough to accommodate it. 
Plus, boating offers a different kind of experience, rather than just driving in, parking, and walking down to the springs with an armload of picnic supplies and swimming stuff.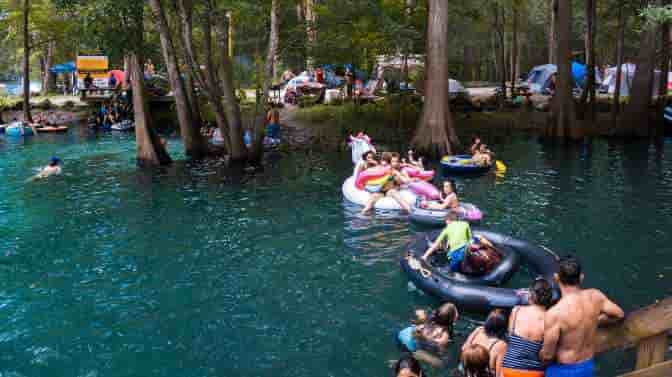 But not all springs, not even most springs, provide access for boats. So which ones do?
#1 Three Sisters Springs (Crystal River)
Located in a river certainly gives a spring some level of boat access. However, the access point is a little narrow, so you can't bring your boat all the way in. Instead, the standard operating procedure is to anchor your boat outside the spring and launch a kayak, canoe, or swim right in. 
A boardwalk surrounds the spring, so if you don't want to boat in or don't own a boat or a kayak, you can still come to the park and enjoy the beautiful view. Or, you can throw your swimsuit on and dive in yourself. 
You can engage in many activities at Three Sisters Springs, including swimming, kayaking, tubing, and manatee viewing. 
During the winter, a 72° dip in the spring may not seem like a good idea, but at least you can enjoy the manatees as they pour into the warmer waters of the Three Springs every winter. 
Outside of Three Springs, Crystal River offers boaters a place to dock and stay the night at the Plantation Hotel. That is unless you want to sleep on your boat, which is also perfectly reasonable. 
#2 Salt Springs Recreation Area
Salt Springs contains magnesium and sodium salts that give it that distinct taste and feel, one of the rare springs that tastes more like salty water than fresh. It won't match the Gulf of Mexico or the Atlantic, but there is definitely a degree of salinity. 
It's also a good place for boats to roll right in, and you will frequently see pontoons in the area, along with kayaks and canoes for those who prefer a more singular exploration mode. 
They also rent many boats at the recreation center, including kayaks, canoes, skiffs, paddle boards, and pontoon boats. 
The Springs are privately run. And the fishing in this location is supposed to be excellent if that's your reason for visiting. Located in the Ocala National Forest, Salt Springs also offers camping if you prefer to make an entire weekend out of it. 
The swimming area is located at the head of the spring, where swimmers are cordoned off from everything else. However, since the spring runs into Lake George, boating is frequent, so they had to section off an area just for swimmers. 
#3 Silver Glen Springs
Silver Glen is one of the more popular tourist attractions in Florida besides the beaches. Like Salt Springs, Silver Glen is located in Ocala National Forest. While you can't bring in bicycles or pets, Silver Glen allows kayaks and canoes. 
You can also fish if you go well downstream of the official swimming area. You'll also want to show up early if you are coming by land. Silver Glen is extremely popular, and if you don't come early on the weekend, they close the road access once the parking lot is full. 
You can also approach the water in your boat if you want. Boats aren't allowed to travel into the swimming area, but it's perfectly fine to anchor outside of the swimming area and launch a kayak or swim right in. 
Canoe and kayak rentals are also available on-site, in case you didn't bring your own or don't happen to own one. 
Rentals aren't cheap, but they aren't overly expensive either. It will run you between $20 and $45 with an additional $29 deposit that will be refunded when you return the craft.
#4 Wakulla Spings State Park
Wakulla Springs is located just south of Tallahassee, the capital of Florida. Thanks to its natural beauty and location, it's one of the more popular springs in the state. It also happens to be the deepest spring in the entire world, which is quite an accomplishment sitting on a few acres in the middle of the state of Florida. 
Boats are allowed, but it's a bit limited. A Jungle Cruise ride goes through on scheduled spring tours, so it obviously has to have a clear route throughout the day. 
You'll also get a good view of the local Florida wildlife, including alligators. Don't worry; the swimming area is cordoned off. No alligators are allowed. 
Wakulla Springs Lodge is a historic hotel that also sits on the location. You can go there to stay the night as well as enjoy some incredible food, using recipes drawn from local traditional recipes. 
#5 Fanning Springs State Park
Fanning Springs is virtually a boat city during the weekends. 
It's one of the most fun and exciting ways to get to the springs. Two boat docks are downstream from the spring—Yellowjacket and Fowler's Bluff. 
It's a simple matter of launching from one of the boat docks and throwing your anchor down outside of the spring. Once in the spring, there is a large, floating dock that you can tie off to, assuming that there is plenty of room. 
If you come in by vehicle, it's a $6 parking fee but taking the boat in is free. Located on the Suwanne River, Fanning Springs lacks the popularity of some of the other springs on this list but is well-known and loved by the locals. 
There are playgrounds, boardwalks, and hiking trails through the cypress swamp. They also include several amenities, including paddling, swimming, snorkeling, weddings, primitive camping, scuba diving, hiking, picnicking, and wildlife viewing. 
#6 Madison Blue Spring State Park
Last but not least, Madison Blue Spring Park is a limestone basin holding thousands of gallons of fresh spring water. Unfortunately, it's only open for a specific portion of the year, from May to September. 
Madison is a first-magnitude spring located along the Withlacoochee River. You may have trouble pronouncing it, but you won't have trouble enjoying the amenities and a cool swim on a hot summer day. 
Inflatables and tubes can be purchased on-site, and you can also launch your own kayak or canoe if you want to do a little over-the-water exploration. Of course, it's also a great place to swim and picnic with the family. 
Like most Florida springs, there is a ton of wildlife to view and enjoy as you swim or lay back on the shoreline or docks that dot the area. 
Final Word
There you have it, some of the best springs in Florida that are accessible by boat and where boats are allowed to anchor and hang out. 
Of course, they offer much more than just parking your boat for an afternoon. Florida's public springs are beautiful places and an exciting way to fill a weekend with the family. 
Related Articles