Whether you are a kayaking enthusiast with decades of experience or a beginner who has never sat in a kayak, you can always benefit from having the right app to suit your kayaking needs. So, what are the best apps for kayaking?
The best apps for kayaking depend on the kayaker's personal needs. Choosing the right app comes down to personal preference and specific use cases. The more information you have before your trip, the better you will be prepared for whatever nature throws at you.
Let's investigate some of the top-rated apps for kayaking, keeping in mind that some are device and platform-specific and might not work on your device if the app isn't supported on your device's operating system.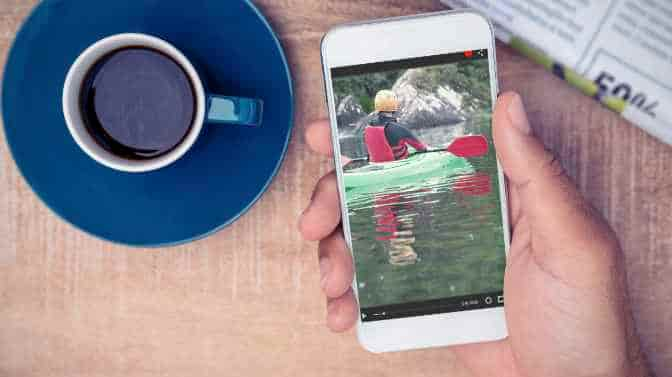 #1 RiverApp – River flows
This app tracks and monitors over 15,000 rivers in the United States of America and across the globe, the premium version of this app also displays historical data up to several years ago. 
The RiverApp is ideal for kayakers by letting users create their custom river level alert notifications, allowing kayaking enthusiasts to plan their trips accordingly. This app is available to download for Android and Apple users.
#2 Whitewater Guide
The Whitewater Guide app allows users to explore new regions and plan their kayaking trips well in advance by utilizing region-specific maps. The available maps display different arrows and colors to indicate various water levels and point out useful points like wild-camping spots and kayak shops. 
This app is available to download for both Android and Apple users.
#3 Go Paddling
The Go Paddling app has over 25,000 paddling locations ideal for kayaking. This app allows its users to browse its map and find the closest places to go paddling. 
The various launch points include details that fellow users have posted, weaving an intricate social network into the app. This app is available to download for both Android and Apple users.
#4 Polaris GPS: Hiking, Offroad
This easy-to-use GPS app allows users to track their location in real-time without needing an account or subscription. Users typically use the Polaris GPS app for waypoint navigation to record their trips and mark and save their favorite kayaking routes.
This app is known for its stability, reliability, and flexibility and is often used by land-sea and rescue personnel worldwide. This app is available to download for both Android and Apple users.
#5 River Data
With over 14,000 sites listed provided by USGS services, the River Data app allows users to track weather data provided by the National Weather Service accurately. This app also gives users a full feature graphical view of gauge data from 1 to 119 days.
This app also features a social sharing option that allows users to share their favorite kayaking spots. Unfortunately, this app is only available to download for Apple users.
#6 Paddle Logger for Watersports
The Paddle Logger for Watersports app was designed and built from the ground up with the paddlers in mind. This app allows users to record their journeys, track their goals, and, if needed, alert friends and family to their location in an emergency.
This app is built specifically for the Apple Watch as a standalone app that integrates with Apple Health. Paddle logger is entirely free to download and use. Unfortunately, this app is only available to download for Apple users.
#7 Rivercast – Levels & Forecasts
Every kayaking enthusiast should be concerned with potential flooding before setting out on their latest excursion. The Rivercast app alerts its users with official flood warnings and other alerts from the National Weather Service.
This app lists various river's stage heights in feet and displays each river's flow rate in CFS when that data is available. 
The Rivercast app allows users to filter their search results by river gauges, waterway name, state, or NOAA 5-digit station ID. This app is available to download for both Android and Apple users.
#8 KayakLog
KayakLog allows users to transform their mobile devices into a logbook to help them track their kayaking trips. It records and stores data such as location, speed, trip length, and weather.
This app runs in the background using your phone's GPS and automatically records all this data once activated. This app also displays accurate weather conditions up to 24 hours in advance to help you plan your kayaking trips accordingly. This app is only available to download for Android users.
#9 Stream Map USA
Stream Map USA is a GPS navigation tool and mapping system that features a comprehensive search engine specifically designed for people who enjoy spending time on the various waterways available in the US.
This app features a color-coded, searchable map of the US's various streams, lakes, and rivers. In addition, it allows users to view satellite images, topographical maps, and roadmaps while tracking their location and progress, even if no cellphone signal is available. 
All maps can be stored locally on your phone for offline use later. Unfortunately, this app is only available to download for Apple users.
#10 ACA Paddle Ready App
The Paddle Ready app has been designed with paddlers in mind to maximize safety and fun while on the water. 
This app allows users to receive real-time environmental forecasts for different paddling locations. In addition, it lets users plan their excursions and share them with friends and family.
This app can also find ACA instructors or courses near its users and provides users with a helpful paddle safety checklist they can fill out before setting off. Regarding instructional video material, this app supplies users with helpful information regarding safety and rescue how-tos.
The ACA's National Paddlesport instruction program has been recognized as the "gold standard" in the paddlesport educational industry throughout the US and various other countries. This app is available to download for both Android and Apple users.
#11 Windy
The Windy app is one of the most accurate and free weather apps for both IOS and Android users. Professional fishermen, storm chasers, rescue teams, etc., use the app to keep updated on what's happening before they do their jobs.  
The free app provides a detailed forecast that gives you information on wind speed, temperature, snow and rain forecast, accumulation, and wind direction. 
You can even set up email alerts for your desired location and weather to get a notification when it's a good time to hit the water. 
Final Word
No one app does everything you might want it to do, and you need to test and try out various apps until you find the one that meets your individual need. 
Ask yourself where you want to go kayaking and what information you would need to practice your hobby safely, and then choose your kayaking app from there. This way, you can be sure to download the right app for your kayaking trip. Have fun Kayaking!
Related Articles