Jeep Wranglers are among the best off-road SUVs internationally and have an excellent reputation as a rugged, go-anywhere- vehicle, but are Wranglers good cars for long trips? How do Wrangles compare to other SUVs for long trips? Are they comfortable, and are they reliable? 
Jeep Wranglers are good cars for long trips, but they lack interior and luggage space, can be noisy, have a harsh ride, and can be expensive gas guzzlers. 
Wranglers are ideal for long trips that involve driving on trails and rugged roads.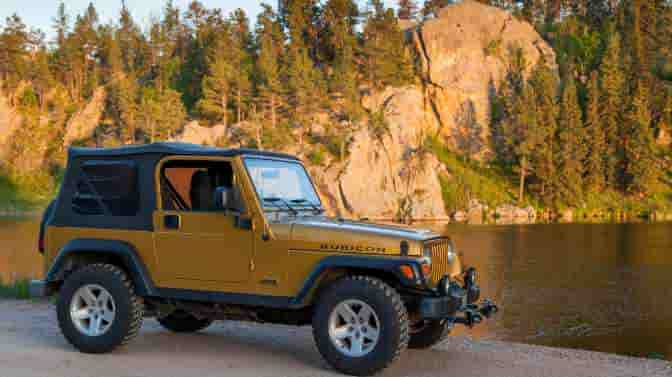 The Jeep Wrangler is immensely popular internationally for its off-roading abilities. Still, it is not well-known for its performance during long road trips. 
Let's explore the features and capabilities of the Jeep Wrangler to find out how well it is suited for long trips. 
Can You Use A Jeep Wrangler For Long Trips?
Cars that are made for long journeys typically meet specific criteria and are made for hours on the open road. Jeep Wranglers are made for challenging, rugged, off-road trails and for driving into places that no other vehicles can explore. 
The fact that Wranglers are ideal off-road vehicles does not make them ideal for long trips, and many people who want to invest in one are concerned that these cars are not suitable for long highway drives. 
Let's explore the long-distance capabilities of the Jeep Wrangler based on the most crucial road trip vehicle characteristics: comfort, interior space, features, reliability, and fuel economy. 
Comfort
Comfort is among the most important criteria that any car used for long trips must meet. A car used for long hours of driving must be comfortable., especially if you have passengers. 
Unfortunately, the Jeep Wrangler is not a comfortable vehicle for a long trip. 
The Wrangler's interior is well-made and relatively comfortable, with good seats and excellent features. 
But the fact is that these vehicles are designed for off-road driving, which means that they have a firm suspension, all-terrain tires, high ground clearance, and widely flared wheel arches. 
These features are great for the trail but make the ride of the Wrangler very firm and uncomfortable, producing significant wheel roar and road noise. 
Regardless of where you're sitting in the vehicle, you feel every crack and bump in the road.  
This can make long trips in a Jeep Wrangler very tiring and can make the journey more difficult. Not to mention, the road noise is louder than in other vehicles, which can make it hard to hear people talk. 
Interior Space
The interior space of the Wrangler is another factor to consider when using this car for a long trip. The two-door version of the Wrangler has minimal space, but if the back seats are folded down, there is enough room for two people and light luggage for a few days. 
The four-door version of the Wrangler is significantly larger. However, the back seats are still only considered comfortable for children. 
The storage space for the four-door is larger, but you will have trouble loading up four people for a multi-day trip. It is best to tow a trailer in this circumstance, as the Wrangler is more than powerful enough for towing. 
The legroom, headroom, and general cabin space within the Jeep Wrangler are perfect in the front, but the rear seats leave much to be desired. 
Nevertheless, the interior of the Wrangler is spacious enough for long trips, particularly if the back seats are occupied by children. 
Features
Any car used for long trips should have plenty of features to protect the vehicle's occupants, help the driver maintain control, and make the journey as comfortable as possible. 
Depending on the trim and spec you choose for your Wrangler, the vehicle is generally equipped with good features for long trips. 
These vehicles have good stereo systems and comfortable seats, and optional extras such as air conditioning can be fitted. 
Jeep Wranglers do not have many driver-aids, and not every model has anti-lock brakes. However, the standard features that the Wrangler does have make it suitable for long trips without significant problems. 
Reliability
Reliability is critical for any vehicle taken on a long trip. Does the Wrangler meet the standard of high reliability?
The Jeep Wrangler is a very reliable vehicle. This vehicle is relatively simple and is made for intense off-roading, which means there is little that can go wrong with the vehicle. It is designed to handle significant bumps and scrapes without issues. 
The Wrangler is built to last and will get you to your destination without incident if the vehicle is well-maintained. 
Fuel Economy
The fuel economy is a significant concern for anyone who wants to use a Jeep Wrangler for long trips, but the good news is that the Wrangler is not necessarily less economical than any other large SUV. 
The large tires on the Wrangler, combined with its boxy shape, do increase its fuel consumption, but the truth is that at highway speeds, most Wranglers can travel more than 400 miles before needing more fuel. 
This is very similar to all other SUVs in the same class. 
Different Wrangler models have different-sized engines, fuel tanks, and transmission systems, meaning every Jeep Wrangler model has varying fuel economy figures. 
If this is something that is a major concern for you, then a Wrangler may not be the ideal vehicle for your road trip. 
Are Jeep Wranglers Good For Any Road Trip?
Now that we have considered the various factors that go into making a good road trip car, can we definitively say that the Jeep Wrangler is a good vehicle for long trips?
The Jeep Wrangler is a good car for long trips, especially if you intend to travel on rougher roads or engage in some off-roading along the way. 
This vehicle does not have sufficient storage and can guzzle some gas. But if you put the kids in the back and head out on the road to explore the country and the trails it has to offer, the Jeep Wrangler is the ideal car for the trip. 
If you don't plan on traveling off-road or four-wheeling. It's best to consider a vehicle with more comfort features, interior space, and better fuel economy. 
Final Word
If you only own a Jeep Wrangler and are planning a long road trip, it's fine. They can feel cramped and noisy, making your road trip insufferable. 
However, there is no better car for trail driving, so the Wrangler is ideal if you want to take the rugged road less traveled.
If the Jeep Wrangler is your idea of a perfect SUV, do not hesitate to use it for long trips. But if you are looking for improved comfort, quietness, space, and economy, there are better options than the Wrangler. 
Related Articles
Sources
https://www.vehiclehistory.com/articles/are-jeep-wranglers-good-for-road-trips