Are you planning a trip to Busch Gardens and considering where you can keep your belongings? If you're going with other thrill seekers who also enjoy the rides and roller coasters, you may not be able to leave your belongings with them while on a ride. So the best option is to use a small fanny pack to keep small items like your phone, camera, and wallet, but can you take fanny packs on rides?
Both Busch Garden locations (Williamsburg and Tampa) state visitors can bring backpacks and fanny packs into the park, but they are not allowed on rides. Thrill seekers can leave personal items in a zipped pocket, in a secure waist pack (under your clothes), rent a locker, or with someone who isn't on a ride. Fanny packs and bags are dangerous on the rides at Busch Gardens. 
When planning a trip to any Busch Garden park, you must consider where you will leave your belongings and what you should bring along. We'll take an in-depth look at the park's bag policy and items you should take on the trip.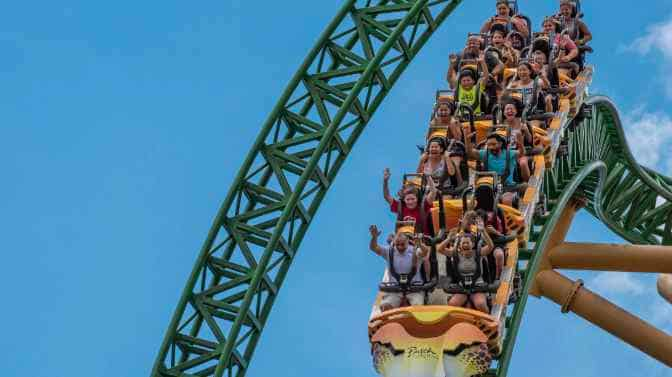 Busch Garden's Bag Policy
Visitors can bring backpacks and fanny packs into the park before 4 pm but are subject to inspection. Bags must be less than 8 inches by 5 inches, no larger than a small backpack, and in plain sight for security.
You won't be allowed to enter the park with a larger bag, and security will ask you to return it to your vehicle.
These new rules were implemented in the Busch gardens Williamsburg park when fights broke out in 2019. Therefore, all bags and purses must go through security at the gate when entering the park. 
Unfortunately, I couldn't find information on whether the Tampa Busch Garden park implemented the same rules, so you may want to call before visiting. 
Why Fanny Packs Are Prohibited On Busch Gardens Ride?
Since small bags and fanny packs are in style and perfect for bringing the essentials when out and about, you may consider carrying them with you when going on rides at Busch Gardens. 
However, you may be disappointed that fanny packs and bags aren't allowed on any of the major rides (roller coasters) at any Busch Gardens fun park. 
There are a couple of reasons you cannot bring a fanny pack or bag on a ride at Busch Gardens. 
The first reason is that a crossbody bag or fanny pack makes it difficult for the ride facilitators to strap you securely into the harness. The bag or fanny pack may get in the way, making it difficult to secure the harness. 
This means that you won't be as safe on the ride as you would without having your bag or fanny pack obstructing your harness while on the ride. 
This is the biggest reason why you cannot bring a bag or fanny pack on a ride at Busch Gardens.
Another reason fanny packs or bags are prohibited is that they aren't secure. The rides go at impressive speeds and have you falling around. 
You may lose your bag during the ride, resulting in lost items. In addition, when it falls, it can also hit another guest, causing them harm.
Therefore, Busch Gardens doesn't allow anyone to bring fanny packs or bags on their rides as they aren't secure and can endanger you or other guests. 
What Are Considered Major Attractions?
Major attractions include rides, roller coasters, water slides, and other popular activities at Busch Gardens.
Below is the list of the major rides that do not allow fanny packs:
Tampa Busch Garden Major Rides
Kumba
Iron Gwazi
Cheetah Hunt
Congo River Rapids
Sheikra / Stanley Falls Flume
Cobra's Curse
Montu
Falcon's Fury / Scorpion
Williamsburg Busch Garden Major Rides
Griffon
Alpengeist
Verbolten
Finnegan's Flyer
Pantheon
DarKoaster
Apollo's Chariot
InvadR
Loch Ness Monster
Where Can You Leave Your Items At Busch Gardens?
Seeing that you cannot bring your personal items in a bag or fanny pack when riding at Busch Gardens, you may wonder where you can leave these items instead. 
Fortunately, you have a few options when deciding where you leave your belongings when visiting Busch Gardens. 
1. Leave Unnecessary Items In Your Car
One thing many people get wrong when going to Busch Gardens is that they bring too much stuff to carry around. So instead of packing everything you think you may need, bring only the essentials, like your phone, wallet, sunscreen, and jacket. 
To lighten your load, only bring the absolute essentials. Chances are that you won't need any of those extra items in your car anyways. 
By freeing yourself from unnecessary items, you'll be able to enjoy all that the park has to offer! If necessary, collect them later on during the day – but don't let anything hold you back from a fun-filled adventure!
2. Rent A Locker At Busch Gardens
Because you aren't allowed to bring bags onto rides at Busch Gardens, lockers are available for rent. Both Busch Garden locations offer three types of electronic lockers available. 
Below is a table with the type of lockers available, location, size, and costs. 
Park
Lockers Available
Cost
Tampa
Standard: 7.5"h x 13"w x 18"d $15 per day

Large: 10.5"h x 16.5"w x 18"d $20 Per Day

Jumbo: 13.5"h x 22.5"w x 18"d $25 Per Day

Transferable: $10.00
One time Use lockers: $2.00 for 2 hours then an additional $1.00 per hour with a maximum of $20 per day charge.
Williamsburg
All Day Lockers: Located in England behind M. Sweets.

Ride Lockers: Located at all major attractions and operate on a one time use.

Transferable Ride Locker Pass: The pass allows you to use different lockers throughout the park.
Unfortunately, there are no locker fees listed on the Williamsburg website, so you'll need to call in advance.
You can leave your personal belongings, like car keys and bags, in these lockers and retrieve them when you are ready to depart. 
You'll find these lockers in different locations throughout the park. In addition, the self-service kiosk locker rental accepts cash or credit. 
Prices are subject to change, so please check the Busch Garden's website for more information.
3. Leave Your Items With A Non-Rider
If you cannot use the lockers, or there are things you cannot put in the lockers but don't want to bring on the rides, you can leave those items with non-riders from your group. 
For example, if there is a ride you want to go on, but your friend doesn't leave your items with them.
You can take turns guarding each other's things while the other takes a ride. The only problem is that you won't have anyone to leave your things with if everyone wants to take the same ride simultaneously. 
4. Use A Waist Bag Or Secure Pocket
Although you cannot bring a fanny pack on a ride at Busch Gardens, you can keep items in your pockets or use a secure waist pack. 
When keeping things in your pockets, it's best if it has a zipper. This will ensure the items stay securely in place while riding the rides. 
Many people bring money bags that fit under their clothes for storing valuable items while on the rides. 
Some people who have visited the park state they wore a secure bag as long as it didn't intrude with the ride. 
Ensure the waist bag is secure and doesn't obstruct your harness when riding. 
That said, there's no guarantee that you'll be allowed to ride the ride when wearing one. For example, if the ride facilitator doesn't allow the waist bag. In that case, you must remove it and hand it to another person or place it in the lockers. 
What Items Are Prohibited To Bring Into Busch Gardens?
In addition to bags and fanny packs, there are other prohibited items at Busch Gardens. Some prohibited items at the park include:
Glass items
Sharp objects
Weapons or things that may be used as weapons
Cans
Hard or soft cooler boxes
You are also not allowed to bring food or drink into Busch Gardens. The front gate security checks your belongings to ensure you don't have food or prohibited items. However, you can buy food and drink from the vendors inside the park. 
When going to Busch Gardens, you must adhere to the requests and restrictions of the park, or you will be removed from the premises and unable to return. 
Can You Bring A Hands-Free Camera On A Busch Gardens Ride?
Although you may not bring a bag or fanny pack on a ride at Busch Gardens, you can take a ride using a hands-free camera. 
The camera must be secured to your body with a 3-point harness. In addition, it must be in a lockable protective case. 
You must first receive approval from their operations manager to use your hands-free camera while having fun at Busch Gardens. If you meet all these requirements, you may use your hands-free camera while enjoying the rides at Busch Gardens. 
You can also take pictures and purchase them at several locations throughout the park, so you don't have to worry about taking pictures while on the rides at Busch Gardens. 
Final Word
To ensure your safety, Busch Gardens requests that you leave all bags and fanny packs in a locker or with a non-rider. These items may interfere with the harness during rides or become loose and be ejected from the ride. 
The rides go up to speeds of 76 MPH, and falling objects can injure other riders. 
Therefore the park provides electronic lockers that allow you to create a password to protect your belongings while enjoying the rides. 
Related Articles
Sources
https://buschgardens.com/williamsburg/faq/theme-park/#:~:text=Loose%2520articles%2520are%2520not%2520permitted,or%2520with%2520a%2520non%252Drider
https://www.dailypress.com/virginiagazette/va-vg-busch-gardens-security-0924-20210924-ntldbd2uyfcilhpkz42qe4tiyu-story.html