Florida has beaches that are the envy of the world, especially the sugar-white sands in the Panhandle, running from Pensacola Beach to Panama City Beach. Experiencing Florida's beaches is something special; of course, you would want to bring your furry friend along. 
Florida Beaches encompass 1,300 miles of real estate, and when or where your dog is allowed to go boils down to the public beach in question. Unfortunately, there are a lot of public beaches in Florida that don't allow dogs. However, some do, or there are sections on the beach for dog owners. 
If you want to take your dog to the beach in Florida, it's always a good idea to call and find out if bringing your pup is okay.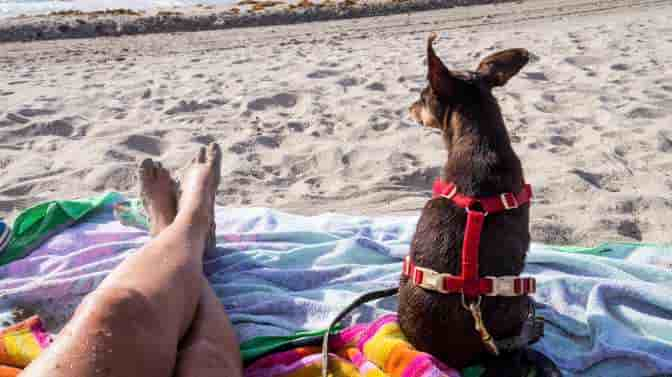 Some beaches may not allow dogs, but they will have a section set aside for dogs. However, they may not advertise it, so you must do your homework. Below is everything we learned about taking your four-legged friend to a Florida beach.
Why are Public Beaches Picky About Dogs?
There are many reasons for this, but it mostly comes down to liability. 
Once you give the okay for dogs, everybody brings dogs. Before you know it, there will be dog poo all up and down the beach, and, even worse, someone will get bit. 
It will most likely be a chihuahua responsible for ruining it for all dogs. 
That's because people are far more willing to approach a chihuahua than a Rottweiler. But all it takes is one, and dogs are off-limits on the beaches. 
Then you have those who won't clean up after their dogs. So what more can wildlife management authorities do? 
If kids are stepping in piles of dog poo when they just want to dive into the big waves, then dogs aren't going to be high on the priority list for public beach administrators. 
It's often difficult to find dog-friendly beaches because they are few and far between when considering the number of public beaches in Florida.
Last but not least, summertime is a hot time for dogs, even on the beach. 
Sure, there is plenty of water for them to dive right into, but dogs can't drink salt water any more than we can. Dogs suffering from heat stroke on the beach are relatively common.
Most beaches will grant exceptions if you are disabled or have a legitimate service dog. However, you should still call ahead and ask or let the public beach authorities know you have a service animal. 
What Public Beaches Allow Dogs?
Every city and public beaches associated with those cities are different. Some will allow dogs but don't advertise it, and some won't allow dogs at all, even though there is no public information on it. 
It's best to look up your local beach online to understand the posted rules and restrictions. 
Pensacola Beach East and West Dog Parks
Pensacola Beach is one of the most popular beaches in the Panhandle and offers two separate parks for dogs. The primary beachfront is where the restaurants, tiki bars, and lifeguards are. 
This means that's where all of the locals and tourists go. 
The good thing about that is the dog parks are relatively quiet and less crowded. Pensacola Beach is marked off, so you can see where you are allowed to bring your dogs and how far you can go one way or the other. 
Your dogs will love the sugar-white sands of Pensacola Beach, along with the clean, aquamarine waters. 
Your pet must always be on a leash, with a collar and dog tags. You have to clean up after your dog as well. 
According to Pensacola Beach, any violations of the rules will be cited by animal control. 
Bonita Beach Dog Beach
Bonita Beach is in Lee County, Southwest Florida. It's a popular spot for families who want to enjoy the luxury of the beach with their four-legged friends. The unique thing about Bonita Beach is that your dog is welcome to run free. 
You do have to clean up after your dog, and Bonita Beach authorities often reiterate the fact that dogs and cat owners, allowing their animals to defecate on the beach without cleaning it up, are facilitating the production of harmful bacteria in the local water ecosystem. 
You're not allowed to have alcohol on the dog beaches, and you're not allowed to bring any glass or porcelain out there with you. 
It would be enormously helpful if you follow the rules on Bonita Beach, lest they restrict dogs to leash and collars or ban it altogether. 
Davis Island Dog Beach
Down towards Tampa, you will find a little dog beach off the beaten path called Davis Island Dog Beach. The rules are pretty loose here as well. 
Inside the designated dog area, your dog can run freely off the leash. 
You are more than welcome to go outside the designated area with your dog, but you have to put it on a leash. You are also responsible for cleaning up after your pup, so be sure to bring a baggie along for "collection" purposes.
All Davis Island asks is that you follow its rules and regs. 
If your dog is barking like crazy and you can't get it to quiet down, there is a strong possibility that park staff will ask you to remove your dog from the premises. 
Dog Beach at Pier Park
Panama City Beach has a nice dog beach in Pier Park. However, the rules are a little more strict here. Your pup has to remain on a leash for your entire stay, and you can't have more than three dogs on a single trip to the beach. 
While there is no hard rule about a dog's breeding status, Panama City Beach makes it pretty clear that they would prefer any dogs on the beach to be spayed or neutered, and if they discover you have a female in heat, they will ask you to leave. 
From their point of view, that makes complete sense, as a female dog in heat can cause enormous problems, especially if there are a lot of dogs on the beach. 
There is also a rule against bringing any dogs younger than four months. 
Additional Florida Beaches That Allow Dogs
There are more Florida beaches that allow dogs than we could list here. 
But we're more than happy to list some of the best (above), along with some that might be closer to where you are or are planning to visit. 
Final Word
While we could make a list a mile long covering all of the dog beaches in Florida, one mile out of 1,300 miles of beachfront isn't very much. Unfortunately, finding a good dog park on the beach is not always easy. 
But when you do, it's well worth the search, as your dog will have a blast once they get over its fear of crashing waves. 
Related Articles
Sources