When you jump on the Ginnie Springs Rules; Policies page, you have to do a little scrolling to understand the policies. It takes a few minutes to skim through and find their policies on dogs. As much fun as it sounds to bring Fido along for the swim, Ginnie Springs isn't too keen on it. 
No pets are allowed at Ginnie Springs, and that policy is as firm as it gets, as one of the only two bolded sentences on the Rules page. Fortunately, that isn't quite the end of it. But as far as family dogs are concerned, it's not going to happen.
The lone exceptions are service animals. Ginnie Springs is more than happy to allow service animals on the premises, so long as a "few" rules are observed.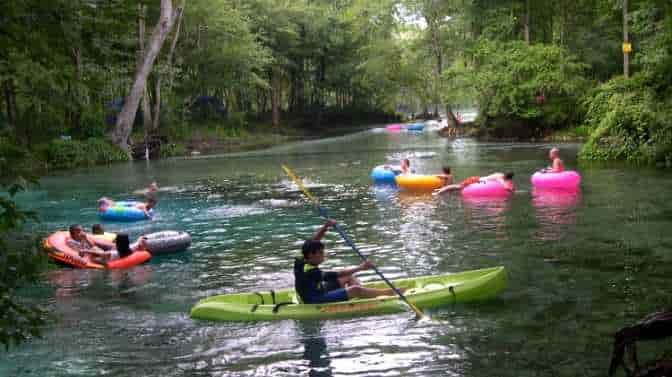 Ginnie Springs follows the general guidelines released by the Revised Americans with Disabilities Act Service Animal Requirements. 
Service Animals at Ginnie Springs
If there is one thing that you don't want to do, it's "misrepresent" your animal as a service animal. 
Florida takes these laws seriously, and you can get into trouble for lying. 
It's a second-degree misdemeanor that will cost you a pretty penny and could result in 60 days in the county lockup. 
In their "working capacity," service animals can go just about anywhere in the park with you
A harness and leash are required at all times
If you're not holding the leash, the dog must be tethered
The only exception is if the harness, leash, or tether impedes a dog's ability to perform its service duties
You have to pick up after your dog
You have to let a staff member know that you have a service animal when you check-in
Ginnie Springs reserves the right to refuse or remove your service animal if it misbehaves
Ginnie Springs also reserves the right to refuse emotional support animals
According to Ginnie Springs, emotional support animals don't qualify under the ADA definitions of a "service animal."
So the rules are pretty stringent on what goes on with service animals. 
But all that bold print boils down to is that you need to be responsible for your service animal, whether it's a dog, cat, or Tweety Bird. 
So long as you clean up after them and ensure their behavior isn't disruptive, your service animal is welcome at Ginnie Springs. 
What Ginnie Springs Doesn't Elaborate On
Ginnie Springs makes two things very clear—the first is that no pets are allowed in Ginnie Springs. The second is that Ginnie Springs will accept service animals if you are responsible for them. 
They don't elaborate on what your service animal can do outside of its duties to you. 
Ginnie Springs is pretty stringent about matching their definition of a "working" service animal versus a pet. However, they don't say whether your service animal can go for a dip in one of the seven springs available to swim in. 
All Ginnie Springs states on its website are that your service animal can go with you in "public" areas. 
Ginnie Springs Kayaks and Canines
Of course, with Ginnie Springs's proclamation that service animals can be with you in public places, it can only be assumed that you can take a service animal with you on a kayak. 
The thing is, it's really a question for Ginnie Springs since they don't elaborate. 
Service animals are put through years of training to be obedient and calm in any situation, so you can trust that your service dog will do fine on a kayak. 
In fact, out of all the types of dogs, a service animal is probably one of the best trained to remain collected under pressure. 
If you have a service animal and its never been on a kayak before, you should take the extra time to get it oriented on a kayak. Practice commands and set up the kayak to allow it to learn the ropes. 
Florida Springs That Allow Dogs
There are over a thousand springs in Florida, so you just pick one and flip a coin. Heads, they'll probably take your dog. Tails, no way. 
Below are a few of the Florida springs that allow dogs.
#1 Silver Springs State Park
Silver Springs is enormous, and they allow you to bring your dog. Who could ask for more? 
They have a bit of everything, and if horses spook your pup, you may want to rethink the trip. Outside of horses on the property, Silver Springs is one of the most popular springs in the entire state for dogs. 
For an additional $4, on top of the admission price, you can launch your kayak or canoe and bring your dog(s) with you, so long as kayaks don't give them the creeps.
#2 Wekiwa Springs State Park
Wekiwa Springs is just outside Orlando, as most of Florida's most popular springs tend to be. However, it's less of a park and more of a stop on the road. 
It's worth the stop for pet owners. It is a pet-friendly spot, so your dog is more than welcome, including a ride on the kayak.
#3 Ichetucknee Springs State Park
Ichetucknee is home to eight springs, and dogs are more than welcome within the park, so long as you clean up after them. 
They also request that all park visitors who bring dogs keep them on a leash for the duration of their stay.
Kayaks are also welcome; since all eight springs flow into a central river, you can turn it into a fun ride. 
#4 Rainbow Springs 
One cool thing about Rainbow Springs, aside from the fact that your dog is welcome, is that there are hammocks all over the place. So if your dog is pretty chill, a nap next to a cool spring might be just the thing. 
The only bad thing is that Rainbow Springs doesn't want your dog in the water. They can sleep in a hammock with you, but it isn't allowed in the water.
General Park Policies
Although the places listed above are perfectly fine with you bringing your dog with you, most of them have several policies you must follow.
Mostly, it's pretty standard fare, but it's a good idea always to review the park policies on animals before you head out. 
You should always bring a bag to pick up after your pup. Outside of biting, leaving your dog's waste is one way to get you kicked out of a park. 
If you have a dog with high anxiety or isn't socialized, it's probably not a good idea to bring it. 
Always keep a leash and collar on your pet. Most parks won't allow it any other way, so you might as well bring it with you.
Final Word
Dogs are family members like anyone else in your family, and it's a shame when they can't come with you to enjoy some of the beautiful spots that nature offers. 
Fortunately, there are plenty of springs out there that will allow you to bring your pup along. 
Just be sure to pay close attention to the rules and regs at the park, and you shouldn't have any problems. 
Related Articles