Busch Gardens amusement parks in Tampa Bay and Williamsburg are some of the theme parks available for adventure enthusiasts. But any amusement park is a challenge for plus-size people. The small seats and tight harnesses at Busch Gardens may lead plus-size people to wonder if it is worthwhile visiting Busch Gardens at all. 
Busch Gardens rides are not all plus-size-friendly. Most of the rides at Busch Gardens can accommodate larger people, but anyone who uses a ride must be able to sit in the seat and close the harness completely. Also, some of the faster rides are not plus-size-friendly, but all slower rides are. 
Being a plus-size person is challenging when visiting amusement parks, but some are more accommodating than others for large people. If you are visiting Busch Gardens and happen to be plus-sized, there are some things to consider before you go.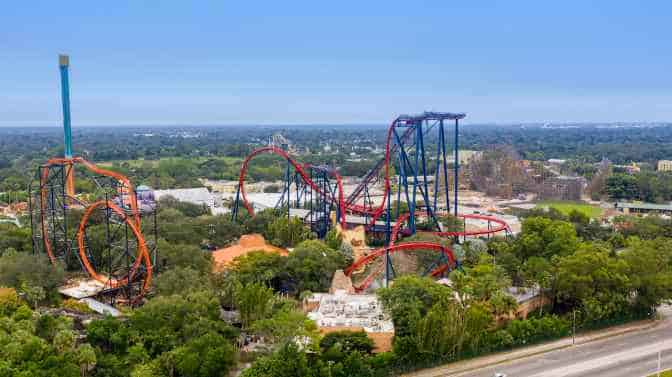 Why Can't Plus Size People Fit On Rides?
Busch Gardens amusement parks are great fun for the whole family. These parks are home to several exhilarating rides and attractions for everyone to enjoy. However, the rides here can be dangerous and require guests to fit into tight-fitting safety harnesses. 
These harnesses are the primary concern of plus-size people when visiting Busch Gardens. However, several rides are built to cater to plus-size guests at Busch Gardens. 
Some of the rides have wider seats with secondary safety harnesses. 
The Busch Garden website clearly states that some guests of exceptional size may not be able to ride all the rides. 
Which Rides Are Not Compatible For Plus Size People?
Knowing which rides you can and cannot ride as a plus-size individual will save you time and embarrassment. After all, you don't want to waste time waiting in line only to find out that the restraint system doesn't fit. 
| | |
| --- | --- |
| Virginia Roller Coasters | Tampa Roller Coasters |
| Apollo's Chariot | Tigris |
| Verbolten | Iron Gwazi |
| Mach Tower | Serengeti |
| Alpengeist | Cheetah Hunt |
| Pantheon | Cobra's Curse |
| DarKoaster | Sheikra |
| Finnegan's Flyer | Montu |
| Invadr | Kumba |
| | |
| | |
What Are The Weight Restrictions for Busch Garden Rides?
The Busch Garden website does not have weight restrictions, which I could find. This is mostly because people come in different sizes. For example, some people can be 5'5″ tall and weigh 170 lbs, while others can be 6'4 and weigh 170 pounds. 
This makes it impossible to put a weight limit on rides. So instead, they have a policy that states the restraint system must fit securely around every rider. 
If a person cannot fit within the seats of a ride and have the safety harness locked in correctly, the person cannot use the ride. 
This means there are rides at Busch Gardens that can accommodate larger people, but not every ride is plus-size friendly. 
How Can You Tell If You Will Fit Into A Busch Gardens Ride?
Busch Gardens offers test seats at each roller coaster's entrance. These seats are the same as the seats on the ride, including the safety harnesses and seat belts. 
These test seats have an indicator light that activates if a person does not fit onto the seat safely. The seat harness must close properly, and the person must be within the prescribed weight limit for the approved light to go on. 
If you are unsure whether you will fit on a ride at Busch Gardens, climb into the tester seat and lock the harness. Then, if the green light comes on, you will fit into the seat and can get in line to ride the roller coaster.  
However, if the light turns red, you will not be permitted to use the ride for your safety. 
Other rides that do not have tester seats are usually accommodating for everyone, but it is best to check with the staff at the rides you visit to find out if it is sufficiently safe for you to use the ride. 
This is especially true for rides and attractions that move high above the ground, as these are the most dangerous if they fail. 
With that said, there is always a size limit to these types of rides, and there is a point where a person can be too big to ride anything at Busch Gardens. 
Which Busch Gardens Rides Are Plus-Size Friendly?
There are several exhilarating rides at both Busch Gardens locations, as well as several water rides and many leisure rides as well. Most are plus-sized friendly, making these parks fun for people of almost any size. 
The slower and leisurely rides for plus-size people are the best rides. These include Cable-car rides and river rafting rides, and several less-intense rides. 
The best rides for larger people are the ones that stay on the ground or are slow-moving. These rides are made with the best weight capacities and are the most accessible for robust people. 
These rides do not have seat harnesses or seatbelts, further increasing the accessibility for oversize people. 
Is Busch Gardens Fun Even If You Cannot Fit In The Rides?
If you are a plus-size person and are concerned about a trip to Busch Gardens, the good news is you can still have a great time at the park, even if you cannot ride all the rides. 
Busch Gardens amusement parks are full of many fun attractions, including exotic animal exhibits, theaters, shows, museums, and other attractions that people of any size and age can thoroughly enjoy. 
These theme parks accommodate more prominent guests and even provide mobility scooters for plus-size and older people.  
Final Word
Busch Gardens strives to be as accommodating as possible, including making the rides accessible to oversize people. 
Many attractions comfortably accommodate a wide range of body types; however, please be aware that there can be limitations depending on your size. 
The park is committed to ensuring everyone has an enjoyable experience!
Related Articles
Sources
https://www.tripadvisor.com/FAQ_Answers-g34678-d107648-t4748846-Hello_I_am_a_plus_size_woman_5_8_290_and_I.html
https://www.tripadvisor.com/ShowTopic-g58313-i102-k7647587-I_am_size_24_Will_I_fit_into_any_rides_at_Busch_Gardens_VA-Williamsburg_Virginia.html